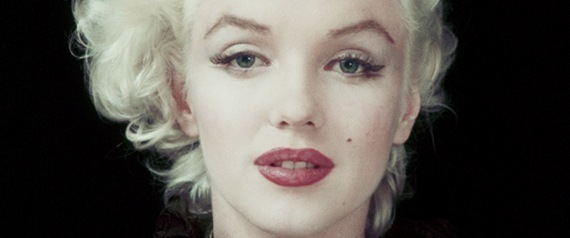 Photographed by Milton H. Greene © 2013 Joshua Greene www.archiveimages.com
Marilyn Monroe. The very essence of her name evokes elegance, charisma, elation, and effervescence.
Legendary by status, distinct by wit, and classic all around, Marilyn Monroe was and is one of the world's most celebrated icons of all time. The breathy-voiced, hourglass-sculpted, champagne-tinted blonde marveled crowds, dazzled Hollywood, and sparkled international headlines. From JFK to Lady Gaga; from Andy Warhol to Madonna, Marilyn Monroe allured and mesmerized the world she lived in, and that she left behind.
Generations after generation have been awestruck by her, her beauty, and her immortal public persona. Behind the glitz, glamour and glimmer, there was one woman to whom Marilyn Monroe owed it all: Lois Weber Smith.
Born Lois Eileen Wollenweber in 1928, to a family in Brooklyn, New York, Lois soon moved to the West Coast, where she graduated from the University of Southern California. While majoring in English, she aspired to become a journalist.
Once given her diploma, she earnestly applied as a writer to TIME Magazine. Scoffed at for being a woman, the publication offered her a much more off-the-record position of research. With much dignity and self-worth, Lois carried on.
She sought out other jobs as a reporter; but, each time she was rejected. Doors were closed. Windows were shut. Proverbial destiny had other plans.
She eventually started working for Ted Saucier, the then-esteemed publicist for the Waldorf-Astoria. Little did Lois know that this would soon become her career's launching pad, ushering her into the world of public relations, Hollywood, and all else that glistens.
During her run, Lois Smith delicately sculpted, and astutely chiseled the imperishable images of Al Pacino, Martin Scorsese, Whitney Houston, Cher, Robert Redford, Meryl Streep, and Marilyn Monroe.
Lois eventually left Saucier to share a name with the PR firm Allen, Foster, Ingersoll & Weber, to only form another agency. In 1969, Lois founded Pickwick Public Relations, with Pat Kingsley, and others.
Wanting to test the waters in other industries, she left public relations for a while, to pursue film production at United Artists and Marble Arch. Lured by PR's sociable charm, she came back. In 1982, she co-founded Smith & Siegel.
"People who got to know her say what a tremendous influence she had on their lives," noted Lois' husband, Eugene Smith, a former writer for The New York Times. "Lois had the ability to treat people like she'd known them for a long time--she was able to put people at ease. She had a knack for doing that."
After coming full circle, Lois re-united with Pat Kingsley, and his new partners, Neil Koenigsberg and Leslee Dart, to establish the PR dynasty: PMK.
PMK would soon become one of the world's most coveted public-relations agencies that would snag A-list celebrities, and use their stardust to define industry norms for newspapers and glossy magazines. Not only did the firm's executives begin to decide which writers got to do which types of interviews, but also determine the very interview questions themselves, as to steer away from sensitive subjects like cocaine addictions and broken marriages.
"I spent more time with Lois than I did with anybody else," recalled Leslee Dart, now Founder and CEO of 42West, the PR firm that represents Tom Hanks and Rihanna. "Lois -- unlike many of the other powerful women of her generation -- was not dictatorial or imperial. She always made time for people, and always listened. Lois was such a genuinely good person, that people who worked with her, and for her, wanted to do more because of her."
After working a decade and a half together, Lois and Leslee not only shared their star-churning workspaces, but also synchronized frustrations. The day Lois and Leslee both got fed up with their hopeless assistants was the day they both let them go.
The front-desk receptionist at the time always wanted to work with talent. When she saw those assistants set sail, she quickly realized the opportunity at hand. At 5:30 sharp, she wrapped up the day's calls. At 5:33, she strode toward Lois' office, readjusted her skirt, checked her breath, and walked in--
"My voice was a little bit shaky, and a little nervous," said the former receptionist. "But I said to her, 'I would really love to be considered for the position of your assistance. If you would consider me.'... And Lois leaned back in her big, orange-studded chair, and told me: 'What took'ya so long!'"
"Lois really wanted what was best for people that she believed in -- regardless of what that meant for her," expressed Mara Buxbaum, the former receptionist, now President & COO of ID Public Relations, one of the world's most formidable celebrity talent agencies.
While Lois was seeking out talent from inside and out, and developing culturally everlasting personalities, the beloved publicist would carve out time for her community--be it her local library, her neighbors, or the environment.
"Right now as I'm talking to you, I'm looking out at the ocean," reminisced Eugene from his home in Newburyport. "There used to be a nice, small house across the street. Well, they tore it down. They're building a gigantic McMansion -- and this is the thing Lois was fighting tooth and nail. Because she wanted to keep the general tenor of the island the same as what it had been."
"I miss her like crazy," expressed Brooke Smith, Lois' daughter. "I constantly want to call her. She was a great mom. To have her attention; to be able to have her listen to me, and give me advice -- that's what I really miss the most."
Despite being one of the most shrewd businesswomen of her time, Lois was kind. A kind mother. A kind colleague. A kind heart.
"Lois was very much in keeping with who she was at her very soul: protecting and nurturing," noted Cindi Berger, the Chairman & CEO of PMK*BNC; "Integrity," she added, "Lois had great integrity. In a business that can be so cannibalizing, that's what she taught us to be -- to be a person of your word."
Lois: The same woman who was known to wear radiant red jackets at press conferences, as to comfort her clients among a sea of people, was the same woman who dropped everything to go see the birth of Marilyn's kittens.
"We all loved her and depended on her," said the 26-time-Golden Globe-nominee.
"When I left the Times," said Lois' husband, "and started working out of the house and freelancing, at one point, I wanted to ask Lois: Well, what are we going to do when you quit?
"We had this magnificent home -- it wasn't a MacMansion -- but, we had an acre-and-a-half of land within 45 minutes from the city. And, the thought of leaving New York City -- I just didn't think she would. And I didn't ask her about it.
"And, one day, out of the blue, Lois says to me: 'You know, I'm thinking of quitting.' She said, 'I'm trying to think of where we should live... how would you feel if we sold this house, and we moved to Plum Island?'
"And I just reached up, and hugged her, and kissed her, and said, 'I was trying to figure out all this while how I could ask you that question.'"
REAL LIFE. REAL NEWS. REAL VOICES.
Help us tell more of the stories that matter from voices that too often remain unheard.