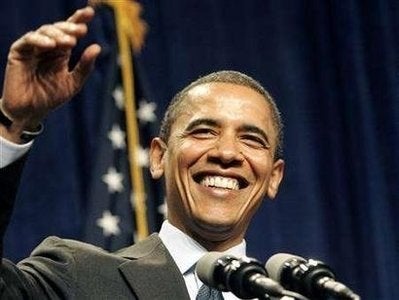 Sen. Barack Obama's campaign announced tonight that voters who sign up for his text messaging alerts will be among "the first to know" his choice for the vice presidential nominee.
An hour BEFORE the campaign made the announcement via email, Team Obama sent this text message:
Priority: Emergency

Barack will announce his VP candidate choice through txt msg between now & the Conv. Tell everyone to text VP to 62262 to be the first to know. Please forward.
I've written a lot about the Obama campaign's use of text messaging as a fundraising tool and also to promote his message of the day or to make sure people tune in to his appearances on television such as Meet the Press or even The Daily Show.
But this is a new one, and it will help the campaign collect (even more) valuable data on potential voters they can reach out to for the Nov. 4 election. The announcement from campaign manager David Plouffe also lets voters sign up to get an email alert with the choice.
It also will allow him to get his own version of a biography for his choice out quickly to voters. Rather than have them read a news story, for example, he could direct them to his own Web site with the campaign's choice of facts and details about the man or woman he's chosen.
That could especially help if he picks someone relatively new to the national stage, like Tim Kaine or Janet Napolitano.
Here's the email from the campaign:
Be the First to Know Barack Obama is about to make one of the most important decisions of this campaign -- choosing a running mate.

You have helped build this movement from the bottom up, and Barack wants you to be the first to know his choice.

Sign up today to be the first to know:

You will receive an email the moment Barack makes his decision, or you can text VP to 62262 to receive a text message on your mobile phone.

Once you've signed up, please forward this email to your friends, family, and coworkers to let them know about this special opportunity.

No other campaign has done this before. You can be part of this important moment.

Be the first to know who Barack selects as his running mate.

Thanks,

David Plouffe

Campaign Manager

Obama for America
Calling all HuffPost superfans!
Sign up for membership to become a founding member and help shape HuffPost's next chapter