Lola, a three-month-old elephant calf at the Hellabrunn Zoo in Munich, Germany, died the morning she was supposed to receive life-saving heart surgery.
The zoo has released pictures of the young calf during happier, healthier times, showing her playing and walking around the zoo.
SCROLL DOWN FOR PHOTOS (Some Images May Be Disturbing)
Lola's body was brought back to the Hellabrunn herd on Saturday afternoon, so that her mother, Panang (22), could say her goodbyes to her in peace. Afterwards the herd gently nuzzled the lifeless body with their trunks and took their leave of her.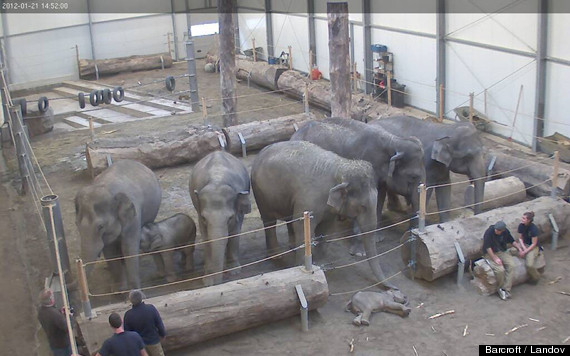 According to the zoo, Lola was being treated for pneumonia and stomach inflammation when zoo vets found the baby elephant also had a heart defect. Before the doctors -- veterinarians and human specialists -- could perform the surgery, the calf passed away.
"We are all so very sad that we couldn't help Lola," Dr. Andreas Knieriem, director of the Hellabrunn Zoo, said in a memo posted on the zoo's website. "It was always our greatest fear that the blood clot in her heart could lead to an embolism that would result in sudden death. Unfortunately that is exactly what happened. Our only consolation is that we tried everything possible to save this baby elephant's life."
According to The Local, an English-language news site in Germany, another six-month-old baby elephant died in June 2010 at the Hellabrunn Zoo from metabolic bone disease.
Other elephants are facing different challenges. Advocacy groups recently warned that the Sumatran elephant could be extinct in the wild within 30 years due to habitat destruction.
Elephants have been known to mourn the loss of not only their own kind, but also of other animals. Tarra, an elephant at a sanctuary in Tennessee, had a nearly eight-year friendship with Bella, a dog. When Bella died, Tarra is believed to have carried the body of the dog back to a place where the two had played together.
LOOK: Pictures of Lola, the baby elephant:
Calling all HuffPost superfans!
Sign up for membership to become a founding member and help shape HuffPost's next chapter
BEFORE YOU GO