A California teen who feared he would have to send his beloved pig to slaughter has found a happy ending for his curly-tailed friend.
Bruno Barba, 16, was a participant in his high school's Future Farmers of America program, which involves students raising and caring for farm animals, according to The Dodo. At the end of the program, students take their animals to a state or county fair, where they typically sell the animals to be butchered.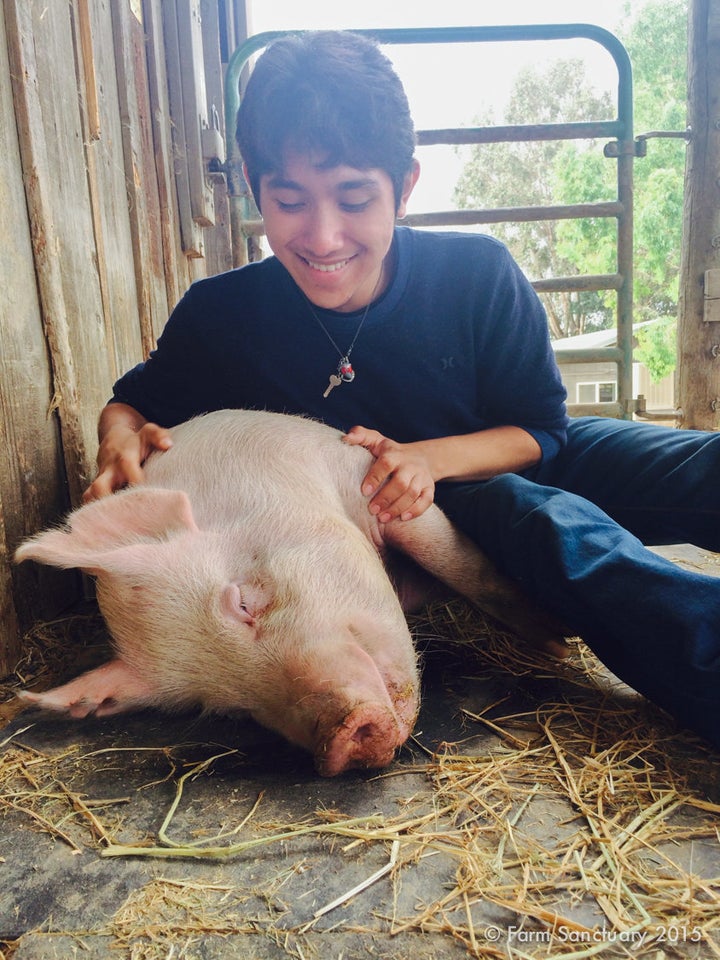 Bruno got Lola the pig in March, and quickly felt a strong bond with the playful, affectionate animal.
"She was like my best friend," he told The Dodo, describing how the pig would comfort him when he was upset and lie on the ground so he could pet her belly.
Not wanting his new companion to be killed, Bruno contacted animal advocacy group Farm Sanctuary for help in June, the organization's national placement coordinator Alicia Pell told The Huffington Post.
The group, which runs three farm animal refuges in the U.S., was able to find a spot for Lola at their Orland, California, sanctuary -- six hours from Bruno's home. Lola arrived there in early July, and Pell said she's fitting right in.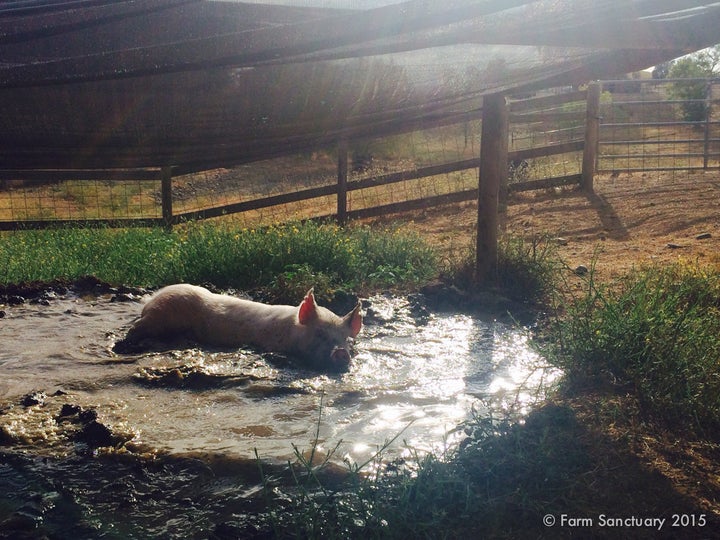 "Lola is very sweet and playful," Pell said. "She loves to run up and down the hill in her current enclosure chasing and pushing a bowling ball. She constantly talks to everyone -- caregivers, interns and the other pigs."
Pell added Lola is "completely obsessed" with the straw in the barn and loves to bury herself in it. "She never had straw to sleep in before and it's apparent that she appreciates the soft bedding," Pell said.
Barba and his mother, Dulce, have decided to become vegan after their experience with Lola, he told The Dodo. Pell noted the teen was "particularly lucky to have such a supportive and compassionate mother" who assisted him in finding a home for Lola.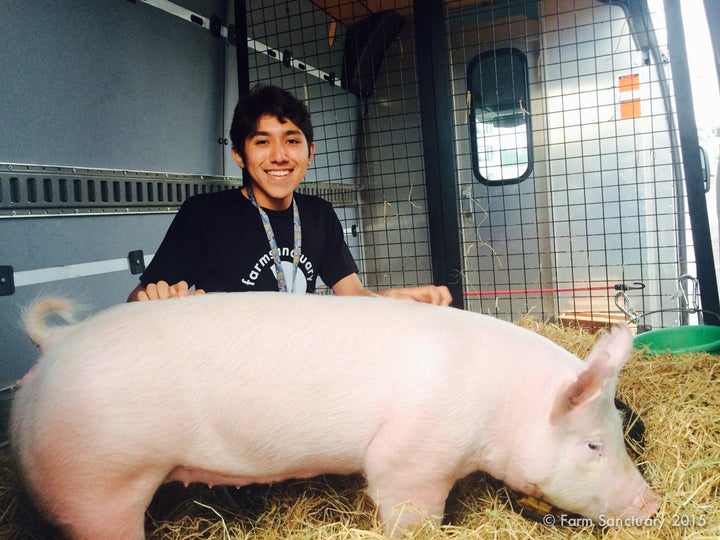 Students who participate in FFA pay for and own the animals the raise -- so they don't necessarily have to send them off to slaughter -- but Pell said students are typically not encouraged to seek out other options. She recommends that students participating in an FFA or 4-H Club program contact Farm Sanctuary if they wish to find a permanent, safe home for their animals.
Even if Farm Sanctuary is unable to house the animal itself, she said, it has connections in a farm animal adoption network that can assist the student in finding a safe place for the animal to live.
While it's valuable for students to bond with animals, Farm Sanctuary National Shelter Director Susie Coston says, "Humane education programs that celebrate and cultivate compassion would be a better goal for schools."
PHOTO GALLERY
Bruno and Lola
Calling all HuffPost superfans!
Sign up for membership to become a founding member and help shape HuffPost's next chapter