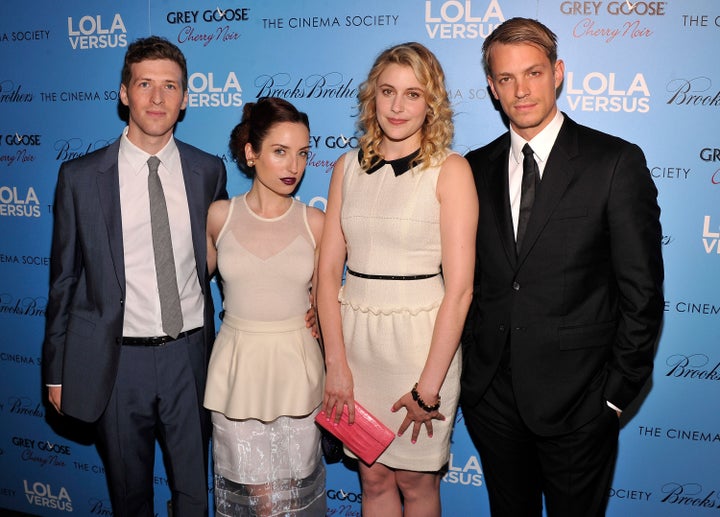 Daryl Wein and Zoe Lister-Jones, the real-life couple behind the indie sensation "Breaking Upwards," made sure to capitalize on their newfound festival-circuit fame when that film was making the rounds in 2009. They started writing their follow-up, "Lola Versus," before anyone even asked about their next project.
"We wrote it on spec," Lister-Jones, who co-wrote both films with Wein, told HuffPost Entertainment. "When 'Breaking Upwards' was coming out, we felt we should have a script at the ready to capitalize on that moment. We wrote 'Lola' pretty quickly, like in three months."
It helped that the pair knew what they wanted to write about: a single woman living in New York.
"'Breaking Upwards' is a New York relationship movie," Wein, who directed both features, said. "People were telling us, 'You should stay in that arena.' People seemed to respond to seeing 'Breaking Upwards.' It was exciting. We wanted to keep going in this genre. Whatever you call this genre. Romantic comedy, dramedy, rom-edy?"
About that: before the opening credits of "Lola Versus" are over, Lola (played by indie queen Greta Gerwig) has celebrated her 29th birthday, gotten engaged to her long-time boyfriend (Joel Kinnaman) and been dumped just before her wedding day. The film charts the next year of Lola's life, and how she picks up the pieces in the shadow of her fast-approaching 30th birthday.
"It's a post rom-com," Gerwig told HuffPost, deciding emphatically on its genre. "It's after the romance. It does start at the end of it."
It's hard to imagine "Lola Versus" working without Gerwig's awkward and endearing charm, but Wein and Lister-Jones -- who co-stars as Lola's quirky BFF -- didn't actually write the role with her in mind.
"Our very indie-minded point of view from the get-go was that we're gonna have to make this on our own. We kind of figured Zoe would do it," Wein said, before Lister-Jones added with a laugh, "Only because we couldn't pay an actress."
"Breaking Upwards" cost less than $15,000 to make, with Wein and Lister-Jones calling in favors from friends and posting ads on Craigslist to fill out the crew. "Lola Versus," while still modestly budgeted, is backed by indie powerhouse studio Fox Searchlight.
"Once we realized that this film was going to made in a more legitimate fashion than we had intended, she became a part of the conversation pretty quickly," Lister-Jones said of Gerwig. "It was exciting because there was a lot of interest from actresses in Hollywood. It was really validating because it was a very early stage of the script and it sort of spoke to this void in complex female protagonists that so many actresses were excited to be given that opportunity."
Unfortunately for Gerwig, the attention "Lola Versus" received meant she almost didn't get the part.
"I don't even know if I'm supposed to say this -- I think, originally, when they met me, they didn't want me," Gerwig said. "I think they went to a different actress. I remember meeting with them, and I remember they wrote me this sweet email that was basically like, 'You're great. It's not going to work out.' And I was like, 'Don't worry about it. It's fine!'"
Following a chance meeting at the premiere of "No Strings Attached," which Gerwig co-starred in, things happily changed.
"It felt like it was this fun night and we hung out together. And somewhere, in the back of my mind, I thought, 'I bet that movie might come back in some way,'" Gerwig recalled. "I just sort of knew. Then, lo and behold, two weeks later, I got a call that was like, 'Do you wanna do it?'"
Wein, who praised Gerwig for her unconventional star qualities, said she was the perfect leading lady for a film that defies rom-com conventions at every turn.
"We based it on some of the experiences that Zoe had as a single woman and all of these single woman that are in our lives as friends," he said. "Just hearing the stories of single women in the city -- the real stories. Not the 'Sex and the City' stories. Which is great, I love 'Sex and the City' too, but we were craving with something that felt more grounded."
That sounds a bit like what Lena Dunham is trying to accomplish on the HBO series "Girls," but, as Lister-Jones points out, "Lola Versus" is more concerned with age.
"I think turning 30 is a milestone, and we do make films about young people and their transitions into adulthood," she said. "Where it's not your early 20s, where you're confused and self-indulgent. There's still some confusion and self-indulgence [as you near 30], but I think the stakes are a lot higher because adulthood is looming in a different way. This felt like an important moment to document."
"Lola Versus" is out in limited release on June 8.
PHOTO GALLERY
'Lola Versus' At Tribeca
Calling all HuffPost superfans!
Sign up for membership to become a founding member and help shape HuffPost's next chapter
BEFORE YOU GO