If Friday at Lollapalooza was briefly rainy and muddy and Saturday was off-kilter and overcrowded Saturday, the fest's Sunday finale was like a half smile from the heavens.
No rain. No onstage meltdowns. Gorgeous, mild weather... And something that loosely resembled "breathing room."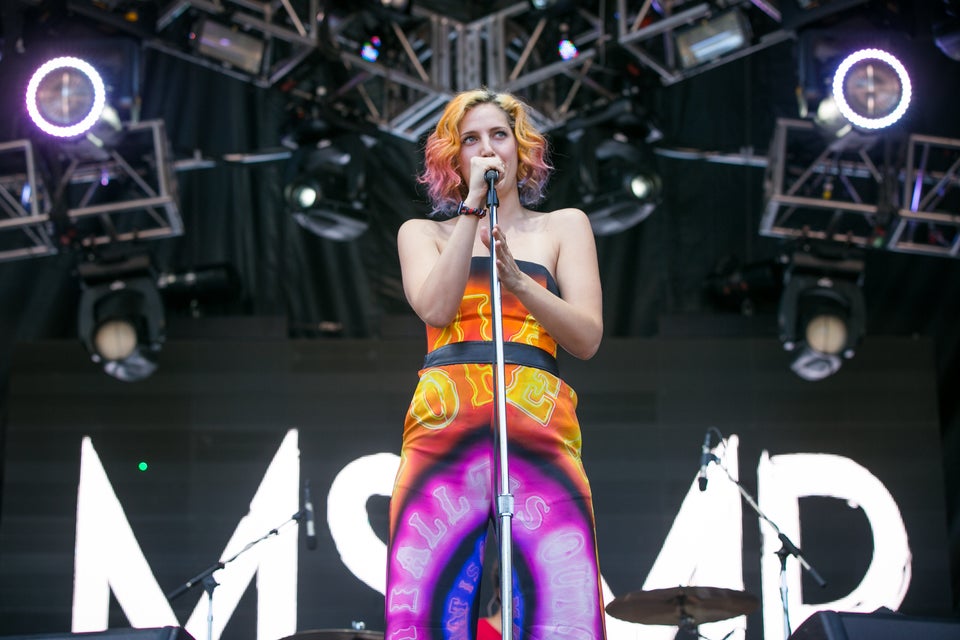 Lollapalooza 2013 Sunday Highlights
Security was noticeably more aggressive on Day 3, strictly enforcing the policy on no unsealed outside water bottles and threatening to expel any fest-goers who knotted their wristbands (presumably to cut down on those looking to slip their pass to someone outside).
One young attendee could be overheard bragging about breaking past the gates and outrunning security guards, but the festival's new steel fence appears to have kept most would-be fence jumpers out; Charlie Jones of the festival's promoter, C3 Presents, said during a media brief he was "unaware" of any major breeches.
With the weather mild and in the high 60s to low 70s, the medical emergencies at the fest seemed to be largely drug and alcohol-related: I spotted just a handful of EMT golf carts zipping through the grounds with an over-served or overdosing young person riding shotgun with a plastic vomit-catching bib on their chest.
Before that veteran act took the stage later Sunday, we checked in on Wavves' Grove Stage set. It's been four years since the band's epic onstage meltdown at Spain's Primavera Sound Festival in Barcelona and that bad behaviour appears to be long-gone. The crunching, driving guitars sounded bright and crisp. With a garage-meets-surf punk sound, Wavves cranked out a set that had shades of The Beach Boys, Nirvana and Weezer all packed into a fun, even pop-y, punch. The band sounded as good as they ever have, though frontman Nathan Williams still indulges in some bratty banter at times: He actually pulled the 6th-grade diss "Psych!" on the audience.
Unfortunately for Brooklyn-based rockers DIIV (pronounced like "dive") their subsequent set on the same stage packed less of a thrill. It was hard to be patient for the endless, repetitive guitar riffs that were rarely broken by vocals. Though clearly skilled, DIIV never quite found the control needed to make an ambient set in the open air of a festival connect.
Suburban Chicago native (Mokena, Ill., to be exact) Chris Bear of Grizzly Bear continued to prove he's the best thing about the otherwise Brooklyn-based band. With a background in jazz drumming, Bear's percussion gives the band a cool dexterity that allows them to pivot their sound between experimentally woozy and high-energy without falling apart.
After a weekend of top-notch rap performances from Kendrick Lamar and Chance the Rapper, the usually entertaining 2 Chainz was simply a dud. 2 Chainz, born Tauheed Epps, let his hype man work the stage for several minutes as a giant light-up "2 Chainz" necklace glowed in the background. I skipped out early after Chainz materialized, only to lazily rap over his own vocal track. With the repeated reminders of when his new album drops, just 15 minutes of his set felt like a big, tacky banner ad set to music.
Trying to be a good sport, I ducked by Perry's Stage to take in a quick hit from Major Lazer. It's easy to take potshots at the uber-young EDM crowd at the stage, but to the festival's credit, Perry's Stage has probably one of the best setups, sensory experience-wise. A huge pixelated speaker pulsed to the beat from a screen onstage while fans in the back focused on mid-field Jumbotrons. Just before we booked it to Beach House, Major Lazer included an electronic dancehall remix of local Drill star Chief Keef's "I Don't Like."
Of all the great places to listen to Beach House, the Lakeshore Stage at Lollapalooza probably isn't one of them. At Pitchfork the year before, light-up video effects and a tightly-packed crowd helped focus the energy on the band making for the necessarily intimate feel. Instead, with sound bleed from Major Lazer and a crowd already setting up for The Cure, it felt like the band was playing the background music for a massive thoroughfare. The band can sound gauzy, but distorted is never one of their intended effects; the low end of their bass rattled and hissed through the speakers, making for a nasty, frayed effect to the otherwise great vocals. "Zebra" soared beautifully over the patchy field, but those bright spots may not have been enough. Vocalist Victoria Legrand thanked fans for being "so sweet" before cryptically adding, "This is our first time at Lollapalooza! It may be our last time!"
The Cure has had a revolving-door lineup for years, but did fans -- young and old -- really care as long as they got a glimpse of the batwing-haired Robert Smith? While the band sounded exceptionally synthy and maybe even young, Smith's voice sounded noticeably lower. The tone didn't make the 54-year-old rocker sound aged, just different. Whatever tone he's got, Smith as a singer has still got "it" -- "Lullabye" and "Pictures Of You" had the same pained, eyes-closed sincerity as they do on recordings from two and a half decades ago. Sadly, there was a tough choice to make between The Cure and Phoenix, so before we heard how nostalgic Smith and company got, we hauled it to the opposite end of the park...
And Phoenix was well worth it. Video screens around the stage flashed to life to show real-time footage of the band making their way to the stage by golf cart. A French theme is piped through the speakers as the band, led by the wiry, grinning Thomas Mars, dashes to the stage. For the next nearly two hours, it's all lasers, lights and high energy. The band attracted a surprisingly large bro contingent, but everyone in the sprawling audience seemed to know the words, especially to hits like "Lisztomania" and "Girlfriends." "1901" came and went without an R. Kelly cameo a la Coachella, which was perfectly fine considering the fantastic cohesion of the band; Kels would have just looked like an interloper. There was zero pretension in "Trying To Be Cool," which made the festival's mega headliner a true pleasure of the weekend. Mars put his tremendous crowd surfing skills on display, rolling around atop the audience with delight as the rest of the group ably jammed onstage. Showing nothing but gratitude and excitement, Phoenix delivered a festival closing set that, even as it approached two hours, felt like it ended too soon.
Support HuffPost
The Stakes Have Never Been Higher
Related
Before You Go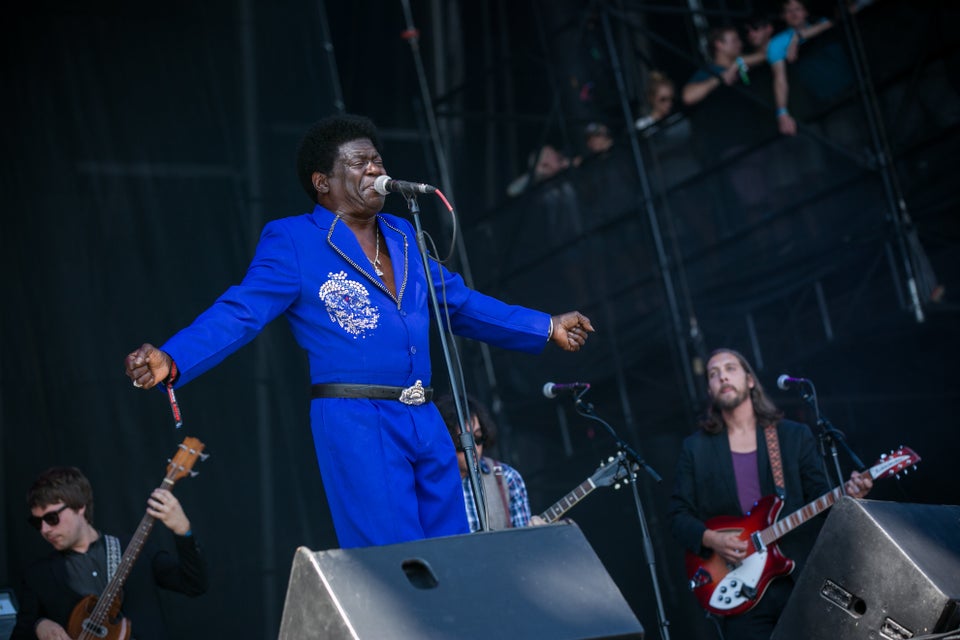 Lollapalooza 2013 Saturday Highlights
Popular in the Community