 Olympic track star Lolo Jones caused yet another Twitter uproar when she sent an insensitive message to a paralyzed former football player.
Eric LeGrand used to play football with Rutgers University's Scarlet Knights. He was paralyzed in his junior year during a game in October of 2010. On Monday, he jokingly tweeted Jones saying, "Want to race me," according to the Los Angeles Times.
She responded: "Get checked for a concussion. clearly u've been hit in the head ... cos u arent beating a track athlete."
Jones, who deleted the controversial tweet, supposedly did not know LeGrand or anything about him. The 30-year-old Olympian apologized and the former football player accepted, responding, "didnt take it personal, understand where ur coming from. All good," according to the Los Angeles Times.
"I'm truly sorry if I offended anyone by my tweet," she said. "When Eric challenged me to a race earlier all I knew was that he was a football player, but certainly had no idea he had become paralyzed from a football injury. I thought I was tweeting in good fun like I always do with the many athletes who challenge me to races."
"I really appreciate that Eric understands my mistake and acknowledges that there was no ill will intended," Jones added to Yahoo! Sports. "I've become familiar with his story tonight and he is certainly an inspiration to so many people, which I really admire."
Still, Jones is receiving criticism from all directions, and she's not too happy about it.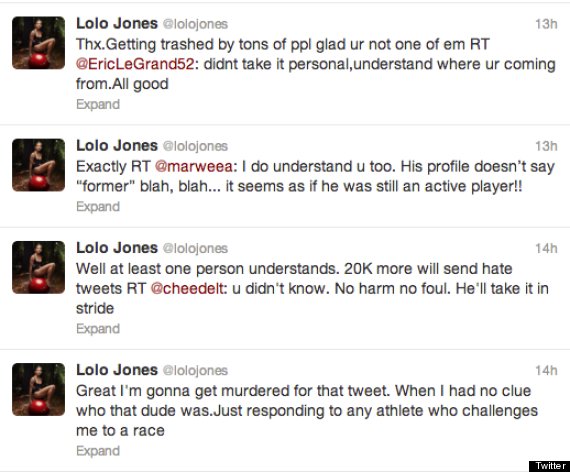 "But apology or studying up on NFL rosters won't really change Lolo Jones, or who she is. Everything you need to know about her intentions are clearly on display in her original tweet that started it all," Hudson wrote. "Ignoring the fact LeGrand is paralyzed and in a wheelchair, Lolo Jones' first response was to make a concussion joke about a football player. With everything we now know about how damaging head injuries can be, she still opted to make light of brain damage because HARF HARF FOOTBALL PLAYERS DUMB."
He concludes, "I guess what I'm trying to say is: there's no reason to get too upset, because it was a lowest common denominator joke, made by a lowest common denominator person."
LeGrand is oft-praised for what he has achieved since his paralysis.
Last year, he made the cover of Sports Illustrated after fans selected his returning to football on Oct. 29, leading the Scarlet Knights onto the field at Rutgers stadium, as the "Moment of the Year." In May, he was signed to the Tampa Bay Buccaneers as an honorary player. He received the Jimmy V Perseverance Award at the ESPY Awards in July and released a book, "Believe," last month.
In a display of his own character, LeGrand extended an olive branch to Jones, tweeting: "did not mean to start anything at all, sorry for all this crazy stuff being said. Much respect for you."
PHOTO: Eric LeGrand accepts the Jimmy V Awards at the ESPYs. Popular in the Community