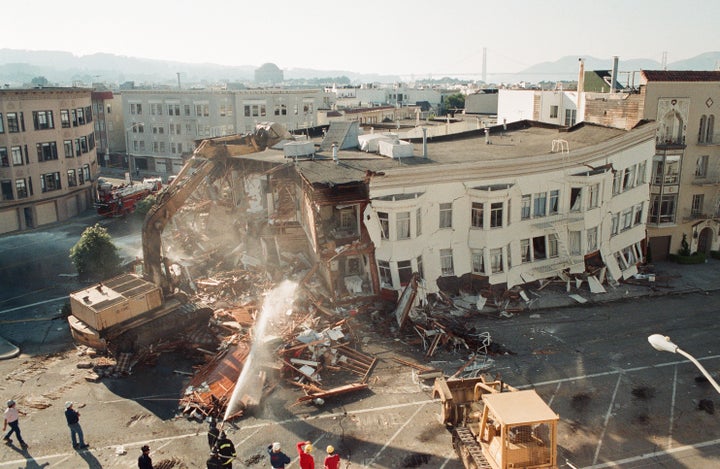 On October 17, 1989, a 6.9 magnitude earthquake rocked the San Francisco Bay Area, killed 63 people, injured 3,757 more and left thousands homeless. The Marina erupted into flames and parts of the Interstate 880 and Bay Bridge collapsed, crushing dozens of people beneath. The Loma Prieta quake also interrupted game three of the World Series between the San Francisco Giants and the Oakland A's, making it the first U.S. earthquake to have the initial jolt broadcast live to the nation.
This Monday, city officials paid their respects, remembering the deadly earthquake 22 years before. Mayor Ed Lee released the first draft of the city's Earthquake Safety Implementation Program (ESIP) -- a 30-year plan to prepare San Francisco for the next big quake with updated building codes, retrofitted building plans, and an extensive post-disaster recovery plan.
"Planning for a great city means planning for a natural disaster we know is coming," said Supervisor Scott Wiener about the plan. "Preparing our housing stock and infrastructure for major earthquakes won't be easy or cheap, but we have to do it and do it right."
BART also remembered the earthquake with a commemorative video. The transit agency's spot features BART train operators recounting their experiences, including one operator who was stuck in the tunnel beneath the San Francisco Bay when the quake struck.
Watch BART's video below, then take a look at footage from the now-legendary World Series game. (The earthquake begins at the 4:30 mark.)
Do you have a story from Loma Prieta to tell? Be sure to let us know in the comments.