The confluence of sports and entertainment has never been more discernible than it is today. Popular media outlets like the Wall Street Journal, TMZ and even the Huffington Post, are closely following the on and off-field lives of today's athletes, a testament to how far the mix has gone.
Sports, and the real life drama it captures -- along with the aspirational qualities of those who can play at an elite level, and the interest in knowing more about those who play the games -- has never been higher.
Many talk about sports being true theater, but the crossover from a drama about an athlete, or an athletic personality to the stage, has never really been bridged. Yes, there have been successful plays on Broadway that have involved some element of sport, from "Damn' Yankees" to "Take Me Out," but the ability to satisfy both the theatergoer and the sports audience with a story, has remained unseen.
This fall, there's hope we can traverse the gap.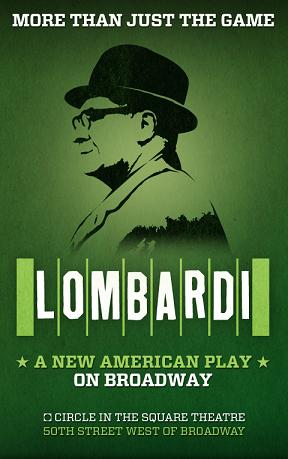 On October 21, "Lombardi," the life story of legendary football coach and personality, Vince Lombardi, will make its Broadway debut at the Circle in the Square Theater. The six character drama, based on a book by Pulitzer Prize winning author, David Maraniss, written by Oscar winner Eric Simonson, and directed by Tommy Kail ("In the Heights"), will look to combine the elusive mix of being both great drama and a great story about a sports figure.
Why can this play work and possibly open the door for other stories to come to Broadway in the future?
Last week, we asked a trio of people on whose shoulders the project rests, to provide some answers: Co-producers Fran Kirmser and Tony Ponturo, and actor Dan Lauria (who was tabbed to play the title role).
Like the creative team, Kirmser and Ponturo bring a wealth of experience from the business side to Lombardi, a unique combination of theater and sports business expertise. Kirmser has made a career producing successful unique projects for the stage, while Ponturo is one of the sports and entertainment business' most celebrated and respected leaders, having spent over 25 years building the sports and entertainment brand marketing practice at Anheuser Busch.
Since leaving A-B, the New Jersey native has taken on a producer's role in two other successful Broadway projects, "Hair" (where he met Kirmser as co-producer) and "Memphis," in addition to keeping a hand in the sports world by serving on the board of sports organizations like the AVP and the LPGA. The producers also received a most-welcomed boost of approval over the last few weeks, when the National Football League came on as a marketing partner for the project.
Lauria, who will be making his Broadway debut, is no stranger to an audience, and will probably be drawn to the story of "Lombardi." A lifetime theater, television and screen actor who played football in high school and college (at Southern Connecticut State University), he is best known for portraying the character Jack Arnold on the hit TV show, "The Wonder Years."
Here's a look at "Lombardi," a play which could help grow theater and bring in new audiences:
Peter Robert Casey (PRC): Fran, as someone who has made a career in theater, did you ever think that a play about a football coach would be possible as a Broadway play?
Fran Kirmser: Absolutely! What's so intriguing and inspirational about Vince Lombardi is that he was a leader that transcended the sport that made him famous. Yes, he coached football, and in doing so, inspired people to achieve challenges in front of them that they could not achieve. Football was his medium, but he could have been doing anything...it was his ability to work his craft and bring forth the values of hard work, persistence and having a clear vision that makes his life and his character absolutely perfect for a dramatic story, and extremely timely. Aren't we all being asked to do the impossible in our current economic climate to find ways to survive?
PRC: Tony, many in the business world may view you as a sports guy, yet your primary focus recently has been producing very successful theater. Have you been surprised that the change has happened so fast?
Tony Ponturo: I've always had an interest in theater and the arts, and have understood the great value that a story, in sports or on the stage, can bring to a brand or to the audience in either area. They are not dissimilar at all. So what's really exciting for me with Lombardi, is to bring that experience in business, especially on the sports marketing side and my 26 year relationship with the NFL, to a new audience, one that maybe has never really enjoyed theater for one reason or another, or one that can now experience the drama of sport on stage for the first time. A lot of people talk about integrating sports with entertainment, and we are a "real life" example of how that can happen.
PRC: Tony, as someone who has seen the value that brands have brought to sports, do you think a similar integration could happen with brands to help give theater an economic boost?

Tony Ponturo: Broadway is an uncluttered sponsorship and brand integration environment. There is an opportunity for brands to align with shows that have a passionate consumer following and project a theme and story that aligns with their own brand objectives. It's really no different than a brand aligning with a sports team for its image and fan base.
PRC: Dan, you have spent time studying Lombardi 'the man' for some time now; as an actor, what do you want to convey to the audience, which will be a mix of theatergoers and sports fans?
Dan Lauria: First, I want to portray Mr. Lombardi in a respectful manner and convey to the audience that he was more than a successful football coach. If we all do our jobs well, we want the audience to leave feeling that they have learned some strong life lessons and will be inspired to be successful in whichever field they pursue. it's a play about overcoming adversity and finding success through hard work and dedication. It's a great story for anyone, and great stories are what people want.
PRC: Fran, Dan touched on the crossover, but if Lombardi is successful, what do you think this could mean to Broadway in terms of new audiences?
Fran Kirmser: Bringing Lombardi to Broadway will draw new audiences to both theater and sport, and especially with the NFL behind the show's marketing, will grow both sides of the house (those who love theater and those with an interest in sport) together. It answers an important question that Broadway is tasked with today...how to bring in new faces that will discover drama and come back for more.
PRC: Tony, from the sports side, what does the NFL's involvement bring in terms of credibility?

Tony Ponturo: The NFL is the most successful and popular sport in the United States. The NFL trademark, and the fact the NFL is supporting the Broadway play Lombardi as a producing partner, is a tremendous statement. It says that they believe in this project and the producers that they aligned with (Ponturo/Kirmser), and that they will bring their tremendous marketing assets to help promote the show and the experience. It's a stamp of approval that anyone would desire, and we are elated to have the League on board.

PRC: Dan, Lombardi was known as hard driven and very passionate, and his players either loved or hated him. Would he have been successful as a coach today?
Dan Lauria: That is the question we get asked most today. Some may say that his hard driven style wouldn't work, but I disagree. Most great coaches in any sport today, and great leaders, are from the same DNA that Mr. Lombardi had. He inspired people around him to be better, and he was smart enough to find ways to adapt to many, many personalities. He would have had to adjust a bit, but he definitely would have been a success.
PRC: Speaking of characters, Dan do you see any similarities between Jack Arnold and Vince Lombardi?
Dan Lauria: Yes. They both had a strong love of family, a devotion to the tasks at hand, and they both used personal sacrifice to help make those around them better. Jack Arnold would be a huge supporter of the play and the man, even though Kevin Arnold wore a Jets jacket.

PRC: Now that the lead is cast, what is next for fans to see?
Tony Ponturo: We will be rounding out the other members of the cast. There are six in total, and we should have that for fans in the next few weeks. The script will continue to be refined by our great creative team. There should also be a number of additional news announcements as we move toward getting things aligned for the fall, including doing a show on the road in Great Barrington, Massachusetts in July. The anticipation for the final product is very strong, and we are working hard to deliver what we think will be a landmark theater event if we do it right.
Popular in the Community