My first visit to London was back in 1984 when I was a student at the American University in Paris (AUP) and it was anything but positive. Memorable, yes, like some horror movies you've seen once and never want to see again, but will sadly never forget.
Yes it rained the entire time, but that was not the worst of it. The worst of it was the hideous food! Granted we were on student budgets but even the fish and chips rolled up in newspapers were soggy, oily, and unseasoned. I decided I'd have to cook for us (my fellow classmates) to have a decent meal, but found myself running out of a butcher shop screaming when all of the meat was brown and there were cuts I had never seen before. Sweeney Todd started spinning around in my head -- could this meat really be from cows? I was dubious. So in less than five days I gained seven pounds living on bread and butter, beer and chips (that's fries in English). To get the weight under control we decided to do a walking tour of London during which I was chased, attacked, and continuously stalked by a goose at Buckingham palace. Maybe she was starving too!
My family and I decided to visit London a few days post -lympics this summer to visit friends and show our kids the sights. A lot had happened since 1985! London is at its most beautiful now; the streets are spotless, the avenues wide, and there are pristine gardens everywhere. We stayed at the amazing Corinthia Hotel, which has the best location, bar none, in London -- walking distance from Trafalgar Square, Covent Garden, Chelsea, Piccadilly Circus, London's Big Eye, Buckingham Palace, and Chinatown. We walked to our heart's content devouring the sights and working up very hearty appetites.
The London sights weren't the only eye candy close to the Corinthia. We were lucky enough to spot the exquisite Angelina Jolie and Brad Pitt (who were staying there too) as they passed us at the bar of the hotel's fine Italian restaurant, Massimo, which was also gorgeous. At the bar, the Italian restaurant manager made us a little amuse-bouche of fresh and buttery scallop carpaccio that he sliced right in front of us and seasoned with vanilla, salt, and fresh celery micro greens. Shortly after, we headed to our already arranged dinner at Soho hot spot at Yauatcha. We loved Yauatcha so much we even went back two nights later, after an enthralling performance of Les Misérables, and reordered the exact same items we'd devoured on our first visit: roasted duck pumpkin puffs, crispy peking duck with pancakes (which my eight-year-old daughter ate singlehandedly), and my and Pascal's favorite item, prawn and crispy beancurd cheung fun which is SOOO good it could be eaten as an appetizer and then again for dessert! Sweet and salty, crispy and soft, it is a flavorful and textural symphony of pleasure dancing on your tongue.

We had a fabulous British power lunch amidst London's 'who's-who' at the famed and grand Wolseley Café located in St. James's on London's magnificent Piccadilly Blvd. This was the only spot where we actually had a British server and he was absolutely fabulous. The menu has everything you could ever dream of wanting to eat, including steak frites, soupe de poisson, grilled calves liver, and duck confit with lentils and Pommery Mustard, but I went with the server's suggestion and ordered the weiner schnitzel Holstein (with an egg on top to my great delight). When I couldn't decide between their famed chocolate pot de crème or the coffee eclair my fabulous new friend brought the former and then boxed up the latter, "Courtesy of the house Ma'am." I definitely want to eat there again and have him be my waiter.

Of course we couldn't be in London and not eat fish and chips (in spite of my first experience) but I decided it would be wiser to take that up on the advisement of my London BFF, beautiful Iron Chef UK Judy Joo, who was only too happy to hook us up. "We'll make a day of it," she said, which started with her soufflé pancakes with fresh berries and homemade lemon syrup at her smashing London loft followed by a private tour of The London Zoo. Afterwards, we headed to her artsy hood Marylebone Village where we ate light and crispy (and very reasonably priced) fish and chips at the Golden Hind. Now, with the exception of Dover Sole, I have a very hard time getting my kids to eat fish but this was so light, crisp and fresh with gorgeous flaky white fish, it may as well have been chicken, they gobbled it up so fast. After lunch we walked around this culinary haven and visited marvelous food markets, farm stands and a superb cheese store called La Fromagerie where I became acquainted with, and attracted to a Stinking Bishop. We could have easily been in a French fromagerie it was so perfectly equipped with a myriad of cheeses beautifully displayed, plus this shop also carried a plethora of teas, produce, and other culinary delights in the adjacent room.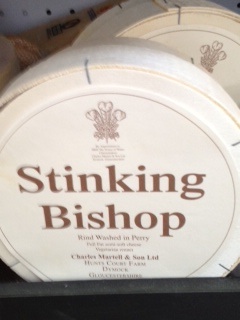 Four days in London didn't seem like nearly enough. "I could eat here for weeks," I told Pascal as we were getting dressed for our one night out alone, sans kiddies, to dine at the Michelin-star rated and very fashionable restaurant Pollen Street Social. We got a table thanks to Judy, who is pals with chef owner Jason Atherton (who worked for mighty chefs Ferran Adrià at elBulli and also with Marco Pierre White). Pollen Street Social has an urban chic décor that is timeless and soothing; we felt grown up and hip all at the same time. People were smartly dressed and the lighting made everyone glow. The service was stellar and extremely polite and the food was elegant and playful. After seriously perusing the menu we decided on the Roasted Quail "Brunch," a whimsical play on English brunch served with cereals, toast and "tea" which was in fact a rich and savory consommé. We decided to go all out, so our second appetizer was the slow-cooked egg full English breakfast which was simply 'eggcellent' followed by West Country ox cheek with tongue and sirloin, caper and raisin pureé, and a touch of horseradish. Now THAT is my kind of earthy dish -- the meats are melt-in-your-mouth tender, the sweet and savory mix of raisins and capers gave the right amount of agrodolce, and the horseradish rounded it all off with a kick. I could have had a double portion of that one!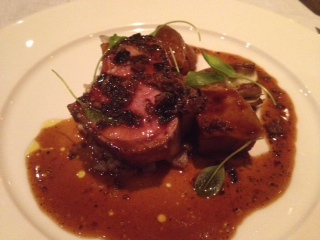 West Country ox cheek dish
It was a glorious four days -- great food, great shows, no runaway geese, and as we headed back to New York in our grand London Taxi I whispered to my husband, "I could really live here (and eat to my heart's content)."
REAL LIFE. REAL NEWS. REAL VOICES.
Help us tell more of the stories that matter from voices that too often remain unheard.