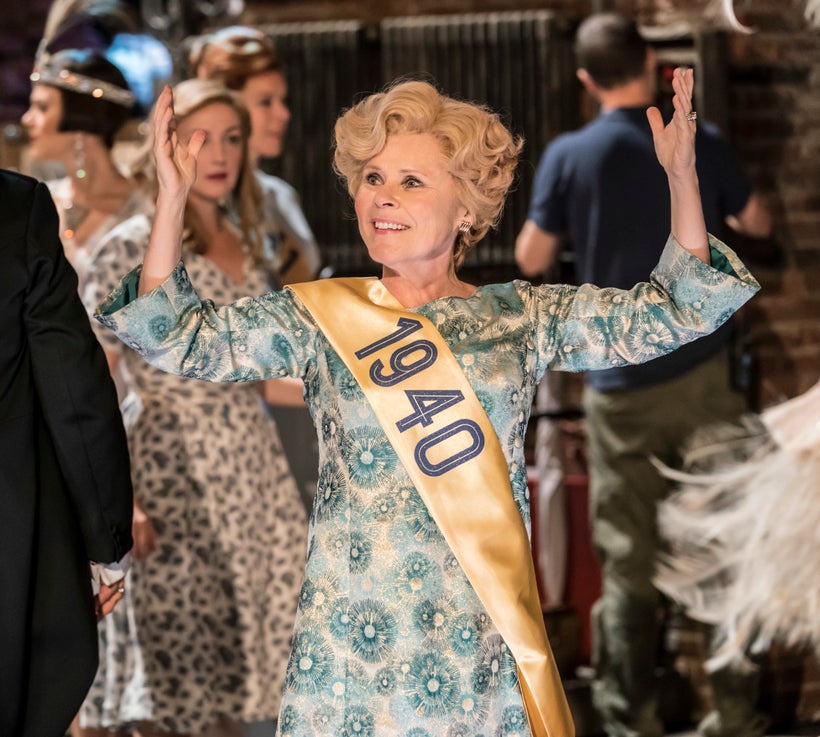 There have been way Too Many Mornings since Ben left Sally so he could marry Phyllis freeing Buddy to marry Sally and everybody to live happily never after. Too Many Mornings, yes; but there can never be Too Many Follies. This observation courtesy of the resplendent new staging of Stephen Sondheim and James Goldman's 1971 musical Follies, at the National Theatre's Olivier.
It took a while for the dust to settle following the financial wipeout of Hal Prince's magnificent original 1971 production, with direction by Prince and Michael Bennett. The show began to emerge from the shadows with the 1985 Avery Fisher Hall concert and the 1987 London staging, and over the past twenty years there have been at least four major productions.
Of course, just about all full-scale/full cast/full score productions of Follies can be considered major; it is not the thing you'd try to tackle with six actors, two pianos and a tuba. (Please, no!) Follies by its very nature calls for a grand scale, or more precisely a crumbling grand scale.
Dominic Cooke's stunning Follies has many attributes, led by the performances of Imelda Staunton and Janie Dee as faded Weissman Girls Sally Durant Plummer and Phyllis Rogers Stone. Most astonishing, though, is the crumbling scale which Cooke, set designer Vicki Mortimer, choreographer Bill Deamer and the National production team have devised. The Olivier has a wide, orchestra pit-less stage which thrusts out into the audience (something in the manner of our own Vivian Beaumont). Cooke and Mortimer take supreme advantage of this; at any moment, the actors and their ghostly showgirl equivalents can be placed in contrasting spaces, forcing our attention into something of a panoramic view of the vast stage.
The design of the original production, by Boris Aronson, is legendary; but this one might well be on the same level. As for the staging concept, I don't know that I've ever seen a better intermingling of the principals (in their particular scenes), the crowd, and the ghosts. Cooke makes skillful use of an immense turntable, intriguing us at almost every turn. Demolition detritus and decaying scenery abound, heaped in mounds of landfill along the sides and upstage.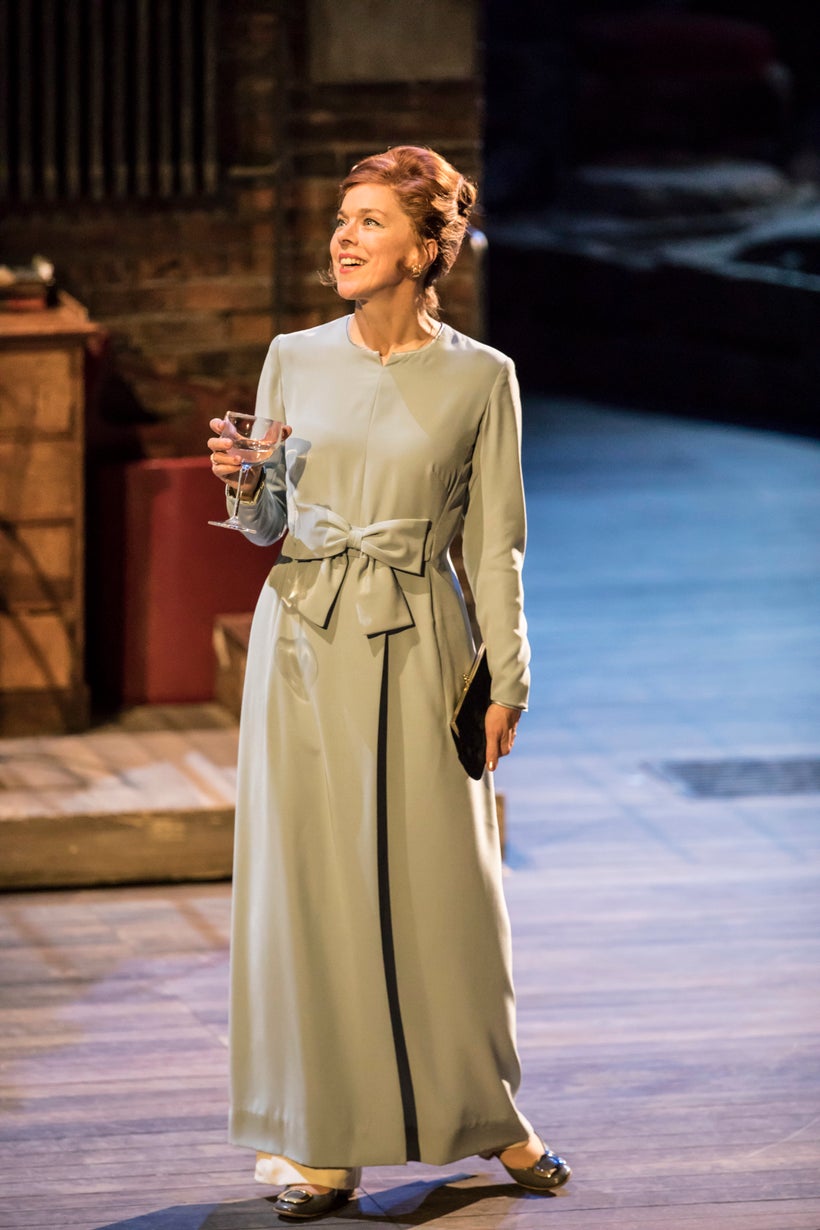 And as for those ghosts, they are more effective here than in the past. For me, at least; I felt that the handling back in 1971 was at times a melodramatic distraction, contributing to the not-quite-deserved weak reputation of the book. (This is a minority opinion, surely, among the legions of Follies enthusiasts who describe the original production as Broadway Nirvana, whether they saw it or not.)
Here, the director's open-stage concept; the ability to revolve "walls" in place at will; and the staging of the ghosts make invaluable contributions. In this production, the four central ghosts have developed personalities of their own; not just while speaking and singing, but while they are standing in Paule Constable's pools of light observing. Young Buddy (Fred Haig) stands out, especially. He watches his present-day self (Peter Forbes) like a parent watching junior on his first day back at school after a week's suspension: lovingly supportive but overly cautious, trying to almost nudge his adult self when he inevitably does or says something self-sabotaging.
Which brings us to the cast. Staunton, who most recently cleared the decks and hit the heights as Rose at the Savoy, has a long Sondheim lineage: originating the Baker's Wife in the UK Into the Woods (back in 1990) and more recently bounding from Lovett to Rose. (Three Olivier Awards; hmm, I wonder if there's a pattern here?) Working in a purposefully unconvincing blonde wig, she seems about a foot shorter than when we saw her stalking Louise and Baby June. Desperation shows as she tries to hold her ground and her stability. Is there any reason that we should suspect that the singer who so ferociously sold those meat pies and broke down so nakedly in "Rose's Turn" can stand up there, quietly and almost motionlessly, "Losing Her Mind"? Unexpected, yes; but Staunton's an actress, and a cannonball, and a Sally to remember.
Dee, too, is marvelous as Phyllis. We have seen her in the States as a comedian, specializing in Ayckbourn. Here she is cold as ice, stately and controlled—but with a lingering hint of the long-ago Phyllis of the chorus. (You can take the girl out of the chorus, but you cannot—in this case—thoroughly take the chorus out of the girl.) Icily controlled as she may be, Dee triumphs as she must with "Could I Leave You?"; the show pivots around this number, and cannot succeed without a knockout.
But now we come to the other side of the ledger. This production gets high grades overall, but—to quote the great Benjamin Stone—every height has a drop. Forbes does a wonderful job on "Buddy's Blues," hopping about the stage in a garish checked suit with two helpful chorines. But he does less happily with Buddy's first big test, "The Right Girl." (Does Young Buddy play a larger part in this number than ever before? And is that to "help" the actor playing his older self with the dancing?)
Philip Quast, as Ben, has a similar night of it. He is superb in the climactic "Live, Laugh, Love," looking something like a ghostly Jack Buchanan; and his breakdown-in-song is searing. But much of his evening is less convincing (although the role, in fairness, has always been problematic). The band of "old timers" do well, notably Josephine Barstow, Tracie Bennett and Di Botcher, although none of them raise the rafters like dear old Ethel Shutta and Mary McCarty.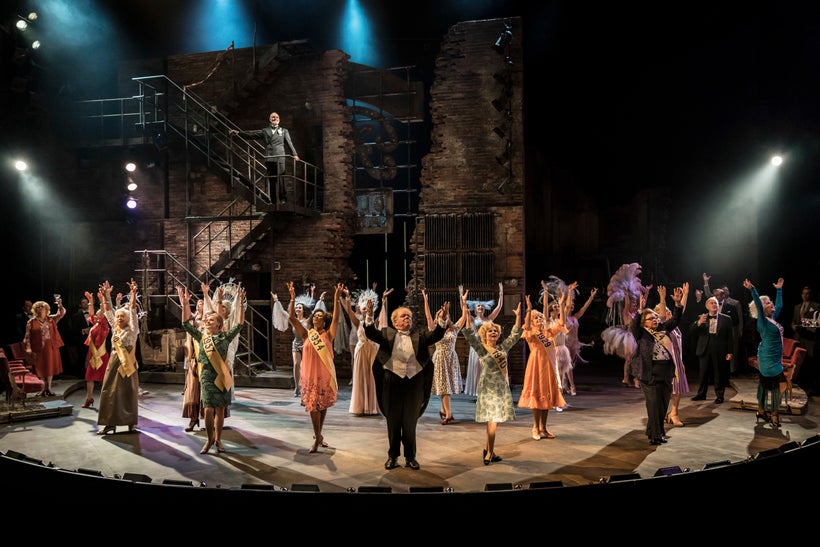 But quibbles are minor. This production is masterful, and ranks high on the Follies list.
The National Theatre production of Stephen Sondheim and James Goldman's "Follies" opened September 6, 2017 and continues through January 3, 2018 at the Olivier Theatre
Calling all HuffPost superfans!
Sign up for membership to become a founding member and help shape HuffPost's next chapter
This post was published on the now-closed HuffPost Contributor platform. Contributors control their own work and posted freely to our site. If you need to flag this entry as abusive,
send us an email
.