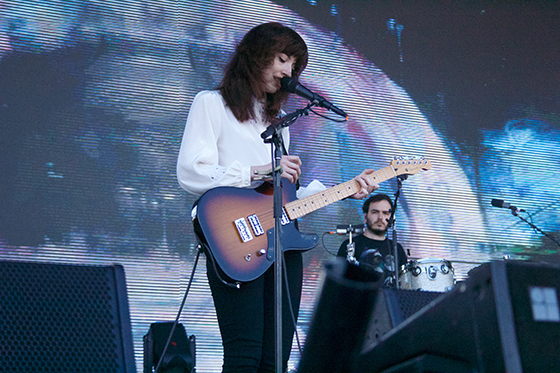 There's something majestic about the music of the London, England-based band Daughter that sweeps you into an enigmatic world of emotion. The trio, fronted by Elena Tonra with guitarist Igor Haefeli and drummer Remy Aguilella, has progressed into a fuller sound with this latest album Not to Disappear, building on their acoustic roots with a sweeping and emotive sound that is massive, yet tender.
Recently, I was able to chat with the Elena, Igor, and Remy before their performance at Bestival Toronto about their band's success and the progression of their music.
Looking back to when the band first started about 6 years ago, what's the best memories of that time when things first just got started?
Elena Tonra: I think we had some really beautiful shows with really amazing crowds. Even some of our support tours that we've done have been great. We played with The National once. We played with Sigur Ros at the Eden Project. It's basically like, in England, these big domes that have big greenhouses, but their huge. It's a place where a lot school trip used to like when I was a kid. We got there and played that show with them. They were a really big inspiration for us as well. Playing with Sigur Ros was amazing. Things like that. A lot of support stuff that we've done has been really incredible. Our own shows have also been great, but I think to play with artists that you really love and to be on the same stage as them is really cool.
Listening to both albums If You Leave and Not to Disappear, the new album seems to be a bit more musical than the first album. What do you think the progression of this band has been like over time?
Elena: I think we've went into a lot of different stages. I think the first beginnings of the band were based around very much guitar songs. At the time it was an acoustic guitar, then it was built upon that. More recently, over the course of time, it's been a lot more electronic and its become a lot more aggressive maybe. The writing doesn't happen the same way twice now, whereas it used to be very much a set thing, and now its gotten a lot more free. I think its just maybe as you get older, you don't write the same as you used to, so you have to work in new ways and be creative in new ways. Its kind of a sad thing really. I feel like when you're making songs as a kid and knowing that no one's ever going to hear it, its very different compared to making a second record and knowing at least some people will hear it. I think it changes the way that you think and work, so I think it has been a bit of progression sound wise definitely. It also goes with playing a lot more shows and playing live and gathering pedals and different things you like.
Igor Haefeli: With the first album, we experimented with things. You obviously have an understanding of what you want to achieve. Sometimes, it might take a couple times to get it right and have to go back to it and re-record stuff. Whereas, the new album, it was a lot more preparation before, so we knew once in the studio, we could potentially be at our best and do everything that we wanted to do. Record it that way. Confidence is a big thing I'd say.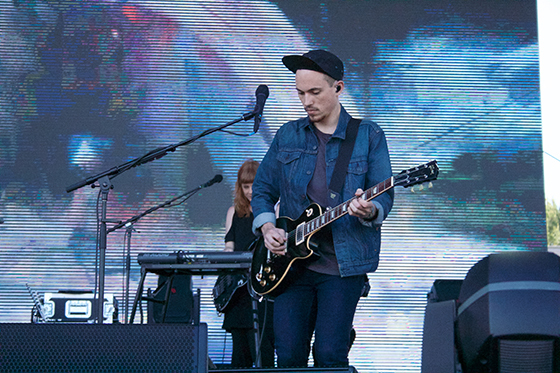 You're doing a lot of big shows in North America and all over the globe. How do you feel about the success thus far?
Remy Aguilella: I think we've been very lucky in the sense that there's people that have been in a band for a long as we have that definitely haven't had the luck that we've had. We've worked really hard for it. We've really dedicated an enormous amount of time. Although things have gone quickly, they have gone progressively as well. Like this is the first time we're playing Detroit and we're already playing a fairly big room, but in general it's been very progressive. We started playing hundred capacity rooms, and now, depending where we are, we're playing 2000-3000 and its definitely amazing. It's a step in the way we've already done. We've done 400, 800, and 1000. We're still learning. It's been really cool. Again, very lucky as well.
Elena: It's a very strange world. It's a lot to do with luck really. I'm very fortunate that people are fans, that there are people that come to our shows and like us! Its beyond any of our wildest expectations.
How do you keep the personal and working relationships in the band fresh as this band starts to evolve?
Elena: I think that it becomes a bit more of as you work with anyone for a long time, you know how they work and there's always creative tensions and people work in different ways. It's like house sharing in a way. You know who doesn't load the dishwasher. It's a similar thing. There's a family thing about it after a while with any touring group. I think we also got a big crew and people we've been working with for a long time. I think our professional relationships and personal relationship are like we are all really good friends and we're all like a family. Its like within families you're likely to strangle each other, but you also really love each other. I think we're not afraid of telling each other that the idea that you is maybe not good. It's like that awkward thing if you work with someone you don't know, you can't fully work work together. There's a bit of awkwardness and nervousness, and you want to be as familiar as possible to be like 'That's a bit shit but we can take that and make that into thing'. There's a really familiar way of working which is cool.
Daughter will be playing the Majestic Theatre in Detroit on Tuesday, July 26th with special guest Julien Baker. For more information on Daughter, go to ohdaughter.com.
REAL LIFE. REAL NEWS. REAL VOICES.
Help us tell more of the stories that matter from voices that too often remain unheard.