LONDON ― A quintessential English rain shower fell on the crowd, but the hundreds of residents and visitors who had gathered Monday evening at a park outside City Hall to mourn the city's most recent terror attack were unflinching.
The Potters Fields Park vigil took place just down the street from London Bridge, where armed assailants mowed down pedestrians on Saturday before abandoning their car and launching a stabbing spree around the Borough Market area. Ten people were killed, including the attackers, and dozens more were injured. It was the third terror attack the U.K. has seen this year.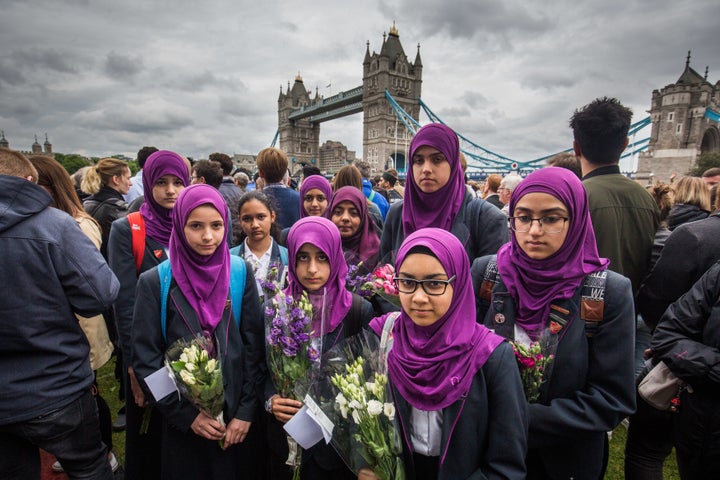 "London stands in defiance against this cowardly attack on our city, our people, our values and our way of life," London Mayor Sadiq Khan said at the gathering. Khan and other U.K. officials began the ceremony by laying floral tributes next to City Hall. 
"As a proud and patriotic British Muslim, I say this: You do not commit these disgusting acts in my name," Khan said. "Your perverse ideology has nothing to do with the true values of Islam and you will never succeed in dividing our society."
His speech was broken up by bouts of resounding applause, but concluded with a minute of silence. After the ceremony ended, attendants began to march quietly toward the City Hall flagpoles, where they offered flowers, signs and other tributes.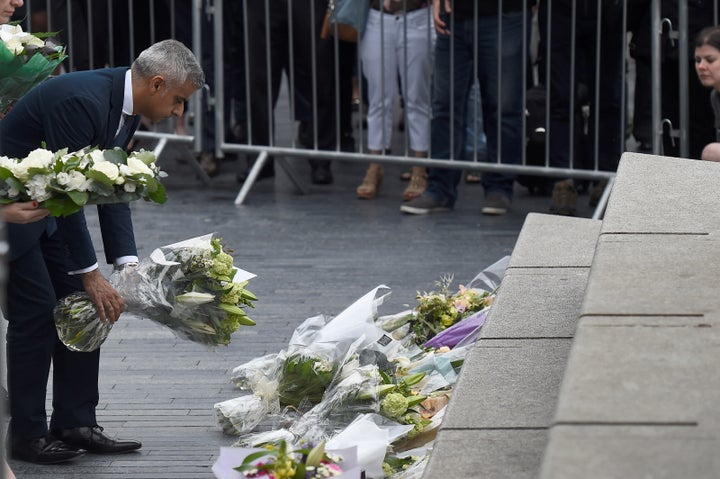 For people like Jacqueline Best, a British woman in her 50s, Khan's speech exemplified that diversity makes London stronger.
"We are a collaborative, we are a people, regardless of our faith, our religion," she said. "Terrorism won't defeat us and it's because as a nation, as much as people talk about racism, and 'Muslims against the rest of us,' [Khan] made it clear that that's not the case here. We're not standing for it, we're not buying it. We know what faith really means."
Several Muslim advocacy groups attended the rally to, as Khurram Maqsood put it, "spread the real message of Islam ... peace."
"Extremism has absolutely nothing to do with Islam," Maqsood, 39, said. "We just want to show that with our presence here and with our model."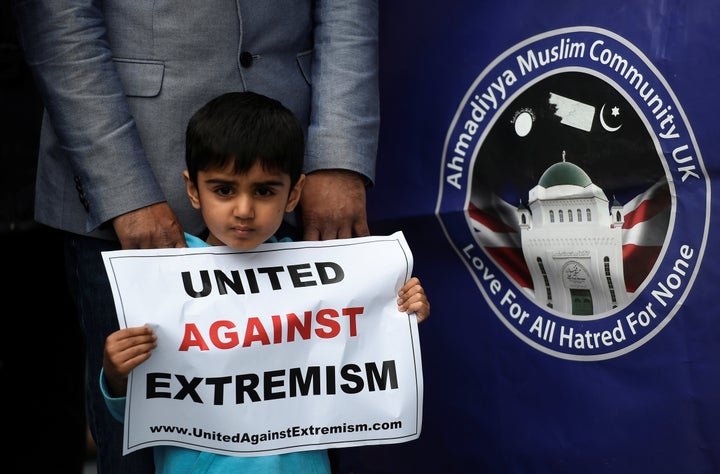 In another corner of the vigil, the mood was considerably livelier. Singers from local choir Citizens of the World led a small congregation through two of Britain's most beloved songs: John Lennon's "Imagine" and Oasis' "Don't Look Back In Anger." 
"Music manages to say things that we can't encapsulate with words, so we're really glad we could come down here this evening and do this," said the group's director, Becky Dell.
Metropolitan Police identified two of the three suspects Monday. Khuram Shazad Butt, 27, was known to authorities and even featured in a controversial 2016 documentary about jihadis in Britain.
The incident was a tough blow to Brits, still raw from mourning the loss of the 22 people killed in the late May attack at a concert in Manchester. In March, four were killed and 50 injured after Khalid Masood, 52, drove a car into pedestrians on Westminster Bridge, the city's political epicenter. 
Willa Frej contributed reporting. This article has been updated with more details and interviews from the vigil.
Calling all HuffPost superfans!
Sign up for membership to become a founding member and help shape HuffPost's next chapter