As a guard against car-ramming attacks, London's Metropolitan Police have unveiled a new device that features spikes and netting intended to rapidly halt vehicles weighing up to 17 tons.
The equipment, called the Talon, can puncture the tires of vehicles that drive over it and then ensnare their wheels in a net ― causing the car or truck to skid to a stop. Police announced they used the tool for the first time on Sunday at a Naval Association Parade in central London, and that it's likely to become a fixture at heavily populated events in the city.
The police said they also had installed vehicle mitigation barriers on nine bridges and at several other sites around the city.
The Talon is the latest example of how cities are attempting to prevent vehicular terror attacks, which have killed over 100 people across Europe in recent years. The attacks have increased security concerns around large gatherings and tourist locations in many cities, but have proven hard to stop.
Two ramming attacks in Spain last month, one of which targeted a popular boulevard in Barcelona, killed 13 people and injured dozens of others. Several attackers careened a van into people on London Bridge in June, before going on a stabbing spree in the tourist hub of Borough Market. The self-described Islamic State claimed responsibility for both incidents, along with other vehicular attacks in cities including Berlin, Stockholm, and Nice, France.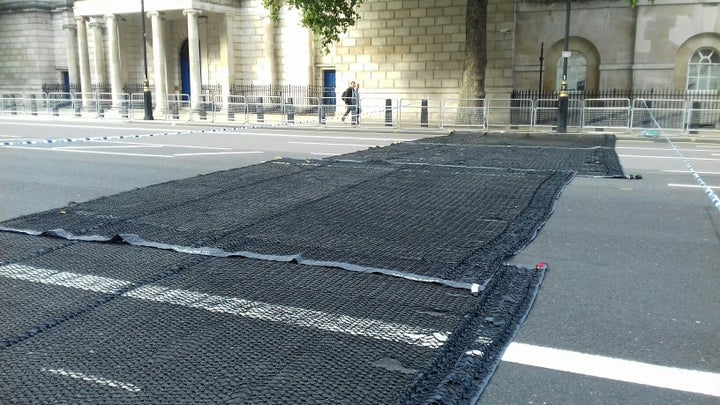 ISIS is not the only group to use vehicles for terror attacks. Palestinian attackers have carried out car rammings in Israel for years, and more recently far-right extremists in Britain and the United States have used vehicles for violent purposes.
At a white supremacist rally in Charlottesville, Virginia last month, a man killed one person and injured 19 others by ramming his car into anti-racist demonstrators. A far-right extremist in London also killed one person and injured 11 others in June when he drove a van into a crowd of people outside of a mosque.
On Sunday in Vancouver, Washington, one man was arrested after attempting to drive into a crowd of anti-fascist protesters.
Authorities have struggled to find ways to prevent vehicular terror attacks, which have long been promoted by extremist groups as a means for supporters to commit mayhem without needing any direct support from a terror organization. Since at least 2014, ISIS propaganda has urged its followers to take it upon themselves to use vehicles to target "disbelievers."
Many cities have erected security bollards to guard against such attacks in high traffic areas, such as New York's Times Square, but surrounding every street and event with barriers is not a viable solution. Following a truck attack on a Christmas market in Berlin, the city's police chief, Klaus Kandt, told reporters that defending against vehicles was difficult because the number of soft targets is unlimited.
Popular in the Community