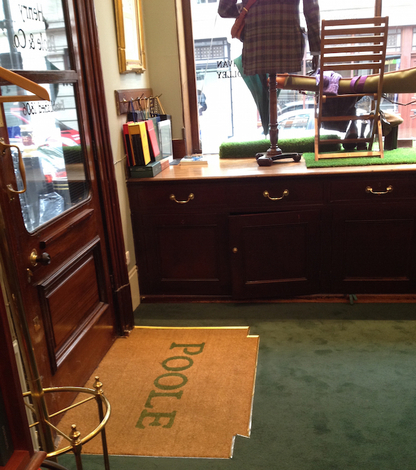 Winston Churchill had a very hard time holding onto money, throughout his life, yet he wore bespoke...well, everything. Henry Poole & Co. was not Churchill's first bespoke tailor but it was his longest-lasting tailoring relationship. Henry Poole himself was long gone even by the time Churchill arrived, but Poole's descendants continue to ply his elegant trade very close by to the family's pioneering original location on Savile Row. I decided to pay them a visit.
I entered through the doors at Number 15 and waited. A very young Russian dandy was analyzing pocket square options (as near as I could decipher) in Russian with his girl friend. Their purchase finally made, the couple exited and the gentleman who had been attending to them, Sales Manager Anthony Rowland, pivoted to greet me.
I had a very cordial time working with the current Chairman of Poole & Co., Mr. Angus Cundey, putting together my book, CHURCHILL STYLE. Mr. Cundey was most forthcoming with facts and photos, including shots of Poole's original, handwritten, account ledger pages for Winston Churchill going back to 1905. I could see those ledger books now spread out on a table in anticipation of my arrival. I gravitated to them.
"Mr. Cundey is here and expecting you," Anthony Rowland informed me. "But he is engaged at the moment and, with apologies, asks that you wait."
The ledger books make for great reading. Not only is the calligraphic script entrancing, Churchill's life is spelled out in the margins. His wedding suit appears on the 1908 page. The ascendances (and descendances) of his career are all accounted for in the scrawled titles of his ever-shifting cabinet posts, as are his address changes, from his first bachelor flat at 105 Mount Street.
"He really was quite slim when we first got hold of him," Anthony Rowland pointed out.
Churchill probably saw Mr. Cundey's grandfather the first time he came in. We had over three hundred tailors back then, with fourteen cutters on the premises. If you can imagine, from the end of what is now Abercrombie & Fitch -- which would have been the western branch of the Bank of England back then -- Henry Poole occupied Numbers 36, 37, 38 and 39 along Savile Row. It was a massive enterprise and one big part of it was the livery department, where customers often spent far more outfitting their servants than they spent on themselves. The rest were workrooms and the showroom, which was a very grand, opulent place with pink marble columns and gilt ceilings.
I knew that Henry Poole, in 1848, had knocked down the stable block at the back of his 4 Burlington Street premises and built a new showroom fronting on Savile Row, where his rear staff entrance had been. He thus became Savile Row's first tailoring establishment.
"The building next door was hit by an incendiary device during the Blitz," Anthony Rowland now told me. "We had an oil drum on our roof that came alight. It ended up with the fire brigade hosing everything down. These ledgers were all tightly packed in the basement. The water found its way down there but the ledgers survived with just the outer parts damaged."
"Henry Poole, when he took over from his father, James Poole, in 1846, threw out forty years-worth of ledgers," Mr. Rowland laughed.
Lord knows whose names were in those! Louis Napoleon III was Henry's first big royal customer; five years later, the Prince of Wales, soon to be Edward VII, came aboard. Both men became friends of Henry Poole's. Henry was a masterful networker and marketer, for his day. He moved in all the right circles. That's how we come to have forty different royal warrants from around the world; a world's record, I believe. The couple I just had in here from Russia, I was showing them the royal warrants of Tsars Alexander II and III.
In 1961, Henry Poole & Co. was forced out of its venerable premises on Savile Row by the Westminster Council. "They basically took the property, compulsorily purchased it and tore down our grand showroom for a car park," Mr. Rowland observed grimly.
We didn't return to the Row for twenty years, until 1982, when Mr. Cundey brought us back. Unfortunately, Savile Row today is again changing very rapidly. Big businesses that can afford big rents are coming in and pushing out the bespoke showrooms. The Council doesn't seem to care. They don't seem to appreciate history or heritage. They will once it's gone. Thankfully, we do still have the ledgers.
Henry Poole died in 1876. He left behind quite a mess; a morass of debts and a tangled will. His cousin Samuel Cundey had worked beside Henry for years. It was Cundey's son, Howard, who rescued the business. Howard Cundey's sons, Sam and Hugh, then navigated the company through the war, it's aftermath, and the 1961 exile. Now Sam's son, Angus, who brought Poole & Co. back to Savile Row, and Angus's young son, Simon, maintain the present and point the way toward the future.
I looked up to see silver-haired, 78-year-old Angus Cundey approaching from the rear of the showroom, resplendent in a blue pinstripe suit.

"So, you want to talk about Winston Churchill," he smiled, dropping down into a chair beside me.

Well, you know he first came to us in 1905, when he bought a vast quantity of clothes that we finally delivered to him in 1906. And that's how it went for a very long time; quite large quantities. We made his overcoats, we made all sorts of elaborate court dress for him. The one garment that he particularly loved was the Trinity House uniform, which is today on display at Chartwell.
"I'll tell you something sad," Angus Cundey went on, after a moment.
Churchill's orders with us went lower and lower following the Wall Street Crash. He must have gotten very depressed because he no longer came in to see us, he would summon a cutter down to Chartwell. And my father told me that the cutter always returned quite cross because Mr. Winston Churchill would keep him waiting for at least an hour. Then, to make matters worse, he stopped paying his bills. By 1937, he owed us about 160 pounds. This upset my father very much. Finally, in 1940, on the very day that Churchill became Prime Minister, our accounts clerk sent a bill to 10 Downing Street. That was a wicked thing to do. What happened to the accounts clerk, I can't say, but to my father's dying day, he rued the loss of Winston Churchill, who we'd clothed for the whole of his life. Sir Winston did eventually pay the bill, but he never came to see us again.
Anthony Rowland had brought out a strikingly familiar-looking grey pinstripe suit.
"This is a suit of Churchill's that we still make today," Angus Cundey beamed. "We call it our Churchill and it is a perfect copy of one we used to make for him. I'd say we've sold about a hundred of them over the years. This is the Churchill style."
"In Churchill's day, the suits were much heavier; made from an 18-ounce flannel," Anthony Rowland added:
Whereas this one is really a 10. We've otherwise tried to maintain the identical marbled grey affect, with the same pinstripe going through it. It is a three button coat with a waistcoat. The blue lining is more our artistic license; it probably would have been grey for Churchill, maybe even a black. The trousers are cut for braces and there is a button fly. Zips didn't really come in until after the war.
And how much does it cost, I asked, indiscreetly?
"About £3,515," Angus Cundey answered. "Back in 1939, it probably cost the same in equivalent value. Still, I am the first to admit these are extravagant prices. But you must realize, a cutter makes every bit of it by hand, from the stitches to the button holes. And its all done right here."
~