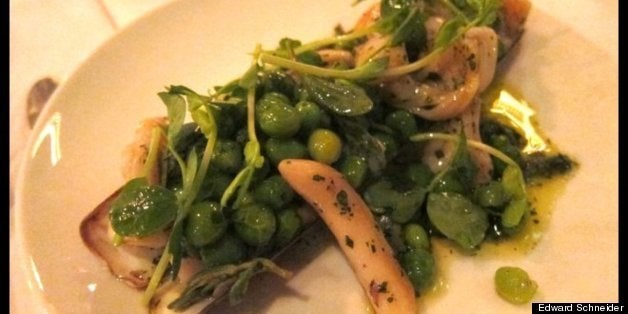 Some time last year, I read that financial miscalculations -- nothing more sinister than that, I believe -- had sent London's St. John Hotel and Restaurant (a.k.a. St. John Chinatown) into administration, a term of UK legal art that I gather indicates some form of bankruptcy. I was saddened by the prospect of losing a favorite place for a stylish, reasonably simple, delicious meal after the theater but was pretty quickly heartened by the news that the business (separate from the other St. John restaurants, which continue to thrive) would be reborn under the name of One Leicester Street, once the trademark St. John décor (white and plain) had been expunged. The head chef, Tom Harris, would remain along with quite a few of the kitchen, dining room and administrative team, but under the management of the Unlisted Collection hotel-restaurant group.
Recently, having traveled to London on a very convenient morning flight (BA's 178 from JFK -- worth getting up early for), Jackie and I arrived in good time for a 10 p.m. reservation to find a friendly welcome and a warm, placid environment -- a pleasant and more normal restaurant décor, to be sure, though without the quirkiness of the old St. John white-box look (and without the St. John conceit of pouring wine and water into identical glasses: perilous if you're drinking a pale white wine).
The ever-changing menu is recognizable but isn't a slavish reproduction of the previous regime's: Mr. Harris is running his own show now. If you like St. John-style food -- straightforward but canny, with interesting but not bizarre combinations of good, carefully selected ingredients -- you will certainly feel at home with this menu. And if you were sometimes frustrated by the previous too-idiosyncratic, very French wine selection, as I was, you will rejoice to see a broader range of bottles on the new and evolving list.
We started with razor clams, peas and mint: tender, flavorful slices of clam; no-less-flavorful peas (though perhaps a little undercooked); lots of bright mint; herby, slightly garlicky butter to soak up in a piece of the good bread. Another starter was a dish from the old regime: puffed fried pig skins (think of a firmer, porky, spicier version of prawn/shrimp crackers) with a smoked cod-roe dip, which I couldn't have stopped eating if I'd tried, which I didn't.
Our substantial main courses were braised broad (fava) beans and wild garlic finished with Berkswell, a sheep's-milk cheese from the West Midlands of England; and cured smoked beef chuck, from the Dexter breed of cattle, served with raw beets, lightly pickled beets and horseradish. Favas can be fresh and springlike -- especially when skinned, a laborious task -- or they can taste a little muddy, which is how lots of people like to eat them. These were the latter; the dish was akin to a stew or thick soup and might have been more successful in a first-course portion a third of the size. The beef was of excellent texture -- tender but with just the right amount of chew -- and full of flavor, though, to my mind, too much of that flavor came from the brine and the smoke. I was interested to see that the same meat is served as a sandwich in the upstairs bar: that would be fabulous, and I mean to have one some day.
Desserts -- a honey and brown butter tart and an assemblage of apple, hazelnuts and salty caramel that hit every flavor and texture note on the pastry chef's keyboard -- were of mind-bending deliciousness.
Our meal, including service and a bottle of nice (Catalunyan) wine, added up to £110 ($165).
One Leicester Street, London WC2H 7BL, +44 (0)20 3301 8020, info@oneleicesterstreet.com. Open every day for breakfast, lunch and dinner. Despite what the website says, reservations are taken till about 10:30 - not late enough considering the restaurant's proximity to the theaters, but it must be said that the place was winding down by around that hour, so I guess they know what they're doing.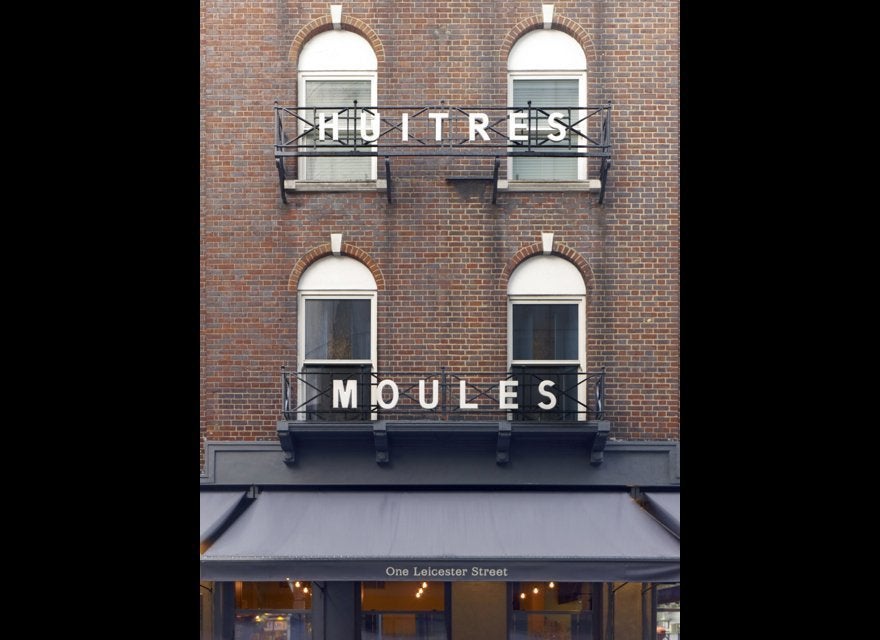 London Dining: A Restaurant Is Revived At One Leicester Street