Changes are under way in the St. James's area of London. A single mega-landlord owns around half the property there: the Crown Estate, which manages its portfolio not for the queen as an individual but for the monarchy as an institution, and its plan is to buttress the area's identity as an elegant enclave in the West End, in part by leasing retail premises to what are viewed as the right sort of businesses.
Among the first of the new tenants is Café Murano, on the site of what years ago was Gordon Ramsay's Pétrus, if that helps experienced restaurant-goers zero in on the location. It is the more casual sibling of Angela Hartnett's Murano (I've known Ms. Hartnett for more than a decade, since her days running the restaurant in The Connaught hotel), and it could hardly be a more welcome addition to the neighborhood. It's a good-looking place, designed by one of London's go-to firms, Russell Sage Studio; there's a long bar up front facing a comfortable banquette and tables -- some wood, some marble, none dressed with tablecloths -- and two small dining rooms behind. Lighting is atmospheric, yet there's enough of it to read the menu by. Happily, there's no music, and the acoustics do not promote ear-blistering noise: sound level depends entirely on the other diners. During both of our dinners there, it was pleasantly buzzy but not what I'd call loud (apart from one middle-aged birthday boy, who soon made his way out into the night). Service is enthusiastic and of high professionalism. Here's an illustration of both qualities: On our second visit, the waiter who had looked after us the first time saw us and paid a visit to the table to say hello. Looking around the restaurant, I saw people feeling very much at home.
The head chef is Sam Williams, and she's ace. She assembles frequently-changing, always seasonal, menus (with input from Ms. Hartnett and some of the Murano crew) that are both traditionally Italian and stylishly personal. They're also packed with things you will want to eat, starting with snacky drinking food such as little deep-fried risotto balls (arancini) in which you can actually taste and feel the rice and in which truffle oil is used subtly enough that even I can't whine about it.
Standouts from our first dinner were cod with lentils and salsa verde, anolini (meat-stuffed pasta circles) in broth, and osso buco with risotto. From our second, pappardelle pasta with hogget (yearling lamb not yet grown up to be mutton) and olives, skate with young artichokes and zucchini, and meringue with winter fruit.
There must have been a lot of thinking and tasting behind the cod, a seemingly simple dish: the lentil mixture on which it rested was flavorful with aromatic vegetables and a sparkle of vinegar -- an elegant complement to the vegetal salsa verde. The broth for the anolini shared a virtue with the risotto that was an equal partner with the osso buco (which, like the pastas, is available in a smaller first-course portion): They were both true of flavor but not distractingly intense. The broth enabled the anolini to shine; and again, you could taste the rice in the risotto - as to the osso buco and its sauce, they were rich enough to pack their own punch. (Curiously, one of my few quibbles, at our second dinner, was that a braised pork shoulder dish was too unrelentingly potent in flavor.)
The hogget-olive sauce for the just-right pappardelle was something for any cook to aspire to. While they were a palpable presence, the olives weren't used to excess -- when many people make things like this, they let the olives bully the other ingredients -- and the hogget was pulled apart into succulent shreds that retained an appealingly tender fibrous texture. The noodle-liquid-solid ratio was ideal.
For Jackie and me, skate is a favorite fish; at home, we eat it in all sorts of ways, but in restaurants it is most typically served in fairly acidic environs: with capers, for instance. Ms. Williams's rendition was softer, with mild young artichokes and sweet strips of zucchini, and it brought out a mellower side of this fish.
I associate meringues -- the crisp-soft kind, as in a Pavlova -- with summer fruits: berries and so forth. The meringue we had here was served with winter fruits like prunes and dates: a pleasant surprise, because these don't interfere as much with the meringue and its vanilla-scented cream.
The wine list was put together by Murano's sommelier, Marc-Andrea Lévy; it contains plenty of interesting and delicious bottles, glasses and carafes. Nice cocktails, too.
A striking thing about Café Murano is that, however sophisticated and crypto-complex the underlying recipes may be, the flavors remain clear and delicious. A pretentious slogan the Crown Estate is using for the St. James's redevelopment is "Redefining Refined." Well, if by that they mean encouraging restaurants like this, there may be something in it.
Café Murano. 33 St. James's Street, London SW1A 1HD; +44 (0)20 3371 5559; http://www.cafemurano.co.uk/; reception@cafemurano.co.uk. Open Monday to Saturday lunch, dinner and (for bar snacks only) in between. Full dinner for two about £95 ($155), including wine. Prix fixe lunch £18 ($30) for two courses, £22 ($36) for three.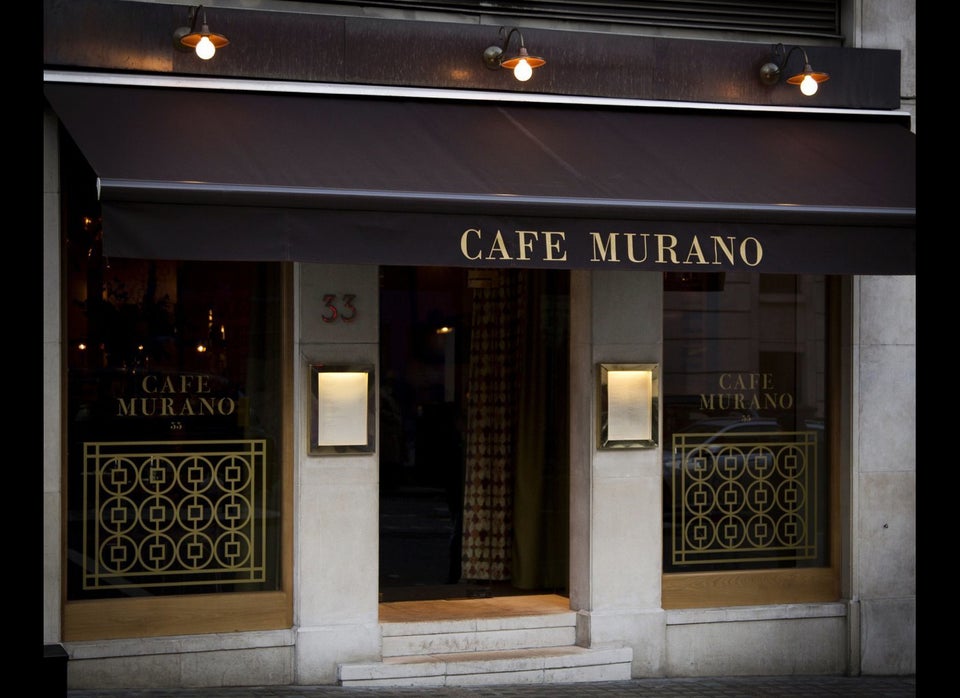 Cafe Murano - A New Neighbor On A Changing London Street