Four Things To Do When Alone In London
If you find yourself in London on business with an extra day before you have to catch your flight, or if you are visiting this great city alone, here are four suggestions for some different activities you can enjoy in London all by yourself. Of course, all of these would be fun with a friend too, but just because you find yourself alone does not mean you can't have a new adventure or two.

Ride a Bike

You can rent a bicycle from one of over 500 stations around London for two pounds for 24 hours. Use your credit card right at the station or arrange it ahead of time online. After you have walked around London or ridden the underground, getting on a bicycle is like being handed wings. You can cover a lot of ground and get a feel for the layout of the city by being on a bike. The bike lanes are a little small in London, but boost your confidence in the busier spots by following another of the many London bikers through the intersections. When you get tired of riding or you want to stop in somewhere, just return your bike to the nearest docking station.
One of the downsides of traveling by yourself can be eating alone. If you go on an Eating London food tour, not only will you get to taste food from eight different spots in East London, you will also have new friends to eat with. There are never more than twelve in a group, and you visit smaller places that you might not find on your own, even learning a little history along the way of this funky part of town. The bonus takeaway is that the next time you come to London, you will be sure to have a couple of new favorite spots to eat!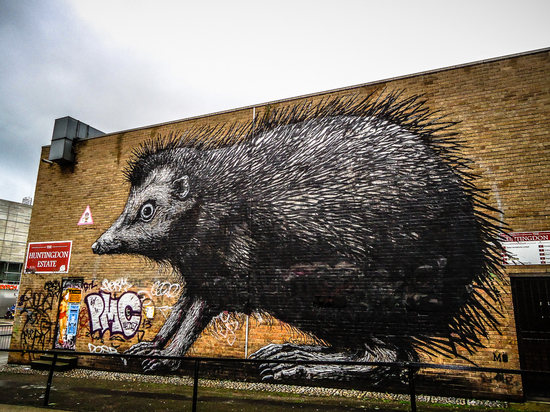 photo by Steve Hänisch
The Street Art movement that has been sweeping the world is as wonderful as it is fascinating. This ever-changing art places a sense of urgency on seeing it today, but you have to know where to look. Go on a tour with local street artists and see the scene from their perspective. You never know, you might even catch the world changing right before your eyes as the unwritten rules of the medium create an environment for constant evolution.

Visit a Museum

Many of London's museums are free to visit, so you don't have to feel badly about not being able to see an entire building. The best part of visiting a museum by yourself is that you get to set the pace. If you don't find an exhibit inspiring, you can move on and spend time in the rooms that peak your interest. If I only have an hour in an art museum, I skip straight to the Renaissance to spend it with a fifteenth century Italian master. But maybe Modern Art is your favorite? So who says you can't start there. Jump in wherever you want. There are no rules when you are by yourself in a museum. The same goes for museums of history and science.
Making your own way in a city is a wonderful way to travel, and the memory of seeing or experiencing something new makes a much better souvenir than a miniature double decker bus.
Since I live in Scotland, I am no London expert, so I got a little help from my travel friends Steve and Susi for help on this article. Also, I recently had the uncommonly delicious pleasure of being a guest on an Eating London food tour, but all opinions are my own.