If you were to Google for a list of the best cities to visit in December, London and New York always come right near the top. This is for good reason, as everything gets festive, from the bars and nightlife, to the landmarks and the restaurants, as well as all the performances.
Things To Do
You are spoilt for choice this time of year, however I wanted to focus on creating a list outside of your usual museums and landmark options. In fact, when I was planning my trip to London, I was annoyed that every list was identical and didn't offer anything I wanted to see. I might not be arriving as a complete tourist, but I want to see the more bizarre and exciting things available in London, which are on virtually every road!
Medieval Banquet
If you've never been, then a medieval banquet is a must for your visit. They have perfectly managed to represent the middle ages, while if you don't feel quite ready to put on some fancy dress then the unlimited top ups on ale and wine should solve that issue.
My initial fear when hearing it is unlimited ale is the quality of the tipple, however it tasted great! The entertainment was in full force, with dancing, singing, gymnastic performers and jugglers. Everyone working there successfully manages to keep the illusion going throughout, never dropping their performance, even when you ask where the toilets are, I doth my cap.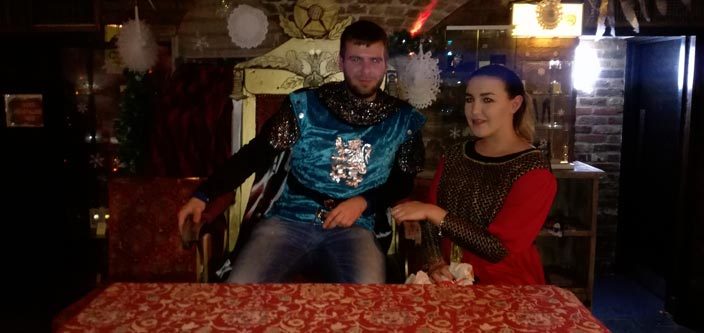 Jump In
If you have never been tempted to jump on a trampoline as an adult then there is something seriously wrong. Considering the lack of people I know who happen to own one, plus it doesn't tend to be a normal day-by-day activity means it is normally an unfulfilled desire. Well not any longer thanks to this giant park by Jump In, replacing what was formerly Mega Jump.
The little bonus was we got to experience it the day it re-opened under the new brand, talk about good timing! The building has 12,000 square foot of jumping areas, therefore you won't struggle to find yourself room.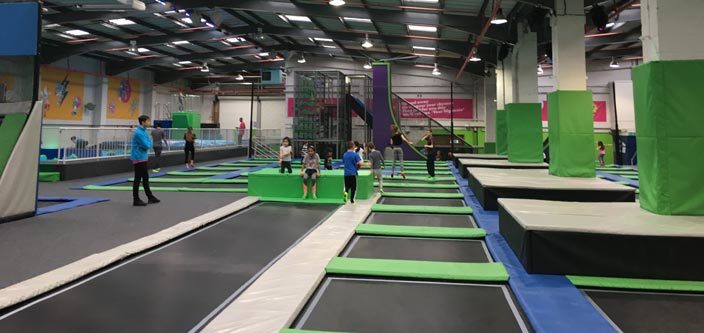 Thames Jet
Whether it's a guided tour of the Thames or a high adrenaline activity you are after, this will perfectly tick both boxes. The Thames Jet experience starts directly opposite the London Eye on Westminster Pier, then slowly takes you across to Tower Bridge, guiding you through every building along the way.
The voice of Brick Top (from Snatch) helps to explain all the bizarre buildings in front of you, until you pass that magical speed limit line on Tower Bridge, where the boat kicks into fifth gear.
As the speed picks up, the sounds of Mission Impossible and James Bond blurt out of the stereo system, helping to offer that exhilarating feeling.
A quick heads up, it does get cold when going fast, so definitely pack up warm.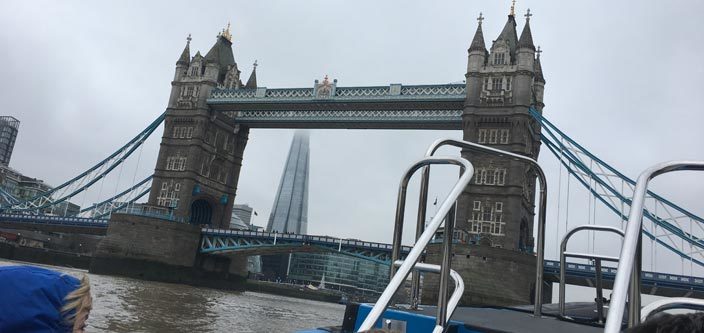 Ballie Ballerson
Whenever I see a kid jumping into a ball pit, there is a slight feeling of resentment, as I wish I could still be jumping around in them. However much we get older, we never truly grow up, therefore the moment I heard there was a bar that doubled up as a ballpit for adults, my eyes litup like bonfire night!
Well the ball pit perfectly matched what I imagined. As well as being fun however, it was also surprisingly relaxing, being able to half stand, half sit in all the balls, as I sipped on my spiced rum and coke.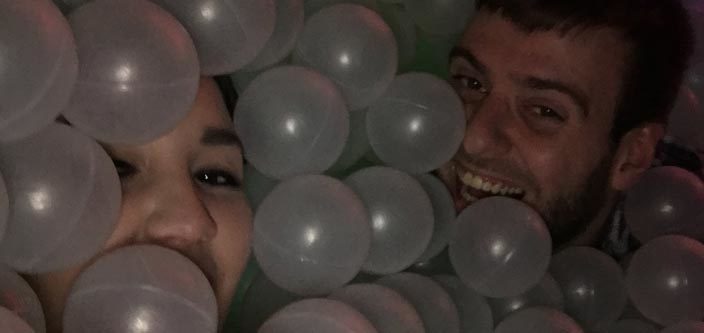 Winter Wonderland
It wouldn't be Christmas in London without Winter Wonderland. This place has it all, from giant rides, a performance of Cinderella on ice, as well as ice sculptures and a Bavarian beer and sausage bar.
Suitable for all ages, the time you arrive is critical. If you have kids with you then the day time is great, but if you don't then you will probably want to avoid the daytime as there were just way too many kids everywhere. I mean, seriously, way too many kids! On the other hand, in the evening there are a lot of drunken adults, therefore it isn't great for families at this time.
With all the lights on, the Christmas tree setup and the Baileys hot chocolate being poured, as well as melting marshmallows over a fire, Winter Wonderland is the ultimate trick to put you in the mood for festivities.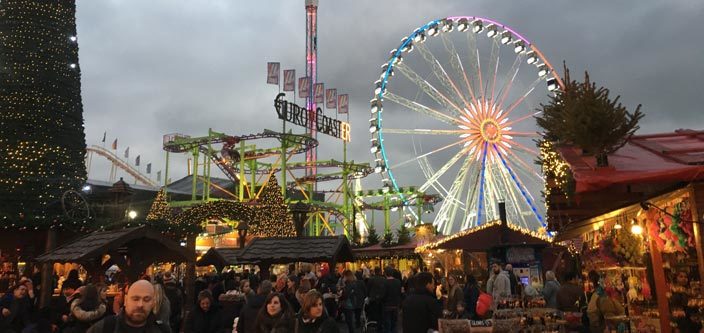 Where To Eat
Not too long ago London won a prestigious award as the best city in the world for restaurants. This is bizarre when you think about English food and our poor reputation around the globe. However this was also the reason for London winning. We English know our food isn't great, which is why our city is filled with foreign restaurants. Whether you feel like an Indian, a Chinese, Italian, Mongolian, Lebanese, Portuguese, Spanish, French, German or Brazilian restaurant, you will normally find it within a short walk anywhere in London.
You can almost feel stunned with choice when in London, therefore I want to offer you one quick option below…
Thai Square
Available in multiple locations across London, we tried our hand at the Thai Square in Covent Garden and all I can say is I was beyond impressed! The food was exquisite, while we picked the golden 3 course meal for 2 people, which means you get all the starters on the list.
Anyone who knows me knows I'm a sucker for starters, so I was beyond happy. The layout is brilliantly setup, the locations are convenient, and the staff are stupendously polite.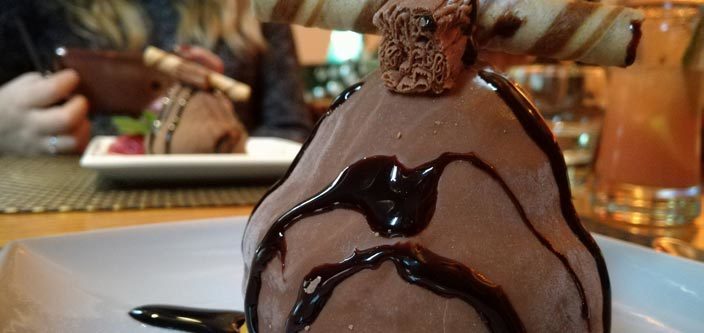 Where To Stay
I have three hotels I want to recommend, all equally amazing with their own benefits I will try to highlight below. There are several consideration you must take, such as where the activities are you plan on attending, what your budget is, how close to a station the hotel is, what facilities you are looking for and what the breakfast is like. For me….Breakfast is the most critical, but I love my food!
K West Hotel & Spa
From the giant shower to the extremely big TV and bed fit for a king, the K West Hotel & Spa had everything and anything you could ask for! With spa in the title, I'm sure you can imagine how good the facilities are.
Well, they won the World luxury spa awards in 2016, as well as the Good Spa Guide 'best spa in London' award the year before. The titles don't look like they are going to stop at any point, with their wet spa offering the perfect relaxation and escape from the hustle and bustle of the big city.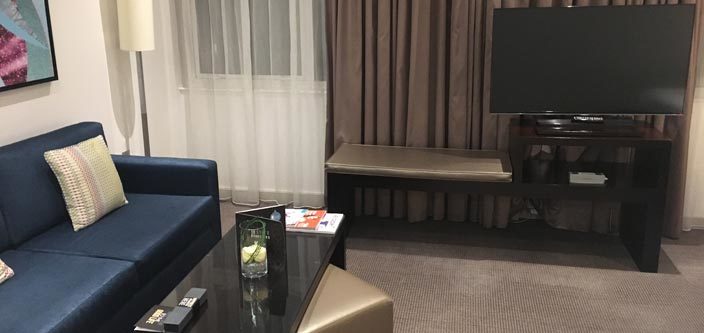 Hilton Metropole
There is always a certain expectancy when you arrive at a Hilton and the Metropole perfectly matched it. The little additions, such as the giant Christmas tree at the entrance, leave a smile on your face and help to build that festive feeling.
You couldn't ask for a better spot, being a 1 minute walk away from Edgeware Road station (seriously, you spot it the moment you leave). It's also a 10 minute walk from Oxford street and Hyde Park.
The room also had a great view, being 11 floors up, meaning you get a great picture of London at night. The bed was soft, the room was clean and the TV giant, all good news to me!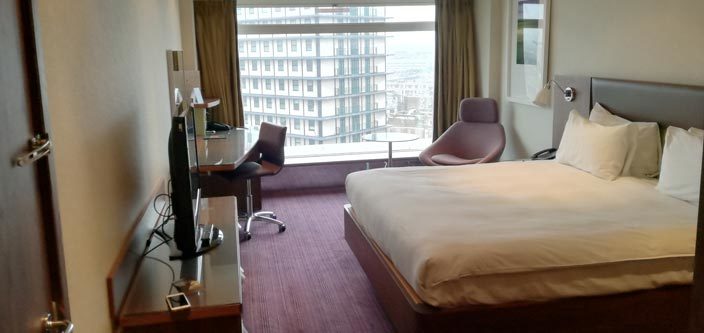 Royal Lancaster Hotel
I'm sure this hotel is very busy most of the year, however it is now a number one target in December. Why you ask? It is the closest hotel to Winter Wonderland, while it is also one of the greatest hotels I have ever stayed in my life.
It took approximately 6 minutes to walk to Winter Wonderland from the hotel, while the staff on the front desk were beyond friendly. The room had something I love to find in modern hotels, a proper coffee machine. I hate filter coffee, therefore when you see the pods, it always gets a big tick from me. Instant brownie points to the Royal Lancaster!
The breakfast is also beyond luxury, with everything to the highest quality. Plus, I can't lie, they had me won over the moment I noticed they had babybels! I also love eating fruit in the morning, so it was so nice to see they hadn't opted for the usual tinned fruit and instead had fresh fruit, such as raspberries, blackberries, melon and pineapple. These little extra's might seem minor but they hugely impress me.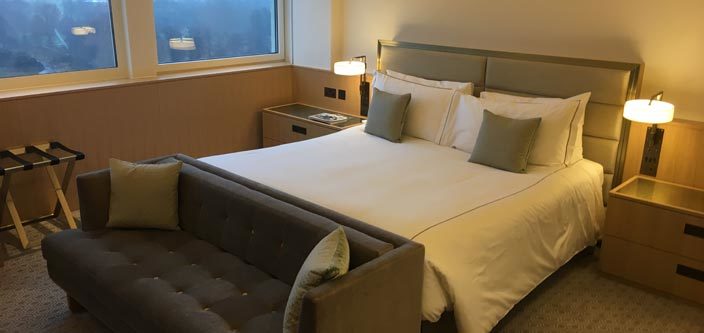 Calling all HuffPost superfans!
Sign up for membership to become a founding member and help shape HuffPost's next chapter
This post was published on the now-closed HuffPost Contributor platform. Contributors control their own work and posted freely to our site. If you need to flag this entry as abusive,
send us an email
.