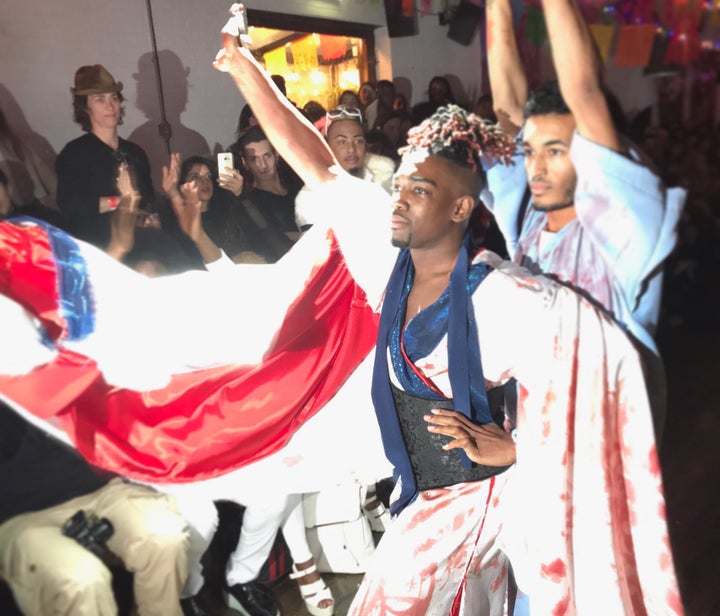 "I want to go to Paris and make the real Paris burn," said Willi Ninja in the ground-breaking 1991 documentary Paris is Burning, which launched vogueing into the public consciousness, giving a voice to many queer men of color who participated in the ballroom scene. Willi Ninja traveled internationally, often to teach models how to pose and walk, but he also began sowing international seeds to help future generations of queer men of color (and their allies) to vogue, wear avant garde apparel and to snatch trophies, all while celebrating diversity and inclusiveness. He sadly passed away in 2006, but ballroom has recently been exploding in Europe and Asia – and it's finding converts not just among the queer community but among straight women as well. As seen at last week's "Slay Bell Vogue Ball" in London, which hosted numerous cis-gendered female, white, Asian and black contestants. "It was probably one of the most multi-cultural balls that we've had in London in terms of races, in terms of sexuality, gender. We had the most international people we've ever had," said Kartel Garcon, a British filmmaker and DJ, who organized the event.
Jack Mizrahi is a vogue icon and the house mother of the house of Mizrahi, one of America's largest vogue houses, and he regularly travels the globe hosting and commenting on balls and related events. He flew to London to be the MC of this ball. Mizrahi was a longtime friend of Willi Ninja, so I asked him what Ninja would have made of ballroom's international growth, "Willi would be overjoyed! His words came to life. They say, the great ones never see their own prophesy, and it's true."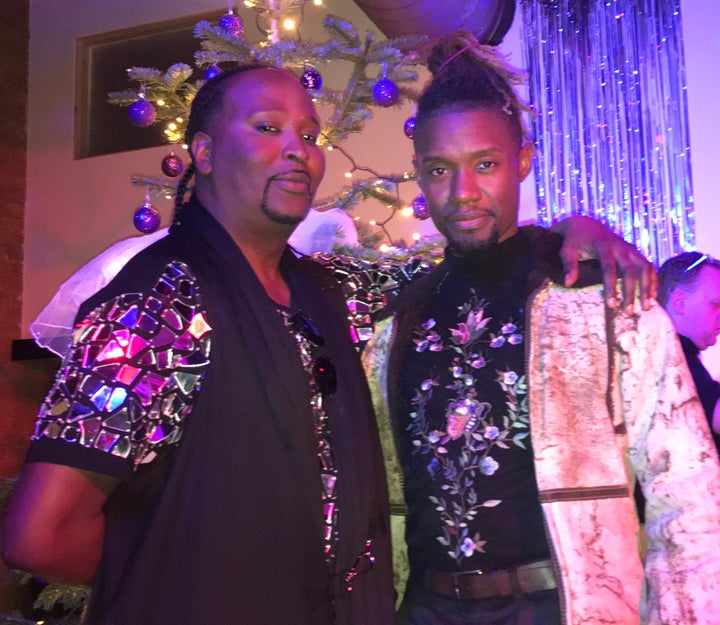 Mizrahi first came to London 10 years ago along with several other leaders of the ballroom community, when ballroom in the UK was in its infancy. He said that even though he himself is African-American, he was shocked to learn that London had such a large black presence, particularly from the West Indian community, from which he also has roots. But at first, Mizrahi said, the black gay men of London were afraid to show their feminine side. He said they'd watch him and others closely but would be hesitant to imitate the feminine gestures and poses of vogueing.
Kartel Garcon was there when Jack Mizrahi and others made that initial and grand introduction 10 years ago. He became fascinated with vogue, so much so that he made it his first film project for his masters degree. So he wanted to bring back Jack Mizrahi and have other American and foreign panelists in order to say thank you and to pay homage to those who had been encouraging ballroom in London over the years.
Straight Women Are Finding Liberation Through Ballroom
But Jack Mizrahi had a startling prediction, "In five years, European ballroom will be completely dominated by women. Straight women are finding liberation through ballroom. They're not so boxed in anymore. They can find that extrovert within themselves. They can explore their sexuality. They can shake their titties and celebrate their pussies. It's a creative outlet that they haven't had before. And they love it; they feel it and they are so free."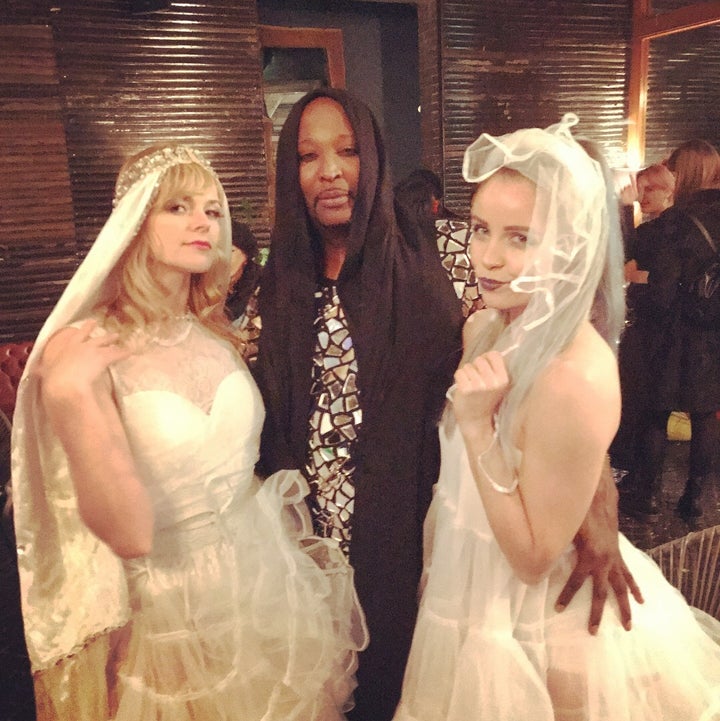 Angelique Prodigy is a straight woman from Berlin, Germany who came to London to compete in last week's Slay Bell Vogue Ball. And she echoed Mizrahi's sentiments. "[Ballroom] means a lot to me. I know I'm straight and white. But really, the history, the love, it takes me. I really love the scene, and I want to support it. It's awesome." She said she first attended a ball in Germany and was captivated by it, but the ballroom scene was so small there that she decided to fly to New York City to attend vogue workshops. But she said she's excited to see the scene in Europe growing.
Ballroom Will Always Be About Resistance and Resilience.
The legendary Twiggy Pucci Garçon is the general overseer for the house of Comme des Garçon. He's a community activist and he co-wrote and starred in the 2017 documentary Kiki. He's recently been named a consultant on Ryan Murphy's forthcoming TV show Pose. He was a judge at the Slay Bell Vogue Ball. He believes that ballroom offers something for everyone, but he also emphasized the importance of knowing the roots behind ballroom. "I very intentionally teach ballroom history and culture before I teach ballroom technique," he said. The history is more important," he added. Garçon highlighted that ballroom always incorporates heavy themes of "resistance and resilience" in the face of injustice. When Kartel Garcon began organizing the ball, he and Twiggy decided to include a panel discussion the day before. Kartel Garcon said, "We have so many people in ballroom here in London who may not identify as LGBT or as a person of color and I felt like we needed to hear from people who had been in this for like 20 years plus... to really find out how it started and how you as a person can be involved even if you don't identify as LGBT or as a person of color. It was a very educational weekend as well as an entertaining one."
Ballroom has roots in the 1920's Harlem renaissance, according to the documentary Kiki. At that time, alcohol in America was illegal, and so having a night out would require going to an underground speakeasy, where people of different backgrounds and sexual orientations mingled, and drag queens would often perform, playing a role in creating modern gay culture that remains to this day.
But Paris is Burning highlights the fact that queer people of color faced tremendous amounts of homophobia from society along with racism from both the straight and majority white gay communities, all while the AIDS crisis decimated the queer community. The balls were not just a showcase of talent, but they were also both a refuge for many queer youths who had been disowned by their families or shunned by wider society and an act of defiance, where the many ballroom contestants embraced their femininity and gender identities, rather than suppress them. Femme Queens and trans women can be celebrated rather than derided or attacked. So as ballroom culture in Europe seems to be expanding into new areas, opening up to everyone, the House of Garçon is right to keep people in touch with its traditional roots, in light of the many injustices that LGBT community has faced in the past and continues to face to this day.