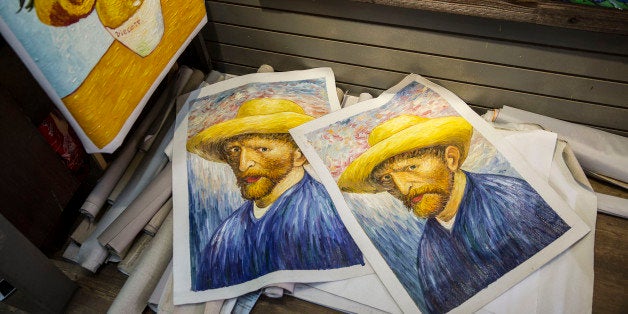 The premise is as follows: amongst the museum's substantial Old Masters collection of 270 authentic works will be hidden a single fake -- a copy produced by Meisheng Oil Painting Manufacture Co., Ltd for the bargain price of £120 (about $180). The China-based studio is made up of around 150 artists who work tirelessly to recreate slightly altered takes on historical classics, originally by artists ranging from Botticelli to Magritte. It's one of around 1,200 galleries crammed into China's Dafen Village, which outputs around five million copies a year that can be ordered online.
"The replica is excellent quality, and when it arrived we were delighted with it -- but when I put [it next to the original], it was a very interesting experiment. The difference was instantly apparent," the museum's senior curator Xavier Bray told The Guardian. Will the average viewer feel similarly? We'll soon find out, seeing as the lone fake will remain a mystery to museum crowds, who can do their best to parse the replica from the originals, until its identity is revealed in April.
Although the show eggs gallery goers to identify the odd painting out, the exhibition is more than just an artistic dare. The exhibition raises pertinent questions about the value of authenticity, both in the contemporary world and the time of the original works' creation, an era when the great 17th and 18th century masters often created replicas of their own work, hence the prevalence of "studio of" and "attributed to" in authorship.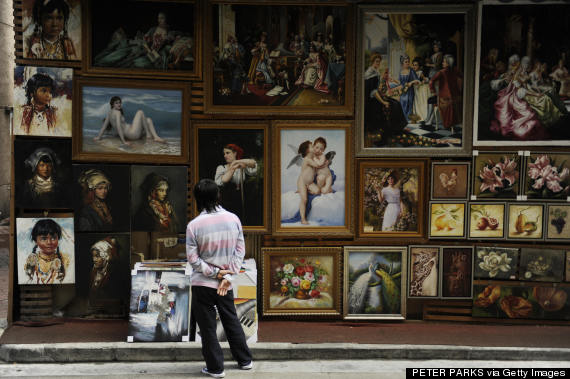 A visitor looks at paintings at the artist village of Dafen near Shenzhen in southern China on February 19, 2009. The craft of copying, a vital element in China's economic rise, has literally been turned into an art form in this laid-back enclave in the middle of the nation's most thoroughly industrialized region but it too is feeling the effects of the global economic crisis. (PETER PARKS/AFP/Getty Images)
Is there a certain ineffable magic to the artistic original? Or is the allure of authenticity no more than a myth? Do we prize works primarily because of their aesthetic merit or their perceived originality? Why pay so much more for an original we can't even certainly identify? Curator Bray told Hyperallergic the show was "about looking, about re-engaging with the original, as well as exploring "what happens to a replica when it enters the temple of art."
Related
Before You Go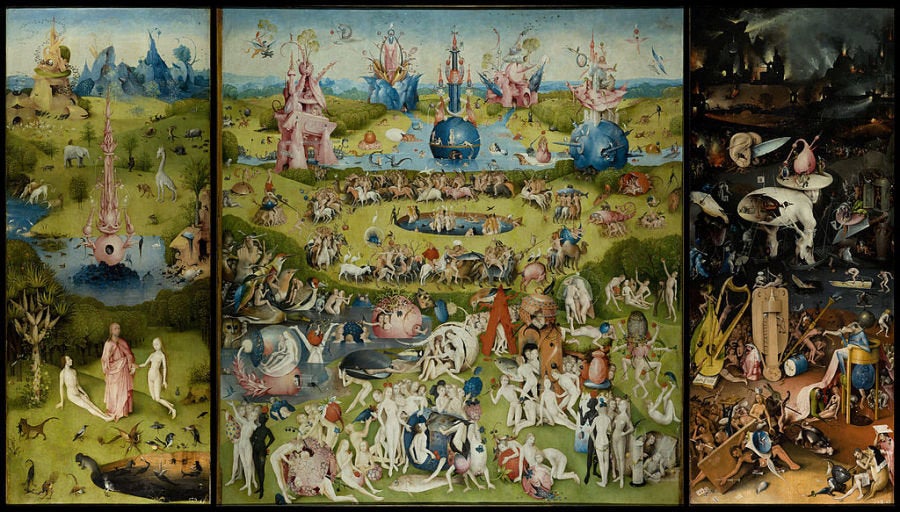 30 Artist Names You Are Probably Pronouncing Wrong
Popular in the Community