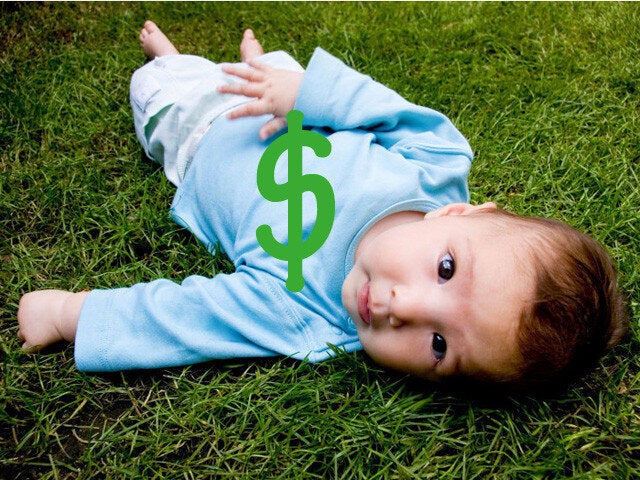 When 34-year-old mother Natasha Young got her check at Cosmo Restaurant in South London's Croydon, she noticed an extra £3 (around $5) on the bill. She asked about it, and was informed the fee was for bringing her 6-week-old son along, the London Evening Standard reported.
Even after Young explained that her son wasn't eating, Cosmo's staff refused to remove the charge. They told her she had to pay because her baby was taking up space in the 22,000 square foot restaurant. This left Young fuming. "I was really upset and angry -- I could not believe it," she told the London Evening Standard. "I have never come across something like this before. It's disgraceful."
And she wasn't the only new mom to face this policy. Ana Sheridan, 28, also got charged when she brought her 6-month-old daughter to Cosmo's. Her baby, Sheridan says, wasn't even taking up room in a highchair; she was sitting on her parents' laps and being breastfed. When Sheridan explained this to the restaurant's staff, they wouldn't budge. "They said it was their new policy. That was all," Sheridan explained to the London Evening Standard.
The subsequent uproar and media attention prompted a formal apology from Cosmo Restaurants (Croydon is only one of their 12 locations), which can be found on their website:
We pride ourselves on making children and parents feel valued -- which is why we serve thousands of families every single week. The Minimum Charge Policy is intended for toddlers who eat but not as much as a child. It was and never will be intended as a charge for Prams or for babies ...

COSMO would like to assure customers that this is an isolated incident and we will be retraining all employees at Croydon as a matter of urgency.

We will be in contact with Natasha Young and Anna Sheridan with a personal apology for their mistreatment by our staff.
Although many were outraged by the "baby tax" policy, The Stir's Adriana Velez (a mother herself) thinks that a policy that charges for babies isn't all that crazy:
Come on, parents. Haven't you seen the mess your babies leave in restaurants? If it's not the mess, it's the stroller people keep tripping over (which should be either left in the car or folded and stowed completely under the table), or it's the crying, or it's the restaurant food the baby actually is eating, or it's the way the baby distracts the parent who spills her own tea -- you get what I'm saying.
What do you think? Should restaurants be allowed to charge for the "inconvenience" of hosting babies? Or are these sort of policies just plain insulting to parents?
Related