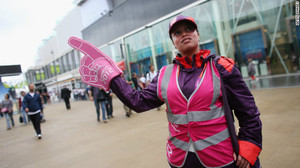 The London Olympics in 2012 were so successful in large part due to the tremendous efforts of the 70,000 volunteers that helped the event run smoothly. Just as it was hoped that the Games would create a sporting legacy, Mayor Boris Johnson also hoped that a legacy of volunteering would emerge.
To help achieve this he created Team London to coordinate and promote volunteering in the capital. With London announced as the European Volunteering Capital for 2016, the team recently published a report to tell their story thus far. It highlights how approximately 130,000 volunteers, both young and old, have accessed the platform and that an impressive range of opportunities have been arranged, whether it's mentoring, charity work or even helping veterans return to civilian life.
A prime example of this is Pitch It, a social enterprise that tries to help disadvantaged young people find their way into the creative industry. They offer a mentoring platform that on one side has professionals in the early stages of their career and on the other a cohort of eager youngsters keen to break into the industry. The match-up provides the professionals with valuable management and mentoring experience whilst giving the youngsters a friendly ear to turn to for advice and support.
The venture is around 18 months old and has worked with a number of creative companies in London to give young people first hand experience of the industry. After a period working on real projects, the youngsters are tasked with pitching to an audience where they share what they've experienced during the process.
Suffice to say, I think projects such as these, and those available via the Team London site, are great purely because they make such a difference to a city that has recently been named the premier 'global city' by Deloitte, but they also offer organizations a great way to improve both employee engagement and productivity.
For instance, a study published a few years ago by a team of German researchers found that volunteering can have profound psychological benefits for those that undertake it. The researchers quizzed a number of employees at a German company to determine the impact volunteering had on their state of mind. They were testing for a range of psychological measures, such as detachment levels and the number of mastery experiences they had.
When the results were analyzed, it emerged that the employees that volunteered at least once per week scored higher on everything from the control they felt over their life to the mastery they felt in their work. To put it another way, the volunteering that employees had engaged in gave them a mental buffer that allowed them to shrug off the stresses of their work life and tackle the challenges they faced head on.
This boost to performance wasn't short-term either, with the team finding that volunteering employees were happier and more productive than their peers long after they stopped volunteering.
A second study, this time published in the Academy of Management, looked at the type of people that volunteer, or more specifically, what it is that motivates them to do so. They found that people were much more likely to volunteer when they were happy and fulfilled in their professional lives. They suggest that having meaning at work resulted in people wanting to replicate that divine state in their personal lives too.
Suffice to say that those people who were engaged at work were not the only ones doing any volunteering, but they did do more of it than most. As the previous study suggests, volunteering can also be a hugely effective means of boosting those engagement levels.
These studies highlight the virtuous circle that volunteering can invoke, with helping others making us happier at work, which in turn makes us more likely to want to volunteer, and so on. With Team London providing numerous easy routes into volunteering, perhaps the question is, "what are you waiting for?".