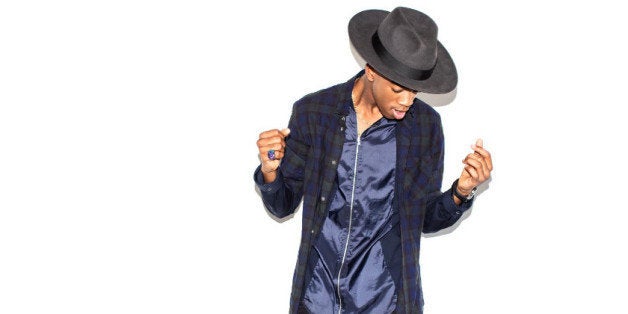 London Richards might only be 17 years old, but like Richards' peer, Raury, his age says nothing of his musical comprehension and talent. Pairing his effortless, stunning vocals with his already adroit songwriting abilities, Richards is writing R&B jams with one foot in the past, and one foot stepping forward.
Richards first debuted his single "Will You Wait" in September, propelling him to number six on the Billboard Realtime Emerging Artists Chart, as well as number 11 on the Billboard Realtime Trending 140 Chart on the first day. Premiering his new track, "In Love With Fire" (which might be our favorite track off his upcoming EP, "love, London"), with The Huffington Post, Richards continues to prove why he deserves his seat at the table within urban music.
What drew you into R&B and the personal style that you have given it within the EP?
I was born into a household where a lot of music was played and my dad introduced to a lot of the music he grew up on, which was '70s and '80s records, like Shalamar and Lakeside. That progressed into a huge Michael Jackson influence. That's where the R&B really came from, and I became more an independent mind. I searched through Justin Timberlake's catalogue and Usher's catalogue and that kind of solidified what I wanted to be as an R&B artist with a pop crossover.
Looking through the EP, you have songs like "Will You Wait" and "Enemy" that have a more hip-hop beat to them, and then songs like "In Love With Fire" and "Fly" that lean heavier on on the R&B side. What kind of spectrum do you want your music to exist on?
I would say it's a combination. No one wants to lose an audience for any reason, and everyone wants something they can relate to, and as long as I am doing a good job of that, genre is merely just a word in the way of what you are hearing. While some people want to be known for one thing, I just love to tell stories and get people to relate to me in whatever way it is.
Yeah, it's just besides the point, even though some people want to pigeonhole you or any artist. But as long as you like it, and people seem to be embracing it, just keep going with it.
Exactly, that's the beauty of it. It's music, there's no segregation within it and people can enjoy it no matter what it is. You look at the songs on Michael Jackson's "Bad" album -- some people classify it as pop, some people classify it as rap and some classify it as R&B still, but it's all on the same project and we can perceive it however we want.
We're premiering your new track "In Love With Fire." Can you tell me what was going on in your life at the time that you wrote that song?
"In Love With Fire" is one of my favorite songs off the EP. It's got such a great vibe to it. That song was written, I think, just over five months ago. I was sitting in my room, and, as we all deal with some love experiences at a young age, there was a girl who I liked, but couldn't get over the fact of trusting me. I basically wrote a song about how the girl had been in a relationship where she wasn't treated well, but there was always something that made her come back. It's a song almost over a period of a year, and the second verse touches on how when she finally does get rid of this guy, the next guy she can't love correctly because she's afraid of being hurt again. Even when she moved on, she was still in love with the fire and she can't get rid of that burn.
You recently put out the video for "Will You Wait." Can you explain how that project came together and what you are trying to portray with it?
I really wanted to touch on the most interesting part of the song and illuminate that in the video, and that was the question of "Will you wait for me?" It's more of a fictional story, but it's about a man who is going through a journey of fame. I envisioned myself going on this journey and there being a girl before it and who I would love to spend my time with after it, but the girl wouldn't be able to be there. The video was shot on a desert road, by Nigel Parry, an amazing photographer, and the road represented this journey, and you see me getting rings and a nice jacket. At the beginning, the girl is with me, but when I go to hug her, she disappears. She ends up at the end of the road, and it basically ends in a cliffhanger. It fades to white, which was a very conscious because I wanted it all to feel like a dream, as if it was all in my imagination.
What do you hope people take away from "love, London," whether it's about you or the content?
These five songs are very dear to me, and they highlight my perspective of love. Everyone's been in a situation where they want to love someone, but that person can't get over their past, or there's an obstacle in the way. I think they're very relatable and I think you'll understand me more.
What do you have coming up after your EP release?
This is the exciting part. After the EP comes out on Monday, the next day I have my first headlining showcase in L.A. As I have said before, performing is my heart and soul; it's what I live for. I can't wait to give everyone a live interpretation of this music.
London Richards "love, London" EP is available for purchase on Oct. 27.

Before The Beat Drops is an artist introduction series dedicated to bringing you the rising acts before they make their break. Our unlimited access to music of all kinds is both amazing and overwhelming. Keeping your playlists fresh, we'll be doing the leg work to help you discover your next favorite artist.
REAL LIFE. REAL NEWS. REAL VOICES.
Help us tell more of the stories that matter from voices that too often remain unheard.