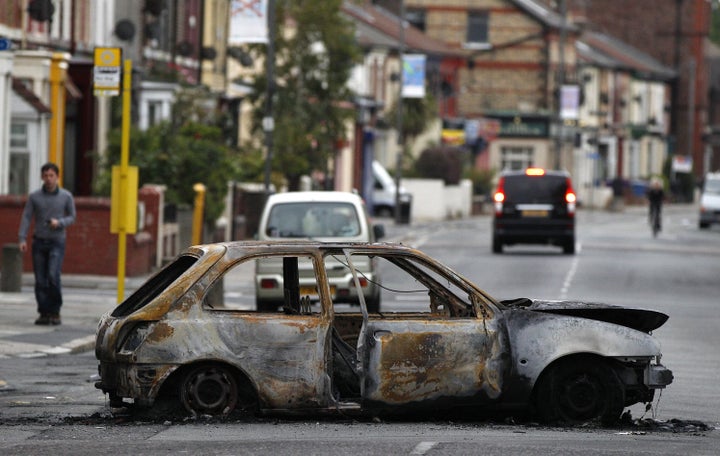 LONDON (AP) -- Britain will not allow a culture of fear to take over the streets, Prime Minister David Cameron insisted Wednesday, saying police have drawn up contingency plans to use water cannons if necessary.
"We will do whatever is necessary to restore law and order onto our streets," Cameron said in a somber televised statement. "Nothing is off the table."
Cameron has already recalled Parliament from its summer recess for an emergency debate on the riots Thursday.
Thousands of extra police officers on the streets kept a nervous London quiet Tuesday night after three nights of rioting, but looting flared in Manchester and Birmingham, where a murder probe was opened when three men were killed after being hit by a car.
Eerie calm prevailed in the capital, where hundreds of shops were shuttered or boarded up as a precaution, but unrest spread across England on a fourth night of violence by brazen crowds of young people.
Scenes of ransacked stores, torched cars and blackened buildings have frightened and outraged Britons just a year before their country is to host next summer's Olympic Games, bringing demands for a tougher response from law enforcement. Police across the country have made almost 1,200 arrests since the violence broke out over the weekend.
In London, where armored vehicles and convoys of police vans patrolled the streets, authorities said there were 16,000 officers on duty -- almost triple the number present Monday night.
The show of force seems to have worked. There were no reports of major trouble in London, although there were scores of arrests -- almost 800 people in the capital since violence began Saturday.
"What happened in London last night was, when community leaders and the police came together, there were significant arrests," said police deputy assistant chief constable Stephen Kavanagh. "Some looters were taken away before they got into doing anything, but it was that joint action that made the difference."
Outside the capital, some looting erupted, but not on the scale of the violence that hit several areas of London on Monday.
Some 250 people were arrested after two days of violence in Birmingham -- where police launched a murder investigation after the deaths of three men hit by a car.
Some residents said the dead men, aged 20 to 31, were members of Birmingham's South Asian community who had been patrolling their neighborhood to keep it safe from looters.
"They lost their lives for other people, doing the job of the police," said witness Mohammed Shakiel, 34. "They weren't standing outside a mosque, a temple, a synagogue or a church -- they were standing outside shops where everybody goes. They were protecting the community."
Police said a man had been arrested on suspicion of murder in the case.
In the northwestern city of Manchester, hundreds of youths rampaged through the city center, hurling bottles and stones at police and vandalizing stores. A women's clothing store on the city's main shopping street was set ablaze, along with a disused library in nearby Salford.
Manchester assistant chief constable Garry Shewan said it was simple lawlessness.
"We want to make it absolutely clear -- they have nothing to protest against," he said. "There is nothing in a sense of injustice and there has been no spark that has led to this."
Britain's soccer authorities were talking with police to see whether this weekend's season-opening matches of the Premier League could still go ahead in London. A Wednesday match between England and the Netherlands at London's Wembley stadium was canceled to free up police officers for riot duty.
Britain's riots began Saturday when an initially peaceful protest over a police shooting in London's Tottenham neighborhood turned violent. That clash has morphed into a general lawlessness in London and several other cities that police have struggled to halt.
While the rioters have run off with goods every teen wants -- new sneakers, bikes, electronics and leather goods -- they also have torched stores apparently just for the fun of seeing something burn. They were left virtually unchallenged in several neighborhoods, and when police did arrive they often were able to flee quickly and regroup.
Some residents stood guard to protect their neighborhoods. Outside a Sikh temple in Southall, west London, residents vowed to defend their place of worship. Another group marched through Enfield, in north London, aiming to deter looters.
One far-right group said about 1,000 of its members were taking to the streets to deter rioters.
"We're going to stop the riots -- police obviously can't handle it," Stephen Lennon, leader of the far-right English Defense League, told The Associated Press. He warned that he couldn't guarantee there wouldn't be violent clashes with rioting youths.
Anders Behring Breivik, who has confessed to the bombing and massacre that killed 77 people in Norway last month, has cited the EDL as an inspiration.
In the central England city of Nottingham, police said rioters hurled firebombs though the window of a police station, and set fire to a school and a vehicle. Some 90 people were arrested.
In the northern city of Liverpool, about 200 youths hurled missiles at police and firefighters in a second night of unrest, and 44 arrests were reported.
There also were minor clashes in the central and western England locations of Leicester, Wolverhampton, West Bromwich, Bristol, and Gloucester.
In London, hundreds of stores, offices, pubs and restaurants had closed early Tuesday amid fears of fresh rioting. Normally busy streets were eerily quiet and the smell of plywood filled the air as business owners rushed to secure their shops before nightfall.
In east London's Bethnal Green district, convenience store owner Adnan Butt, 28, said the situation was still tense.
"People are all at home -- they're scared," he said.
___
Paisley Dodds, Jill Lawless, Danica Kirka and Meera Selva contributed to this report.
Popular in the Community