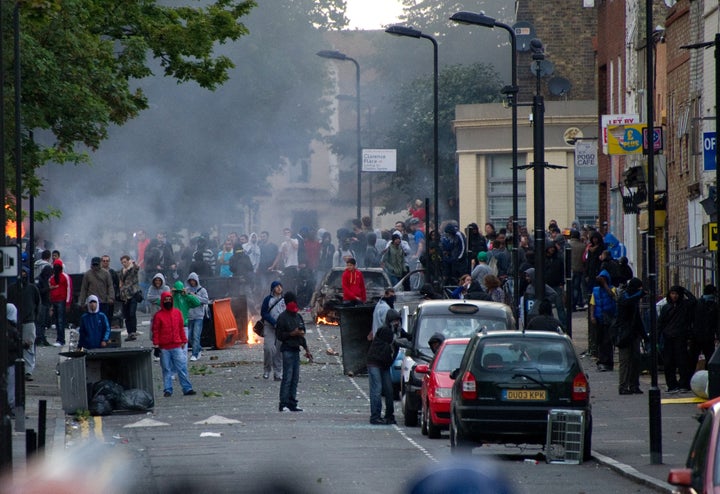 With all the facts so far known about the London riots -- 700 people arrested, 16,000 police on the streets, unrest in half a dozen cities over four long nights -- it's surprising how little has yet to emerge about the rioters themselves: What are they after? What drove them into the streets, for four nights straight, to burn buses and shatter windows?
Earlier Tuesday, the BBC interviewed Darcus Howe, a 68-year-old radical West Indian writer and journalist from Brixton, where some of the most violent disturbances took place over the last couple of days. Faced with a stern and flummoxed interviewer, Howe offered a rare, unvarnished glimpse into the mind of the young people in the streets this week, describing the regular mistreatment exacted upon his sons and grandsons by the police.
"Our political leaders have no idea, the police have no idea," Howe said, of the level of frustration and discontent among the youth in England.
"I don't call it rioting, I call it an insurrection of the masses of the people," he added. "It is happening in Syria, it is happening in Clapham, it is happening in Liverpool, it is happening in Port-of-Spain, Trinidad, and that is the nature of the historical moment."
"Do you condone what happened in your community last night?" the interviewer, Fiona Armstrong, asked Howe, over the course of an exchange in which she cut him off several times.
"Of course not! What am I going to condone it for?" Howe replied. Later, after she accused him of taking part in riots in the past, he said, "Have some respect for an old West Indian negro instead of accusing me of being a rioter."
"The BBC will never replay this," is how the video is being described online.
CORRECTION: An earlier version of this article referred to Brixton as a city. It is in fact a district in south London. The earlier version also quotes Howe as saying "hysterical moment" in the interview, but Howe confirmed that he actually said "historical moment."
Popular in the Community