British authorities identified Khalid Masood, 52, as the man they believe is responsible for Wednesday's deadly terror attack near the Parliament building in London.

ISIS referred to the attacker as a "soldier" of the militant group, but British authorities said they believe he acted alone.

Four victims have died: a teacher, a police officer, an American tourist and a 75-year-old man.
LONDON ― A fourth victim died Thursday evening from injuries sustained in the worst terror attack London has seen in more than a decade, hours after British police have identified the man they believe is responsible.
Police said Khalid Masood, 52, had previously been convicted on a variety of charges but none were related to terrorism. Masood, a British citizen from Kent who police said was born Adrian Russell Ajao, had not been under investigation in recent years. Authorities believe he was most recently living in the West Midlands. 
Masood is thought to be the man who on Wednesday mowed down pedestrians on Westminster Bridge, killing three people and injuring at least 40, before attempting to storm the nearby Parliament building. The assailant fatally stabbed one officer guarding the gates in front of the building before being shot dead by police. Authorities have arrested ten people in overnight raids Wednesday and Thursday, though one woman was released on bail. Police said they are continuing searches in Carmarthenshire, Birmingham and London. 
ISIS claimed responsibility for the attack, referring to Masood as a "solider" of the militant group, but it was unclear to what extent the organization was involved. Authorities said earlier on Thursday that they believed Masood was inspired by terrorism abroad but acted alone. Prime Minister Theresa May said that he had been investigated for extremist views in the past.
"He was a peripheral figure," she said. "The case was historic; he was not part of the current intelligence picture."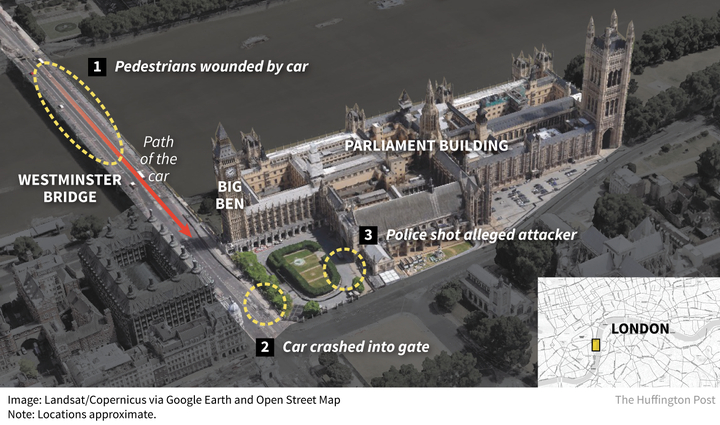 The slain officer was identified as 48-year-old Keith Palmer. One of the bystander casualties was Aysha Frade, a 43-year-old teacher and mother of two. She was crossing the bridge to pick up her children from school when she was killed in the rampage, the BBC reports. Another victim died Thursday evening, police said. The 75-year-old man was hospitalized after sustaining injuries during the attack and had been on life support.
The remaining death was Kurt Cochran, an American tourist from Utah, a family spokesman told the BBC. His wife was seriously injured but is expected to survive. The couple were in Europe celebrating their 25th wedding anniversary.
U.S. President Donald Trump expressed condolences for the Cochran family Thursday:
Londoners poured into Trafalgar Square Thursday evening for a vigil, carrying supportive signs, flowers and British flags. Mourners stood in silence for a minute and lit candles in honor of the victims. Mayor Sadiq Khan addressed the crowd and said they had come together to "send a clear message."
"Londoners will never be cowed by terrorism," Khan said. "Those evil and twisted individuals who try to destroy our shared way of life will never succeed, and we condemn them."
Lawmakers in Parliament, who had been held in lockdown for hours after Wednesday's attack, honored victims with a moment of silence on Thursday at 9:33 a.m. The time of the tribute corresponded with Palmer's badge number, 933.
"We are not afraid and our resolve will never waver in the face of terrorism," said May, who had been in Parliament during the attack but was not harmed.
Stuart Bailey, 25, told the BBC he lives just four doors down from the raided flat in Birmingham. He was on his way to meet a friend for a drink when an armed police officer directed him away from the area.
"There were a load of armed police in the street and on the pavement and I could see three or four in front of me," Bailey, 25, said.
"They were all dressed in black and armed with what looked like MP5s and one of them had six ammunition magazines strapped to his leg."
ISIS often makes claims of responsibility for terror attacks through its Amaq news agency, which functions as a kind of state-run media for the militant organization. But the group does not necessarily need to have any direct hand in planning or carrying out plots to claim them as their own. Instead, ISIS has established a framework in which any attacker that makes a public vow of allegiance to the group can be claimed as one of its own. Attacks can therefore be divided into those inspired by the group and those directed by it.
Twenty-nine people were still receiving treatment at hospitals across the city, with five in critical condition. Victims hailed from countries including Romania, South Korea, Poland, Germany, Ireland and the U.S., May said. Among the injured were three police officers who had been on their way back from a commendation ceremony and several French students.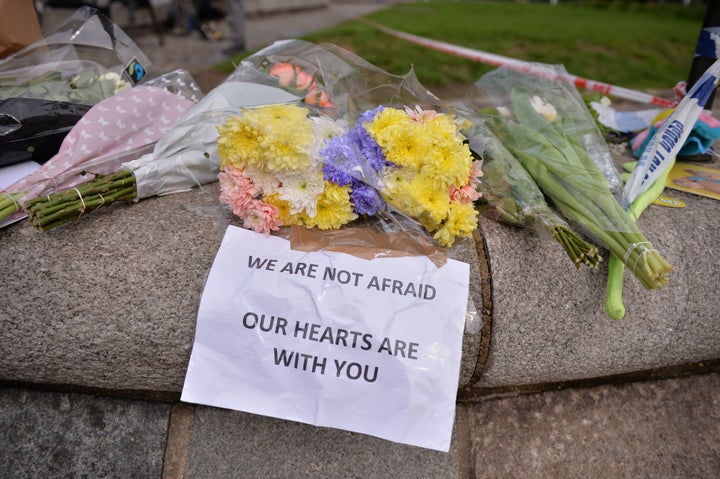 Public transportation resumed mostly as normal on Thursday morning, and only the small section of the city where the attack transpired remained closed off. Mourners left flowers and messages of condolence near the attack sites. 
Tracey Allred, 34, takes the train into London from the suburbs every day and told HuffPost the Thursday morning commute "has not been out of the ordinary at all."
"If I hadn't seen the news yesterday, then I wouldn't have guessed that anything was different," said Allred, who works near Westminster. "All of us on the train and the tube were just carrying on with our lives."
Jane McCallion, an editor at B2B, said that even late Wednesday, the area seemed be returning to normal.
"If the Nazis dropping bombs every night didn't stop this city, one man certainly won't," she said in a tweet.
This is a developing story. Please check back for updates. Kate Abbey-Lambertz and Hayley Miller contributed reporting.
Calling all HuffPost superfans!
Sign up for membership to become a founding member and help shape HuffPost's next chapter
BEFORE YOU GO
PHOTO GALLERY
Deadly Terror Attack In London