As knife-wielding terrorists poured out onto London's streets Saturday night, unity and bravery marked the response by many Londoners.
Gerad Vowls had been watching the Champions League soccer final at a pub near London Bridge when he witnessed the first of several people being attacked.
"They had a woman on the floor and they were stabbing her, all three, constantly," he told ITV London.
"I started picking up bottles; I threw a chair at them, a stool, glasses. Anything I could get my hands on," he recalled. To initially get their attention, he started shouting at them, calling them "cowards."
"I tried to pick up a chair or something to throw at them, to get them away from her, then one chased me. Then they ran back, carried on stabbing her," he said. Throughout the chaos, he said he witnessed at least two other men being stabbed ― one who ran out of a bar crying for others to run for safety.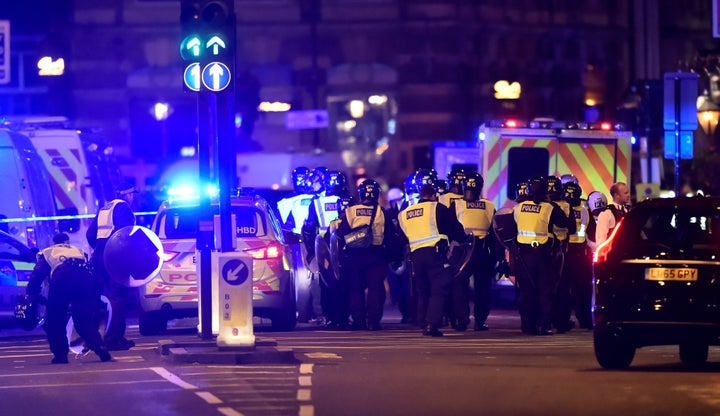 "I want to know if this girl is still alive. I've been walking around for an hour-and-a-half crying my eyes out. I don't know what to do."
Mark Stembridge, who owns the local Cafe Brood, recalled pulling around 130 customers inside to safety from an outside terrace as three men ran toward his restaurant.
"I can't tell you what they were screaming but they seemed to hesitate when they saw we were slightly organized," he told HuffPost UK. "They then veered off beneath the bridge towards another establishment called Borough Bistro."
Stembrige credited some of his military-trained staff members for their remarkable ability to keep calm while assisting the restaurant's patrons.
Another witness, Richard Angel, recalled seeing people turning over tables in a Borough Market restaurant as the attackers stormed in.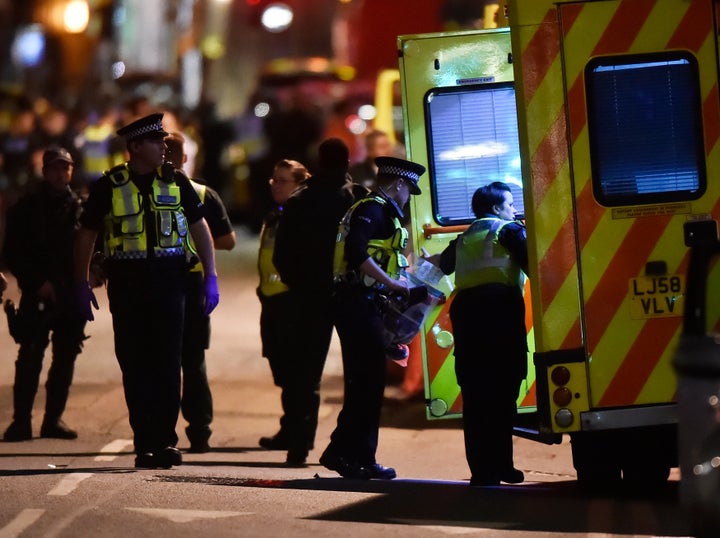 "Food was flying and people were turning over tables to get behind them, chairs were being moved," he told Sky News, according to Time. "Opposite was a guy who was throwing a table at someone and it was totally unclear what it was at the time but it turned out to be this heroic guy who put our safety before his, which was remarkable of him. He was throwing glasses and a table [at the terrorists]."
A British Transport Police officer is being lauded for taking on one of the knifemen while armed with only his baton.
The unidentified officer, who was hospitalized for face, head and leg injuries, showed "enormous courage in the face of danger," BTP chief constable Paul Crowther said, according to ITV news.
"For an officer who only joined us less than two years ago, the bravery he showed was outstanding and makes me extremely proud," Crowther said.
As of Sunday morning, 12 people have been arrested in connection with the attack.
Popular in the Community