When I was in London a few years ago teaching summer abroad students from Michigan State University, I was desperate for diversion. I had a serious knee injury that would require surgery when I got back, wasn't sleeping well, and though the museums were amazing, I needed more.
I grew up in New York and had been enjoying great theater since junior high school, when one of our classes went to the ground-breaking all-black production of The Cherry Orchard. It starred James Earl Jones and Gloria Foster, with Jones directing. After leaving New York and resettling in Michigan, I was a long-time member of the Stratford Festival in Ontario, where seeing the brilliant Christopher Plummer in King Lear was just one of many stellar moments in one rich summer season after another. Plummer played the king as the victim of dementia and he was the most heartbreaking Lear I'd ever seen. I was lucky enough to sit in the front row, center....and also had great seats to see him in Barrymore. He got Tony nominations for both shows when they moved to Broadway.
Casting about for something terrific to go to in London, I was convinced by the rapturous reviews of 1984 to blow big bucks on a terrific seat. I'd recently re-read Orwell's novel and been amazed at how beautifully written it was, so I went to the theater prepared to be dazzled. Surely I would be blown away just as the critics had been.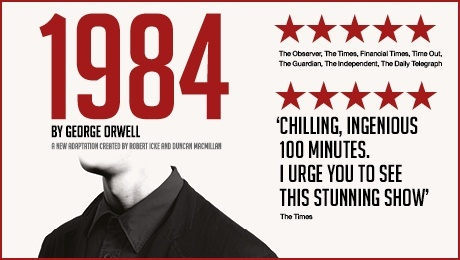 Well I wasn't. Not remotely. I thought the production was a stone dud from the very first scene onward. The acting felt as fake and artificial as the Being Julia mini-play that Iris stars in before she becomes well-known. This adaptation of 1984 included a ridiculous frame narrative that was like a dreary graduate school seminar for under-achieving students.
That's not all. The effects were cheesy and loud. Really loud. Everything felt bland, repetitive, and lacking in menace. This was so much the case that two people in front of me starting giggling at one point when the audience was supposed to be horrified. It was hard for me not to join in.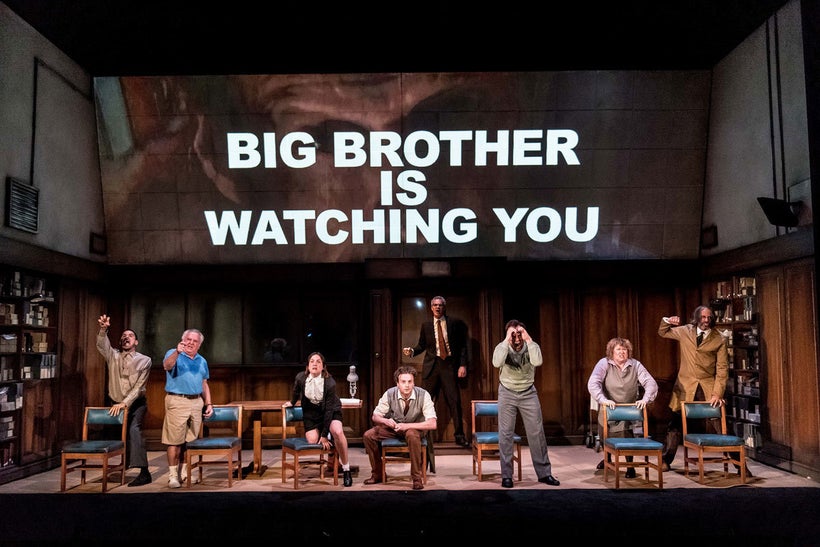 1984 may have been the most undramatic adaptation of a novel I'd ever seen on stage. The show lacked nuance and came across as Orwell For Dummies—I felt bludgeoned and bored at the same time. I guess that's some kind of achievement.
The only positive thing about going was that those gigglers turned out to be cast members of one of my favorite cable shows which I discovered was being filmed in London. I chatted with them afterwards and told them how much I loved their series, and then went off to my favorite Italian restaurant in Pimlico. The food was never a letdown on that trip. And of course there was another museum ahead, and yet another class with terrific, highly motivated students.
Lev Raphael is the author of two dozen books in genres from memoir to mystery.
Calling all HuffPost superfans!
Sign up for membership to become a founding member and help shape HuffPost's next chapter
This post was published on the now-closed HuffPost Contributor platform. Contributors control their own work and posted freely to our site. If you need to flag this entry as abusive,
send us an email
.