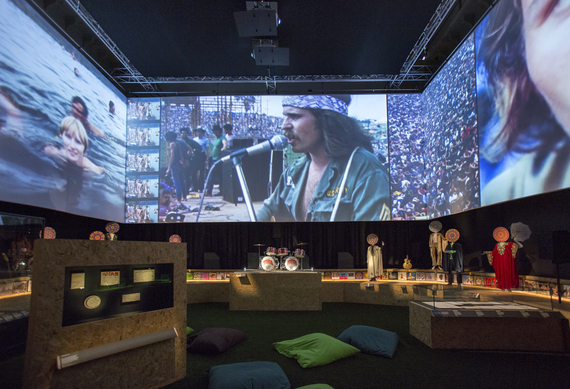 Did you miss, or do you miss, Woodstock? Experience it in London at the Victoria and Albert Museum. Photo: (c) Victoria and Albert Museum, London
Not to gloat or anything, but the British pound, thanks to Brexit, recently plummeted in value even further against the U.S. dollar. In fact, compared to five years ago your dollars now buy almost 30 percent extra, and economists speculate that the pound will get pounded even more this year.
Even better, perhaps, airfares to London have come way down from previous years. I recently saw British Airways offering peak summer fares from Boston to London for $500 round-trip with taxes, down from $1500 or more in previous summers.
So join the 18 million others who visit London each year and enjoy one of the most spectacular cultural scenes in the world. The British capital is reputed to have over 240 museums and galleries, and claims to be the cultural capital of the world, (a boast that other cities, but not I, might contest). The city has been at it for a long time, starting with founding of the British Museum in 1753.
This fall and winter will see the usual embarrassment of riches when it comes to museum exhibitions, music, plays and other events.
During a recent visit to the city on the Thames, I can recommend the following:
"You Say You Want A Revolution" at the Victoria and Albert Museum
This massive and immersive exhibit, on view through February 26, focusing on the culture and politics of the mid- to late-1960's, will be the highlight of the London museum season. The objects, video installations, and displays will fascinate anyone who lived through the period (or had parents who did), or anyone really who wants to understand how the political and cultural revolutions of the period have changed the way we live today, and think about the future. Cool feature: the gift shop is selling new issues of vinyl albums and 45 RPM records from the era, and the Sennheiser earphones provided automatically switch between exhibits, explaining what you're looking at and providing audio to the films, videos, and other media from the era. I found myself lost in reverie for several hours and wish I had more time here.
"Your Favorite Things" at The New Design Museum
In a new home at a much more convenient location, the venue will feature an inaugural display called "Your Favorite Things": hundreds of iconic objects--whether decorative, functional or practical--nominated by the public, everything from an OXO scrub brush to British highway signage. The museum opens in its new home on November 24, 2016.
If you love touring historic homes that have been left pretty much as they were when their original owners lived there (such as the Gibson House in Boston, or the Merchants House museum in New York), you'll love this house museum. Leighton, the only British artist to become a member of the House of Lords, died in 1896 but his home and studio have been lovingly preserved. Nearby, 18 Stafford Terrace reopened to the public in early September. This beautifully preserved house museum shows visitors what middle class domestic life was like in the late 19th century.
"Abstract Expressionism" at the Royal Academy of Art
Until January 2, the RA's big show explores the works of Pollack, Rothko, de Kooning, Kline and other abstract expressionist painters from the 1950's. And if you're visiting next year, the show to see is "American after the Fall: Painting in the 1930s" (February 25 to June 4, 2017). The exhibit marks the first time Grant Wood's iconic "American Gothic" has left North America, and includes 44 other famous paintings of the Depression Era by Edward Hopper, Thomas Hart Benton, Jackson Pollock, and others.
Piccadilly site
Burlington House, Piccadilly
London W1J 0BD
"Fire! Fire!" at the Museum of London
Through April 17, visitors can step back 350 years to experience the Great Fire of 1666, when much of London went up in flames.
150 London Wall, EC2Y 5HN
museumoflondon.org.uk
But this is just a partial peek at London culture this season. A helpful guide to every possible exhibition, play, lecture and event is CultureWhisper.com. The site alerts you to upcoming goings on far in advance, provides reviews, and lets you plan and book. There's a free 10-day trial or you can join for £7 (about $11) per month. And the VisitLondon.com website also offers a month-by-month guide to top cultural events this year and next.
Although almost all of London's museums are free, special exhibits require a separate admission, generally ranging from $10 to $20.
Related