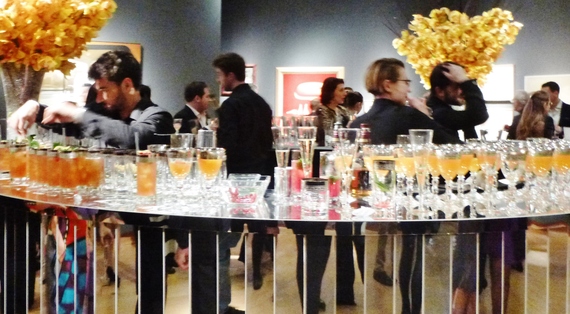 There was controversy wherever you looked during London Russian Week in late November. And I'm not just talking about the blink-and-you've-missed-it timespan allotted to Theodora Clarke's Boris Chetkov show at the Westbury Hotel which inaugurated proceedings on the Friday night.
Kicking off Russian Week, more literally, was the Superpower Challenge on Saturday November 23, pitting Russia against the USA.
'Superpower' is stretching it: USA ranks 18th in the world, Russia 19th. The Eagles were fitter and more inventive, running in two late tries to win 28-7. The Bears salvaged pride when Andrei Garbuzov, the 'Krasnoyarsk Cruncher,' devoured a deviant up-and-under and superpowered over the line.
There was no controversy about the match itself, but about how to access it. Rugby diehards back home in Kentucky (and Krasnoyarsk) were furious to be denied their usual webstream to follow their heroes online because the International Rugby Board -- which dictates who plays whom, where -- had refused to pay for one. The soundless video posted on YouTube after the game ended appeased no one.
The soundtrack was, though, turned up full-blast at Christie's/Sotheby's pre-sale parties where, for once, megawatt chitchat was not about the best Vodka Cocktail (Christie's Violet & Cream concoction) but why Sotheby's two star works had been sold before the auction.
Auction houses have been behaving like dealers for years and such activity -- coyly described as 'private treaty sales' -- now accounts for 18 percent of their annual turnover. Sotheby's, for instance, sold the Forbes Fabergé eggs to Viktor Vexelberg in 2004, and the Rostropovich Collection to Alisher Usmanov in 2007, before their scheduled auctions could take place.
This prestigious track record offered scant consolation to those planning to bid on Konchalovsky's huge Family Portrait or Robert Falk's Man In A Bowler Hat. To add insult to injury, the works mockingly enjoyed pride of place at Sotheby's party, with the Konchalovsky proclaimed sold for £4.7m -- only just above its £4.5m top-estimate -- and the Falk for an "exceptional pre-sale offer well in excess of" its £2.5-3.5m estimate.
Does this mean that Sotheby's auction catalogues should henceforth by regarded as invitations to bid before the sale? With a decent chance of success if your bid is over estimate?
The art world was furious at this display of corporate offhandedness, and alive with rumor as to who had the clout to cajole Sotheby's into offloading the Konchalovsky for less than what it might have made in the saleroom. Pyotr Aven was the name most commonly cited; and that of Moshe Kantor, founder of the Museum of Avant-Garde Mastery (MAGMA), for the Falk (two works by Falk feature in the MAGMA show at the Pushkin Museum in Moscow through February 16). By way of consolation, sort of, two other Falk portraits surfaced during Russian Week: Lady in Lilac (his wife Elizaveta Potechina) fetched £1.2m at Bonhams; and Maria Shabshai £313,900 at MacDougall's.
Sotheby's strove to assuage client ire by parading a fur-hatted bevy of 6-foot beauties in front of two 1833 St Petersburg porcelain vases -- ensuring, perhaps, that they later sold for £2.21m. A few yards away was the more intellectual attraction of James Butterwick, regaling passers-by with talk of his burgeoning collection of Bogomazovs, his intrepid trips to Almaty to chew artistic cud with the Kazak business elite, and the table-topping exploits of his (and Alisher Usmanov's) beloved Arsenal. To say that Butterwick drowned out the techno music purveyed by Sotheby's DJs might be pushing it, but he was marginally less repetitive.
Next day Sotheby's staged the week's most interesting sale, entitled Contemporary East. It was modest (totaling £2.43m, not much more than a couple of vases); short (90 lots), fleshed out rather desperately by last-minute trade consignments (Oleg Kulik's Crucifixion had been shown by Kiev's Miranova Gallery at the ViennaFair in October); and controversial, with animal-lovers hounding Prague-born Kristof Kinera's Prayer For Lost Arrogance, a fox covered in green glass baubles, into unsold oblivion.
The sale majored on Russian art, much of it exhibited at the Mosca a Mosca show in Bologna in 1992 -- like Dmitry Vrubel's £45,000 Fraternal Kiss (1990), the original oil-and-pencil version of his immortal take on the Brezhnev & Honecker embrace, which continues to grace the Berlin Wall. The most famous kiss since Klimt not only established Vrubel's reputation but cast it in cement and hung a lucrative millstone around his neck: B&H mugs, fridge magnets and postcards (priced €1 -- or €5 if signed) are all on sale at his lively Kulturbrauerei studio in East Berlin.
Back at Sotheby's, seven works by the contemporary but vastly different St Petersburg artists Georgy Gurianov and Timur Novikov, consigned by Moscow collector Natalia Ivanova, were acquired by same buyer for a total £528,000. Three works by Novikov, the charismatic leader of the Leningrad art scene in the 1980s, outpaced estimate but Gurianov -- who died last July, aged 52 -- raced ahead. His 1999 Rower Sergey zoomed to a triple-estimate £188,500, while his posthumous monochrome portrait of Viktor Tsoy (1962-90) quadrupled hopes on £128,500 -- reflecting Tsoy's cult status as vocalist for Kino, the Soviet Union's premier rock group (in which Gurianov was drummer).
Tsoy (above left) was the absent hero of a work by Semyon Faibisovich acquired privately during Russian Week by Igor Tsukanov, after hosting a talk by the heavyweight Non-Conformist at his Kensington residence. Tsoy's Alive! is based on a photograph Faibisovich took of the Tsoy Wall in Moscow -- whose graffiti asserts, in Cyrillic, that PUTIN IS A FAGGOT. Faibisovich completed his painting just as Russia was passing its notorious anti-Gay law in 2012, yet insists his primary concern was to evoke "the shadowy, flickering, multi-layered forms and meanings characteristic of evening light."
Igor Tsukanov was also active in the saleroom, snaring Eduard Gorokhovsky's 1990 Red Files -- a Tsarist-era girl overladen with red stars, hammers and sickles -- for £45,000 at Sotheby's.
Other contemporary highlights included Komar & Melamid's Knock at the Door -- a subtle evocation of a KGB raid (above left) -- with a top-estimate £286,800 at MacDougall's, whose £8.73m sale included three works by Konstantin Maximov (1913-93), notably Chinese Lanterns at a record £106,200 (above right). Maximov was dispatched from Moscow to Peking in 1955 to teach the Chinese oil painting, so he has a lot answer for.
The sale's top price was £777,000 for Nikolai Dubovskoy's 1916 Blagovest, a snowy monastery. A Bakst oil sketch of Bathers at the Lido swam to £623,000 and Le Taureau Echappé (1928) set a new high for Léopold Survage on £370,800.
A £4.1m Mashkov and £2.1m Lentulov led the way at Christie's, where Lanceray's undated, gilt-bronze figure of Boyar Morozov (above center) cantered to £68,500, even though the catalog failed to note its identical pose to Trubetskoy's controversial monument of Tsar Alexander III (left), dubbed 'the hippopotamus' by incredulous locals when unveiled in St Petersburg in 1909. It is now stabled in front of the Marble Palace, contemplating (right) an even more controversial sculpture: a fantasy dragon by AES+F deemed so dangerously satanic that it is shrouded in canvas to hide it from view.
Russian Art Week yielded total sales of £51 million -- £56m if you include the Konchalovsky (or almost £60m if you then add the Falk) -- so remains in the rudest of health. Bonhams' first Russian sale in their splendidly refurbished premises brought £5.9 million, thanks largely to Nikolai Roerich's 1936 view of Mount Kanchenjunga in the Himalayas (below) at £1.3m. The star œuvre d'art, however, failed to sell: a Fabergé nephrite Buddha consigned (with a reserve of £500,000) by the ex-wife of prominent Fabergé collector Alexander Ivanov.
Ivanov himself was busy at Sotheby's, paying £350,500 for a Fabergé sprig of buttercups made from diamonds and enamelled gold (above right), as he continues to replenish the divorce-dwindled stock of his engagingly unpretentious Fabergé Museum in Baden-Baden, where Chinese and Pre-Colombian Gold rubs shoulders with herds of gemstone elephants and Fabergé's last two imperial eggs from 1917 -- one crafted from abstemious Karelian birch, the other the blue glass Constellation egg made for Empress Alexandra and studded with diamonds forming the constellation Leo -- the Zodiac sign of her son Alexis.
Fifteen of these imperial eggs are owned by Russian megagarch Viktor Vexelberg, and now housed in the Shuvalovsky Palace in St Petersburg, which opened as a new Fabergé Museum in November after a $30 million facelift. If you'd care to visit, book in advance and hold your breath: Admissions are restricted to 15 an hour, and some days you have to be Russian. Should be easier to get into the Fabergé Rooms at the nearby Hermitage when they open later this year to mark the museum's 250th anniversary.
The number of venues for Russian art and culture in London also continues to grow. Works by Tatlin, Klucis, Rodchenko and El Lissitzky, elegantly reconstructed in wood and metal by Henry Milner, delighted connoisseurs of Russian Constructivism at the GRAD Gallery for Russian Arts & Design on Little Portland Street -- which signalled its arrival last Summer with a superb show of Soviet interwar Intourist Posters.
Meanwhile cheap and cheerful Figurative works by several contemporary Russian artists were on offer at The Gallery In Cork Street and, across the road, and at other end of the price (and critical) spectrum, a sumptuous 40-work survey of the versatile Vladimir Baranov-Rossiné continues at the St Petersburg Gallery through March 29. Baranov-Rossiné's painting absorbed a host of influences (from Cézanne to Picabia via Delaunay and Charchoune), but his inventive genius shone through in his Optophonic Piano, with its built-in light show generated by revolving glass discs. One of the few painted discs to have survived, albeit cracked, is the exhibition's moving highlight (above right).
all photos of individual artworks © the auction house concerned as indicated in the text
all other photos © Simon Hewitt -- except Tsoy's Wall © Igor Tsukanov
Calling all HuffPost superfans!
Sign up for membership to become a founding member and help shape HuffPost's next chapter