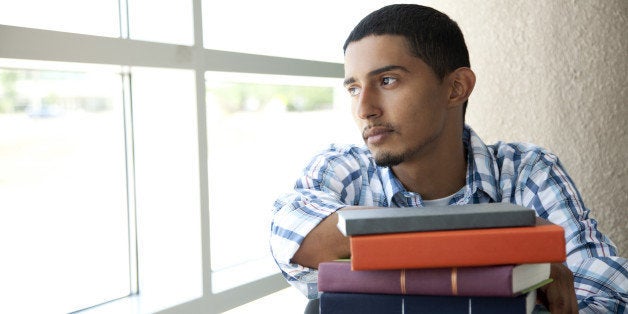 Many young people dream of the day they'll finally head off to college, independent and on their own. Often underestimated -- by students and parents alike -- is the difficulty of transitioning to new responsibilities, new schedules and new support systems. That difficulty is too often reflected in student stress that may lead to substance abuse, depression and even suicide.
The holiday season offers parents a unique opportunity to gauge their student's adjustment and provide support before they return for second semester.
According to data from the Center for Adolescent Research and Education (CARE) at Susquehanna University and the national Students Against Destructive Decisions organization (SADD), more than one-third of first-year, first-semester college students report using alcohol -- and many for the first time (26 percent). This is particularly noteworthy as decision-making during this critical time may translate into normative behavior throughout their college years.
"Coping skills" also include other drug use and even sexual intercourse (46 percent and 27 percent for the first time, respectively).
While depression and suicidal thoughts are not uncommon among college students at all levels (the National Institute of Mental Health (NIMH) reports that about 30 percent of college students reported feeling "so depressed that it was difficult to function" at some time in the past year), many first-year students have the added burdens of learning to live away from home and experiencing the sense of loneliness that can engender.
It is a cruel irony that some students may find that this time in their life when they have the most social interaction is also the time when they feel most isolated.
Lonely though never alone.
Forging new supportive relationships is hard work. So, too, is finding one's way in what is typically a new and larger universe of people, places and things.
For those students who find comfort through alcohol, the consequences may be especially troubling. For example, NIMH also reports that those struggling with depression, especially women, are more likely to drink to get drunk and experience problems related to alcohol abuse, such as engaging in unsafe sex.

Federal statistics tell us that:
•An estimated 1,700 college students die each year from alcohol-related injuries;
•Approximately 600,000 students are injured while under the influence of alcohol;
•Some 700,000 students are assaulted by other students who have been drinking; and
•About 100,000 students are victims of alcohol-related sexual assaults or date rapes.
Other data point to alcohol-related incidents of unprotected sex (approximately 400,000); reports of being too drunk to remember if sex occurred (more than 100,000); impaired driving (more than 3.25 million); and academic consequences (one-quarter of all college students).
With risk behaviors among young women having caught up to, or in some cases surpassed, those of males (CARE/SADD, 2012), these numbers may be on the rise.
Also alarming are the rates of suicidal ideation among this cohort. For example, a study of more than 700 college students found that almost half (43 percent) experienced some level of suicidal thoughts in the previous year, with 5.5 percent actually making suicide attempts.
Indeed, the Centers for Disease Control and Prevention (CDC) notes that suicide is the third leading cause of death for young people between the ages of 10 and 24, claiming approximately 4,600 lives each year.
Far too many young, promising lives lost.
For its part, NIMH urges better diagnosis and treatment of depression as a way to drive down suicide rates among college students. And, as usual, keys to these efforts are peers, parents and other caring adults, including those at the institutions these students are attending.
•Feelings of sadness or hopelessness
•Declining school performance
•Loss of pleasure/interest in social and sports activities
•Sleeping too little or too much
•Changes in weight or appetite
•Nervousness, agitation or irritability
Parents, in particular, may be an important yet missing part of the equation, given all the over-parenting messages in popular media (e.g., "'Snowplow parents' overly involved in college students' lives," Boston Globe, November, 2013). And that's too bad because, while learning to adjust parenting priorities and prerogatives during the college years is essential, recent research from Penn State University makes clear that mom and dad still wield considerable influence in the lives of their college-age children.
How to navigate the in-between?
Richard Enemark, executive director of the Louis August Jonas Foundation, offered, "Too often the ills of freshman year (binge drinking, sexual promiscuity, indifferent morals) are all born of a college life that forgets the lessons of 18 years of home life. If you remain a presence, not a helicopter parent hovering above, but a steady guide and always-available counselor, you will be doing the greatest service."
Good advice at a good time -- before they go again, on their own.
Related