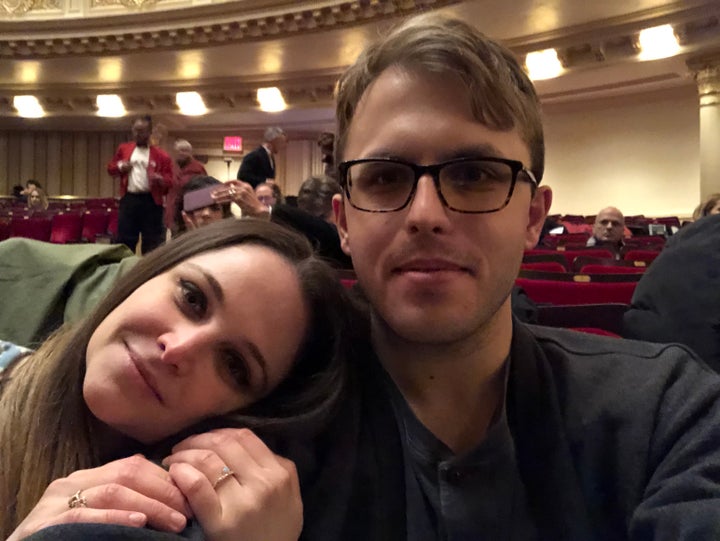 The car was festooned with softly glowing Christmas lights and garlands of fake flowers, which swayed in my face as we sped toward the Seattle-Tacoma International Airport at dawn. As the still shrouded skyline zipped past, the Space Needle hovering above it all like a retro UFO, I tapped one of the hundreds of affirmations the driver had taped to the windows and doors: "Everything happens for a reason."
On any other day, I might have rolled my eyes right into Puget Sound, but on this barely lucid morning, I surreptitiously pilfered the sentiment and tucked it into my bag. Damn right, tiny platitude.
Half-asleep and pressed up against the glass of the world's most eccentric Uber, my sleep-depleted mind could form only two coherent thoughts: "That is not how I expected to fall in love" and "God, am I lucky."
I was coming off of the strangest and most wonderful week of my life: I had traveled to Seattle to visit a friend, and one Morgan Enos from Atascadero, California, had decided to brave a 30-hour train ride (each way) to meet me in the flesh for the very first time.
We met at the train station rumpled (him), semi-tipsy (me) and nervous (both), and as the week wound down, we exchanged I-love-yous at a dingy karaoke bar as a drunken bro pummeled his way through Death Cab for Cutie's "I Will Follow You Into the Dark." And by the end of a stranger's weepy rendition of John Legend's "All of Me," Morgan had decided to move to New York City.
Two years later, and we're planning our wedding. We're going to have apple pie and dance to Buddy Holly in my parents' yard.
As is likely evident by now, my fiancé and I didn't meet in the way most people meet — through friends, via a dating app, in college, etc. We met and fell most of the way in love across nearly 3,000 miles and an entire country, while I lived in Brooklyn and he lived in a small town in Southern California.
Statistically, it's probably really strange that I found my person living in a town boasting a population of only about 30,000 — despite being surrounded by more than 8 million people daily — but I really can't help being grateful every day that the world's borders are significantly less rigid than in years past.
Unlike our grandparents and even parents, we no longer have to settle for finding love in our buildings or on our blocks or even in our own cities. Thanks to the internet, our perfect match could be literally anywhere.
We met and fell most of the way in love across nearly 3,000 miles and an entire country.
 In February 2016, Morgan had just finished making a pitch-perfect parody record of cult-famous folk rock band Sun Kil Moon and — after the EP gained some buzz on the music blogs — he was looking to reflect on the experience. Having written for a music website called Talkhouse (which features musicians writing about music) a few years earlier, he pitched a story to the site's then-editor-in-chief: me. I wound up accepting the pitch and, newly dumped, edited his intelligent and hilarious piece at my parents' dining room table, decked out in a very fetching breakup outfit consisting of leggings from Rite-Aid and my mom's old flannel shirt.
A correspondence sprang up soon after that when Morgan sent me a photo of his cat Alex (R.I.P.) via Facebook messenger while I was at a tribute to David Bowie at Carnegie Hall.
At intermission, surrounded by folks decked out like Aladdin Sane and the Thin White Duke, I clicked over to Morgan's profile and wondered why this man seven years my junior, a man who lived in a town I had never heard of, was making an attempt to talk to me.
My curiosity only grew as Morg messaged me at odd hours to tell me about shows he attended or sent me funny songs about cats and crystals. Finally, I gave in and started talking back — perhaps because Morgan seemed funny and smart and good. Perhaps, also, because he looked like Cary Elwes in "The Princess Bride." I'm going to say it was a mix of both.
We talked for months after that — all day via texts and Facebook and some nights on the phone until the sky started glowing bright outside my window and the birds woke up. We FaceTimed on sunny corners and sent each other packages in the mail bursting with mixtapes and incense and scraps of paper scribbled with inside jokes.
My mom told me I was distracting myself with this man from the other side of the country. My friends teased me when I got lost in my phone while we were out and about. I tried to go on dates but ended up huddled by the sinks in bar bathrooms, texting Morgan.
Thanks to the internet, our perfect match could be literally anywhere.
 When he told me that we were finally going to meet — that he was going to Seattle to see me — panic began gnawing at my brain. Would he be the same? Would we be the same? Could any of this be actually real?
It's strange looking back on all this now, on an unseasonably warm May day in Ridgewood in Queens, where Morgan and I now live with our two funny gray cats, Nimbus and Hazel. He's still not home from his internship at Billboard, and I'm puttering around the house, doing some dishes from the morning and opening the windows to let the spring smells in.
Morgan and I have been through a lot since that Uber ride. We lived with two roommates in an apartment in Brooklyn that baked us like an oven during the summer months, the walls sloppily painted dusky red and pink by this amateur home decorator. We moved to sunnier, cooler climes. We dealt with loss — both immense and cat-size (R.I.P., Edie). We proposed to each other over a dinner of spicy noodles on New Year's Eve and took silly, blurry engagement photos in front of an all-night grocery store's wilting flower display. A Beatles cover band played us into 2018. We became more than just words on a screen and voices at the end of a phone line. Sometimes, to be honest, I forget that Morgan wasn't always here, with me.
I wish I could say at this point that I still have that scrap of paper, that reminder that everything happens for a reason. That advice is, honestly, BS about 98 percent of the time, but I'm really glad for that 2 percent today.
Do you have a personal story you'd like to see published on HuffPost? Find out what we're looking for here and send us a pitch!
Calling all HuffPost superfans!
Sign up for membership to become a founding member and help shape HuffPost's next chapter