 To hear stylists tell it, long hair isn't just for young men and women anymore. But some midlifers say that older people with long hair just look silly. So what do you think? Do older women with long hair look like something akin to a Halloween hag with a wretched, withered appearance? Do older men with long hair look like they should be donning a hippie costume?
"I've seen older women with very long hair or hair extensions that go way down their backs. They do look ridiculous ... so do their wrinkles and makeup," said Huff/Post50 reader Marlou Compare Ordelt. "They're trying too hard to rejuvenate their youth. And those who are very old and wrinkled with black hair and black eyebrows … geez … OMG. Get a grip!"
But other Huff/Post50 readers and Facebook fans had a different take.
"My hairdresser talked me into letting my hair grow longer and I'm loving it! It's my last hurrah or something. She has a thriving practice in New York City and told me that long hair is all the rage with older women there," said Dorothy Hoffman Sander. "She suggests a style that allows flow and movement if your hair is such that it cooperates. So let it grow!"
Barbara Hoppenfeld said she's read a lot through the years about how, as a woman ages, her hair should go shorter. The reason? They look younger. "Works for me," she said.
When asked whether mature men should have long hair, Judith Gregg responded with an emphatic: "No. And what is really disgusting is a man with a bald pate and a ponytail."
But another reader, Jaye DeVeney Gilleland, called men with long hair "sexy."
Sandy Scott said he'd love to have long hair but that, apparently, "mother nature has other plans for my erstwhile curly locks."
Huff/Post50 went to the pros and asked a few hair stylists what they thought about longer hair on older men and women.
"The tradition of older men and women maintaining short hair mostly stems from the inevitable depletion of density and moisture," she said. "If aging has served you well and [you've] maintained an adequate thickness and shine the stylists at The Drawing Room New York see no reason not to keep a longer length.
"In terms of the shape of the haircut, it does not depend on what age you are but what face shape you have, how healthy your hair is and whether or not it is manageable," she said. "Another key factor to consider is whether the overall appearance is deemed 'work-appropriate' if you are working."

Rodriguez said that longer hair on men looks best if kept above the shoulders while, for women, hair that hangs between the collarbone and the top of the chest is generally most flattering.
"However for those who prefer longer hair, it is personal preference and if you can work it, we say strut it," she said. "Just remember, healthy hair is key to wearing longer hair."
"A few of my older clients have told me that their mothers have said they are too old for longer hair … I say, look at the source," Russell said. "I would say that a shoulder-length cut (although when the hair hits the shoulders it will flip out) that lays two or three inches below the shoulder line is perfectly acceptable. A shorter cut can be sassy and fun. Just don't cut it above and around the ears. That barely looks good on Kris Kardashian.
"When the hair is too long it may become too thin and harder to achieve a style with volume," she continued. "Healthy, thick hair is youthful so don't let your ends get wispy. Keep coloring the grey away and, ladies, keep your length."
When it comes to men, though, Russell said that the hair should never be kept too long.
"A youthful style for older men is the same for the younger guys," she said. "Their hair should be shorter with clean lines in the back and longer styled messy on top. Also, I've seen some great toupees lately that look real if your hair is deficient."

Meet some post 50 women who sport long dos in our slideshow! Tell us what you think in comments, or submit a photo of your long hair to our slideshow.
Related
Before You Go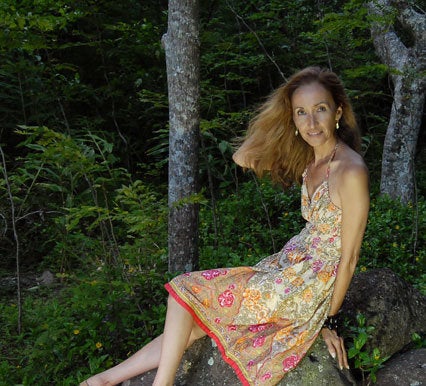 Post50s With Long Hair
Popular in the Community