By Frank Eltman, Associated Press
YAPHANK, N.Y. -- An investigation into 10 bodies strewn along a remote New York beach parkway grew more perplexing Tuesday when police announced that DNA testing had determined that two victims found miles apart were related and that the remains of another unidentified woman matched body parts found 15 years ago.
Police suspect the 10 victims – whose remains were dumped along the highway periodically over more than a decade and discovered during searches begun last December – could have been left by several killers. Body parts have now been found in four separate locations stretching over a wide section of eastern Long Island. No suspect has been identified.
"There could be one, there could be more killers," Suffolk County Police Commissioner Richard Dormer said in an appeal for the public's help in cracking the mystery. "We don't know."
Authorities on Tuesday also released sketches of two of the unidentified victims. One was an Asian man between 17 and 23 who was found wearing women's clothes. The other was a dismembered woman whose partial remains were found near Ocean Parkway in April and a decade earlier in a town 45 miles east.
Police are hoping the release of additional information, including the sketches, jogs someone's memory in a case that has stymied veteran homicide detectives.
"The investigation hasn't stalled," Dormer insisted to reporters. "We're making progress. It's a slow, methodical process. This is not a television show where everything is solved in an hour."
Police also released photographs of jewelry found on two of victims, an unidentified woman and a toddler. The woman and the girl were found miles from each other, but police said DNA evidence now shows that they were related; investigators have yet to confirm whether they are mother and daughter.
Dormer said the jewelry, which included earrings and bracelets, was unremarkable and probably could have been bought at any number of retail stores in the New York area or elsewhere.
Authorities have identified five of the victims as prostitutes and Dormer repeated a plea for people working in the sex trade to come forward with any information that might help in solving the case. At least four of the women were last seen leaving to meet with a client.
"During the past several years, it is believed one or more individuals have murdered young women working as escorts," Dormer said at the briefing.
On Tuesday, police said remains from one of the unidentified victims were matched by DNA to body parts found in 1996 on Fire Island, which is at least 30 miles from the parkway dumping ground.
Press reports from April 1996 indicate that two severed legs were found on the shores of Davis Park, on Fire Island, by two seasonal residents walking along the beach. The toenails of one foot were painted red and the right leg had 3 1/2-inch scar on the rear calf and L-shaped scar on the shin. The left leg had a 3 1/2-inch scar on the inner side.
Dormer said police were still working to develop a sketch of that victim.
The homicide investigation started almost by accident in December, when a police officer and cadaver dog were searching for a missing New Jersey prostitute last seen in a beach community along Ocean Parkway a year ago. That woman, Shannan Gilbert, has yet to be found.
Subsequent searches over the following months turned up the other remains.
Of the 10 sets of remains, eight were found in Suffolk County and two in neighboring Nassau County, near Jones Beach. Also, some remains found in Manorville, about 45 miles from Ocean Parkway, in 2000 and 2003 were linked to remains found earlier this year along the parkway.
Dormer's announcement about remains found on Fire Island make it the fourth Long Island location linked to the probe.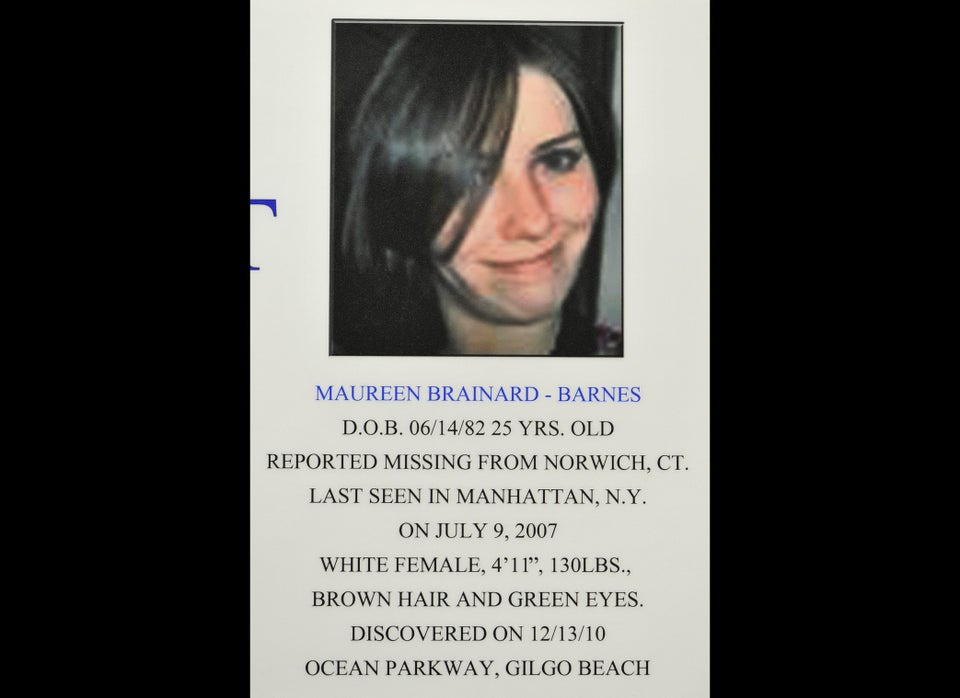 Associated Press researcher Susan James in New York contributed to this story.
Related
Popular in the Community