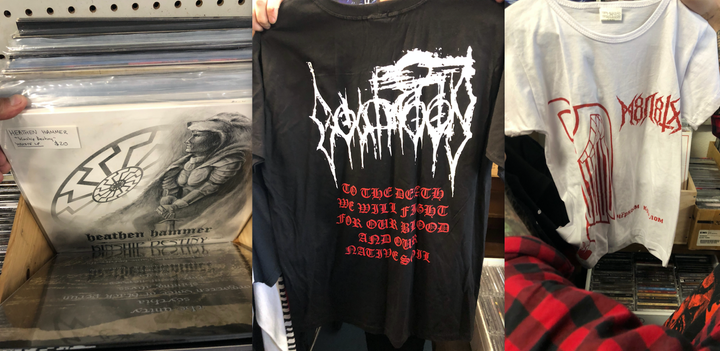 NEW YORK ― It started innocently enough, with a flyer making the rounds at a death metal show in Amityville late last month.
"The Heretic's Crypt," the flyer reads in gothic script. "Long Island's most extreme brick & mortar record store in over a decade! Specializing in underground metal, and whatever else we feel like!"
A death metal vinyl shop huddled in the corner of a cute antique store in Patchogue? For some of the metalheads in the area, this was a talker. The South Shore of Long Island is not exactly blast-beat country.
But when two locals showed up to score some records last week, they found that the underground metal on offer included a lot of neo-Nazi records and the "whatever else" included white nationalist band T-shirts.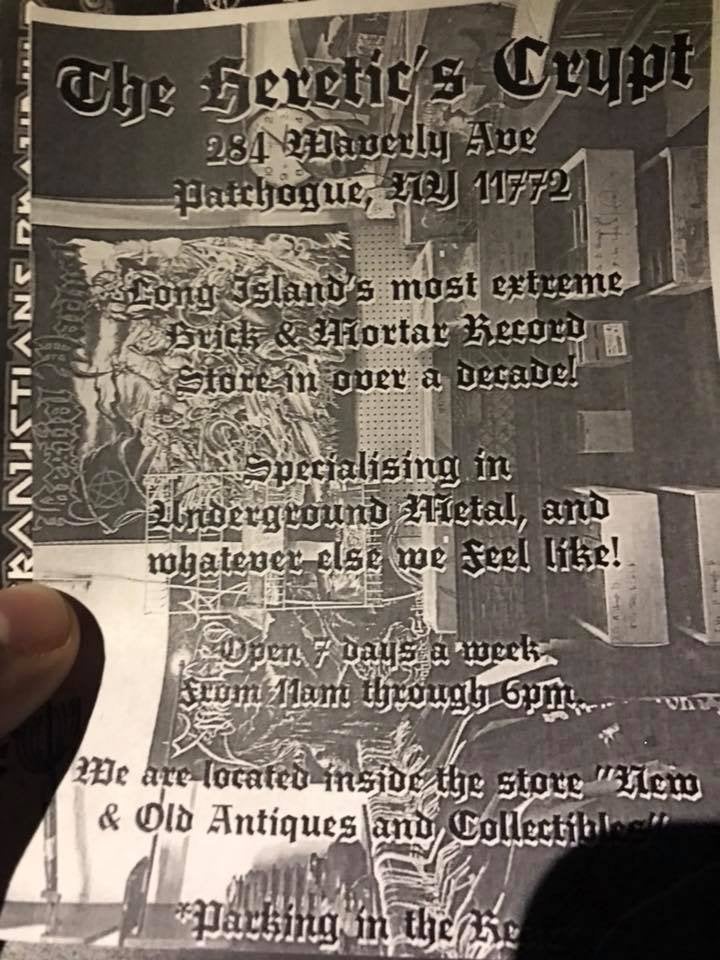 "We start leafing through everything, and about a quarter of the way through the first box, it became really apparent that the only thing they were selling was National Socialist black metal [NSBM]," said one of the two, who asked that HuffPost withhold their names for fear of harassment. "There were scatterings of bands that weren't associated, but the vast majority was the very sketchy Nazi-related stuff. It was disgusting."
Each offending item, they said, was instantly recognizable as belonging to fringe neo-Nazi bands or other groups not tolerated in polite metal circles. In photos of the T-shirts and records and in the owners' social media profiles, neo-Nazi iconography abounds — wolf's hooks, black sunwheels, the hammer and sword, "everything short of a swastika."
This is my major concern: They show up, they get the conversation going, and then out comes a KKK party or a white nationalist movement.

James Skidmore, president of the Greater Patchogue Chamber of Commerce
The pair immediately started digging online to figure out how this stuff found its way to Patchogue. They took their findings to the president of the Greater Patchogue Chamber of Commerce, James Skidmore. He was incensed, finding the pop-up and the small crew that put it together an affront not just to the metal community but to Suffolk County in general, which has some white supremacist baggage of its own.
"Our community has worked way too hard over the years to come to terms with what we are and who we are and to combat racism wherever it exists," Skidmore told HuffPost. "So to me this was a slap in the dick — excuse me for saying. I was like, are you kidding me?"
Within hours of finding out on April 23, Skidmore said, he arrived at the antique shop that Heretic's Crypt called home to find a man "packing his shit up and leaving." They had been kicked out by the antique shop's owner, who said he didn't know what they were selling beyond band merchandise and records.
The weird little ode to white supremacy in Patchogue had been snuffed out within a matter of days. But now Skidmore and his community faced some tough questions: Who brought this here, and why is white supremacy showing its face publicly in Long Island again?
"This is my major concern: They show up, they get the conversation going with music or whatever else, and then out comes a KKK party or a white nationalist movement," he said.
With the help of friends on Facebook and the metal community at large, locals found one of the men who set up the shop: Paul Guhring, a local musician whose previous flings with neo-Nazis have landed him in heißwasser. NYC Antifa profiled him in 2016 after his label, WolfTyr Productions, brought various NSBM bands together for a show in Ronkonkoma. (For what it's worth, the show was "a flop," he said.)
Guhring, who spoke to HuffPost on Tuesday, fell back on the usual specious excuses when asked about the neo-Nazi symbolism on display at the pop-up and on his and his compatriots' various social media pages.
"Those are all from the esoteric pagan ideologies," he said. "They don't necessarily have to be about Nazis. I'm not a racist. I have friends of all kinds, people that know me. In our circle of friends ― I don't have that many friends, but ― in our circle of friends, this is disputable."
It doesn't take a scholar in Nazi death metal to parse the T-shirts and records that Guhrig was selling. There were known NSBM bands like Hate Forest, Goatmoon, Grand Belial's Key and Heathen Hammer, whose promotional materials look as if they ripped off the Nazi symbolism Wikipedia page: Black sunwheels, nods to Nazi phrases like "blood and soil" and other well-known neo-Nazi imagery were on full display. There was even a shirt in baby size, featuring the band M8L8TH (below right).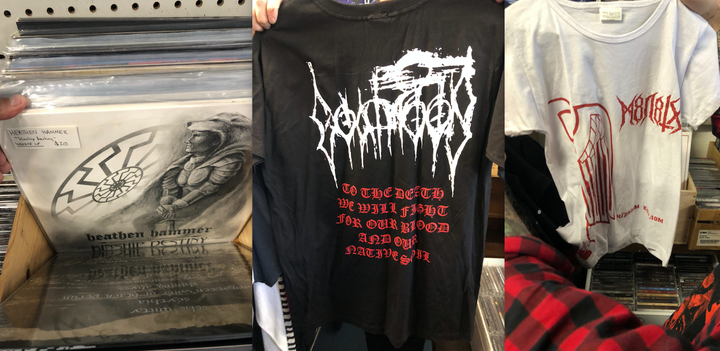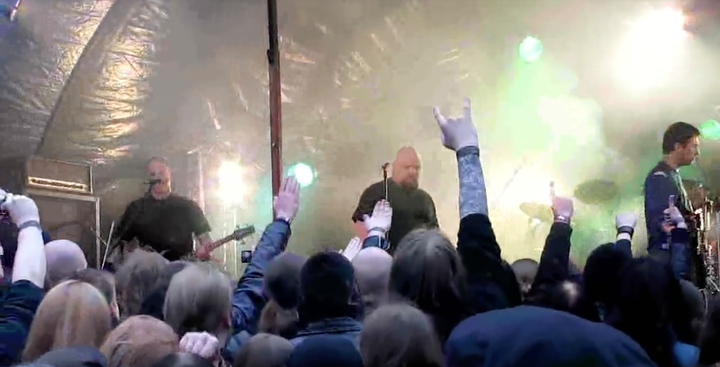 Guhring acknowledged that some of the stuff in his collection was Nazi smut, but he denied being involved himself, at least ideologically. Sure, the people around him might be throwing up Hitler salutes, and his favorite artwork has represented Nazism for decades, and his former band Grafvolluth very publicly identified as National Socialist, and his label promoted white supremacist groups like Pennsylvania's Wotanorden, but don't get the wrong idea, he said.
"People can take it any way they like. After all, it's a free country," he said. "Just because neo-Nazis hijacked certain symbols for themselves ― and they're going to keep doing it, of course ― it does indeed have its old ancestral roots."
He lamented that he opened up shop in the first place. He and another man who helped set up Heretic's Crypt, Buddy Zajac Mayoka, deleted their Facebook pages after the outcry last week, and now, Guhring said, his label is offline, and he has no plans for any shows or other commercial enterprises.
"I really wish we didn't do it at all, to tell you the truth ― all the anger I've caused people," he said. "Basically my reputation is ruined because of this. Everything is stashed away in boxes and Hefty bags. It's done. We can't keep up with this."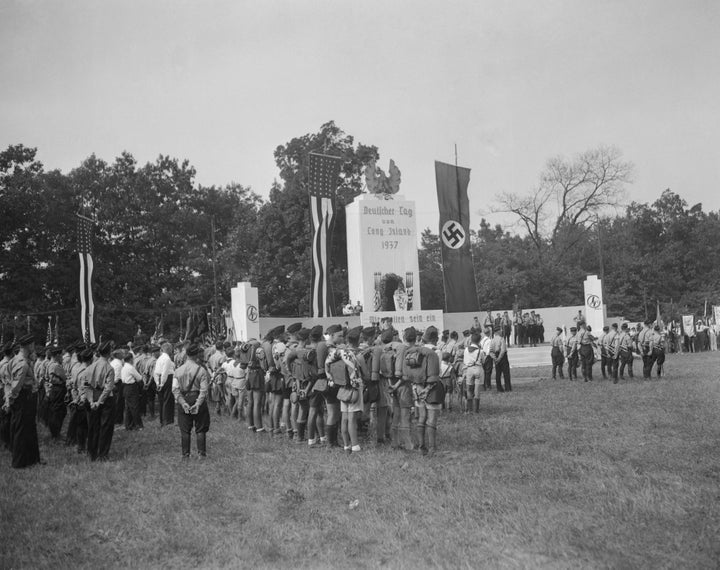 Long Island native Chris Cantwell, a white nationalist nicknamed "the Crying Nazi" for a video in which he teared up at the thought of being arrested for his role in the Charlottesville, Virginia, mayhem, thought the area receptive enough to his views that he considered running for New York's 1st Congressional District. He failed to get enough signatures in his bid.
Most recently, Skidmore recalled, an Ecuadorean immigrant was killed in 2008 in nearby Riverhead, where four teens admitted to being part of a gang that targeted Hispanics for hate crimes.
"We've worked hard to get away from that. We want the message clear that hate is not welcome in Patchogue," Skidmore said. "Even just a small pop-up. A little bit of cancer is still cancer."
REAL LIFE. REAL NEWS. REAL VOICES.
Help us tell more of the stories that matter from voices that too often remain unheard.