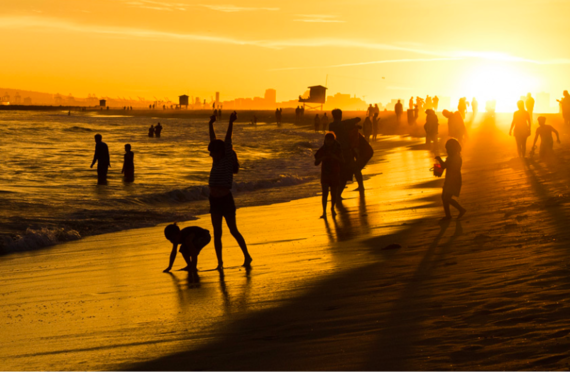 America's favorite destination is the coast. Every year, millions of Americans visit the coast to enjoy our nation's beautiful beaches and nearshore waters. Ocean tourism and recreation are the top economic drivers in our coastal communities, worth an estimated $100 billion in GDP annually nationwide and $40 billion in GDP in the Northeastern and Mid-Atlantic states per year.
Our coasts are also very busy and continue to get busier every year with competing interests that include increased coastal development, offshore energy projects and increased shipping. How do we allow for these new uses while protecting important habitats and existing uses such as ocean recreation, fishing and tourism? The solution is better planning.
Regional ocean planning is a new approach to balance the many competing uses of the ocean. The planning process is essential to ensure continued growth and protection of coastal tourism and recreation, which depend on a clean and healthy ocean ecosystem to thrive.
After years of hard work, collaboration and input from thousands of ocean and coastal stakeholders, the first regional ocean plans in the nation have been approved. This marks a major achievement in the protection of our ocean and coasts. The Northeast and Mid-Atlantic regional ocean plans will guide the management of our valuable coastlines and ocean resources for future generations.
Based on the bipartisan recommendations of the U.S. Commission on Ocean Policy, regional ocean planning addresses issues such as water quality, ocean pollution, coastal flooding, and offshore renewable energy. Each regional strategy is implemented through an Ocean Planning Body that is comprised of state representatives, federal agencies, and tribal nations, to advance stewardship of our coasts through improved collaboration across all levels of government. In regions such as the Northeast, Mid-Atlantic, West Coast, and Pacific Islands, significant progress is being made through ocean planning to protect the coastal ecosystems we all use and enjoy.
Organizations, such as the Surfrider Foundation, have led studies to map recreational activities and collect economic data on coastal tourism and recreation to ensure this vital industry is incorporated into the official decision-making processes for the ocean plans. Including the information in official data portals provides a rare opportunity to contribute to the proactive regional planning process and ensure that the economics of coastal recreation are integrated into the protection of the nation's coastlines.
With the approval of the ocean plans in the Northeast and Mid-Atlantic, the next wave of ocean management will establish best practices, new ways of collaborating and communicating, and ensure that the interests of all ocean users are holistically included. The ocean planning process gives beachgoers, surfers and ocean users a voice in the decision-making process, which enables each of us to share our vision for coastal communities and for the future of our ocean.
So next time you hit the surf, relax on the beach, or take a walk with your family, know that coastal recreation is critical to protecting our coasts and ocean.
REAL LIFE. REAL NEWS. REAL VOICES.
Help us tell more of the stories that matter from voices that too often remain unheard.