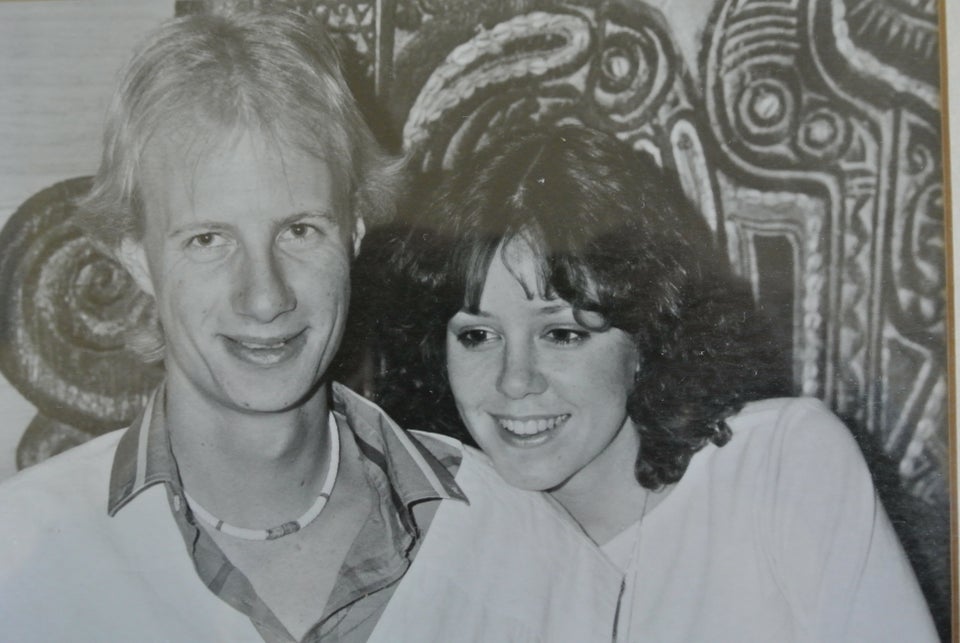 Wendi And Gerd Nitschmann Reunited
In a world where most couples have at least 10 ways to communicate with each other, it's hard to remember a time when having to make regular long-distance phone calls could end a romance. But that was the case for Wendi and Gerd Nitschmann, who met in college in Switzerland in 1982. The pair began dating when Wendi was an incoming freshman and Gerd was a junior and the two were soon engaged, but circumstances kept them apart and eventually ended their romance. Twenty-four years later, the two found each other again via Facebook and married in 2008. Wendi wrote about their whirlwind romance in "The Long Engagement." She wrote Huff/Post50 to share their story.
I was 17 when I boarded an airplane bound for college in Switzerland in 1982. I had been about to drop out of boarding school, but instead I got that last credit I needed (Senior English) in summer school so I could go to college early. My mother suggested The American College of Switzerland (ACS) since she had visited the town it was in and had been charmed. Plus, I would be closer to home (Saudi Arabia) than if I attended college in the States.
Gerd was 20 and a junior at ACS. He says he noticed me immediately and began trying to figure out how to win my affection. He asked a boy he knew who lived downstairs (my room was on the second floor of a villa) about me. The boy
said he thought I was nice, so Gerd told him to invite me over for a fondue dinner.
The three of us spent the evening at Gerd's apartment, eating cheese fondue and playing quarters, and Gerd and I hit it off. Within a few weeks I had moved in with him. The next summer, he asked me to marry him, and I said yes. We were
together for two years at the college.
Then Gerd graduated in 1984. I couldn't imagine being at the college without him, so I transferred to the University of Tennessee in Knoxville to finish up. Gerd came with me and spent a few months in the States before going to look for work -- first in the Far East and then in Germany, since he is a German citizen. We tried to stay in touch as best we could, but with no cell phones or computers it was difficult. He was earning a small starting salary and couldn't afford the international phone calls.
I went to visit him for Christmas and he seemed so grown up then, with his job and apartment. It freaked me out a little; I wasn't sure I was ready for marriage, at the tender age of 19. So I went back to school and as the contact lessened I began dating and so did he. But we never formally broke off our engagement (I still had the ring). When I finished college I travelled for a while (Japan, Thailand and Australia), then ended up in Florida, where I met my first husband in 1992. Soon after, I tried to locate Gerd, but I couldn't find him. He was married by then, too, and living in Indonesia. He moved to the US in 1998, with his wife and children.
During the next 24 years, I graduated from college, moved to Florida, got married and had three children. Gerd also got married and had children, moved from Germany to Indonesia and then to the States. But I never forgot him, and I tried to look him up a few times. I wrote the alumni director at the college and asked for any information she might have on him with no luck. I searched for him in the company directory where he went to work in Germany, but I never found him. He also tried to find me, by Googling my name. He actually found me listed as working for a log cabin development in Tennessee, but when he called there the receptionist wouldn't give him any information. I had left the company by then.
And then one day in August 2008 I received a Facebook message from the last alumni director of ACS. The college had closed its doors and she was trying to track down former students to reconnect them with each other on a new ACS website. She wanted the memories to stay alive. I asked her about Gerd, and lo and behold, she said she had seen him recently at a reunion in Monte Carlo in April! I asked her for his information, but she said she would have to speak with him and let him get in touch if he wanted to. Within minutes, I got a Facebook message from him. He told me he had asked people at the reunion about me, but no one knew anything. It was almost 24 years to the day since we had said goodbye to each other at the airport in Knoxville.
Over the next few weeks we got reacquainted over the phone and through e-mails and text messages. I had been divorced for six months, and Gerd had been divorced for several years. We got back in touch in August 2008, and in October we decided to meet for a reunion weekend. We chose Savannah. Gerd flew down from Pittsburgh, where he was living part time when he was not in Germany. He had a house there so he could be close to his children from his first marriage. I drove down from Knoxville, where I was living and working to get back on my feet after a bad divorce.
We met in Savannah on a Friday. We knew right away that we were meant for each other, and we spent a lovely four days falling back in love. On Monday, we were married in Forsyth Park. We decided that forces had kept us apart long enough, and we weren't about to risk losing each other again!
After the initial shock and uproar from Gerd's side, we decided to move to a place where we could start fresh. And what better place than Savannah?
We packed up his house in Pittsburgh and my house in Knoxville, and moved with my three boys at the beginning of 2009. It has been a roller coaster ride but we are happily married and enthusiastically making up for all the time we lost not being together.
Do you have a long-lost-love story you'd be willing to share with Huff/Post50? Email SayItOnHuffPost50@huffingtonpost.com.