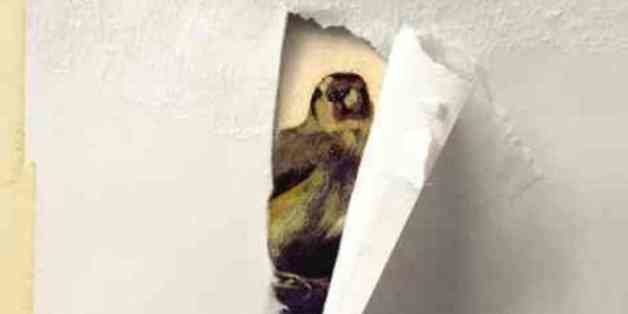 My book-reading karma isn't excellent. I don't dog-ear pages, and I try to avoid bending a book's spine to the point of creasing it. I am, however, overcome with a shameful compulsion every time I set out to read a new story. When I buy a book, my first instinct is to flip straight to the end, assessing the page count and reading the last sentence first.
This is not unlike guessing at the language of a breakup talk while splitting the bill on a second date. It's absurd. Knowing how long something will last, or exactly how it will end, tells you very little about the thing itself. To wit, a few lovely and wholly uninformative last sentences:
From Ernest Hemingway's The Sun Also Rises:
"Yes," I said. "Isn't it pretty to think so?"
From Margaret Atwood's The Handmaid's Tale:
"Are there any questions?"
If skipping ahead offers little in the way of easing a reader's suspense, why do it at all? I think my bad habit started around third grade, when our elementary school implemented a program called Accelerated Reader (the program is now an Endorsing Partner for the Common Core). After each book, we took a 10 or 20-question test that covered the main plot points. Passed tests meant AR points, which could be used to earn the sort of prizes 8-year-olds covet (sparkly gel pens, ring pops, and plastic bookmarks with pictures of kittens on them). Different books were assigned different point values, based on difficulty (although, as The New Republic points out, these sorts of distinctions are often frustratingly arbitrary.)
The name of the program alludes to the catalytic effect its meant to have on the development of kids' language comprehension skills, but, at least at my school, it had a second, more detrimental meaning: We were supposed to read as quickly as possible. This was especially true for those of us who already spent evenings burrowed in bed with fraying copies of King of the Wind. AR made reading a goal-oriented task, a competitive activity. It would remain that way for years, through GPA calculations, admissions essays, and, later, Goodreads accounts and dinner party conversations. Incentivized with points, we didn't aim to read better, but simply to read more.
I know I'm not the only reader with this affliction. Reading fiction can be regarded as whimsy, so quantifying the time spent doing it can make it seem like a more legitimate or productive pastime. Of course, reading quickly is only productive in a surface-level sort of way. The broad and shallow knowledge it endows you with could just as well be garnered from Wikipedia summaries.
I stopped checking for page counts a few years ago, after picking up a copy of Haruki Murakami's The Wind-Up Bird Chronicle. I'd read the last sentence in a bookstore, and was enticed by its vague, dreamlike quality. It reads (no spoiler alert necessary), "In a place far away from anyone or anywhere, I drifted off for a moment." I had no desire to blaze through its 600 or so equally dreamy pages (who was counting? Not me!). I couldn't believe a single sentence could be at once so precise and so profuse! I re-read favorite pages, pausing to consider them in relation to their surroundings, and my own surroundings. I carried it around with me for weeks, allowing it to seep into the way I looked at things. In short, I wasn't just reading, or even just contextualizing. I was savoring, like I did in my King of the Wind days. When I read the final sentence for the second time, I realized it neatly explained the particular, almost meditative joy found while lost in a very long novel.
Here are 10 long novels that are well worth their page counts:

Anna Karenina by Leo Tolstoy
Tolstoy's epic is about so much more than the oft-discussed tragic romance at its core. It's an homage to irreverence and manual labor, an exploration of Russian society life, and a critique of aristocratic sloth.

1Q84 by Haruki Murakami
As mentioned above, Murakami's a deft creator of immersive, spooky worlds. Protagonist Aomame explores a reality that's slightly different from her own. Her story alternates, and eventually collides, with that of a literary magazine editor, Tengo, who is editing a submission from a strange character.

Crime and Punishment by Fydor Dostoyevsky
Like most long novels, Dostoyevsky's was originally published in installments, all the more reason to take in Raskolnikov's ethical dilemmas slowly and episodically.

Tess of the d'Urbervilles by Thomas Hardy
Hardy's book is an important one if only because it challenged the sexual conventions of its time. Hardy is also one of the first writers to explore the modernist condition, and to contrast rural life with the quickly-changing industrial world.

2666 by Roberto Bolaño
The book's protagonists -- a reporter, a detective, and a philosopher -- quickly pull the reader into a world that is much more expansive than their own, personal stories. In describing their mission to track down a reclusive writer in Santa Teresa, he describes an entire culture.

Infinite Jest by David Foster Wallace
It's certainly a doozy, with summer-long book clubs devoted solely to its completion, but DFW's knack for writing playful language and absurdist plots makes this book a breezier read than its weight might imply.

In Search of Lost Time by Marcel Proust
Proust's famous motif -- a tea-soaked madeleine cookie transporting the book's narrator back to his childhood hometown of Combray -- is a powerful one that's often alluded to in contemporary writing. His books appeal to the senses, and help the reader feel transported there, too.

The Golden Notebook by Doris Lessing
For starters, it's one of Obama's favorite books. It also centers around an inventive plot device that has been borrowed and reimagined countless times since its publication -- a writer attempts to fuse her four, disparate notebooks into a single, comprehensive one.

The Goldfinch by Donna Tartt
Tartt chronicles protagonist Theo's early to mid life, and creates an atmospheric story surrounding the painting that dictates the events of his life. In doing so, she writes a globe-spanning novel that also has the intimacy of a smaller story -- Tartt's descriptions of Las Vegas, for example, are incredibly immersive. Also, the New York Times' Michiko Kakutani called the novel "Dickensian." Who wouldn't want to read a modern Dickens?

Related
Popular in the Community