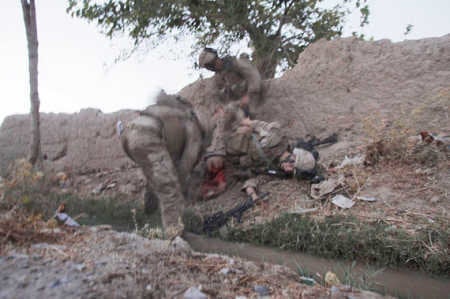 Going back to 2002, I have been writing about the shameful reluctance, even refusal, of U.S. media outlets to carry graphic images of the true cost of our wars, to Americans, in Iraq and Afghanistan -- fatally wounded U.S. soldiers and Marines.
Earlier today, the Associated Press -- bucking the wishes of the Pentagon and the victim's family -- decided to go ahead and transmit such a photo.
It was not a one-off bit of "sensationalism" but part of a tasteful and remarkable tribute package profiling the dead Marine and the experience of the photographer, Julie Jacobson, who was there to capture his final moments before he was gravely injured. He later died, three weeks ago.
Yet Secretary of Defense Gates today blasted the AP for carrying the image, calling it "appalling" and lacking in "common decency" -- and many news outlets (at E&P we are now surveying this) are refusing to run it. Just one example: this paper carried the package but in an editor's note explains that it refused to run the picture finding it in "poor taste." Others, such as the Salt Lake Tribune, have followed this path, deleting the photo from galleries that they run with the story. Some papers such as the St. Petersburg Times and Honolulu Star-Bulletin did carry it online. Top papers such as The New York Times, Washington Post and L.A. Times carried the AP story, but not the image. The Post even ran an image gallery, without the picture. Later in the day, it did include the picture, with a warning -- and said it would not print it in the newspaper itself.
"AP journalists document world events every day. Afghanistan is no exception. We feel it is our journalistic duty to show the reality of the war there, however unpleasant and brutal that sometimes is," said Santiago Lyon, the director of photography for AP. But a top Republican on the House Armed Services Committee has tweeted that he agrees with Gates on this issue.
We have published the image at our blog, here. Updates on media using and refusing to use photo here. The New York Times now has a full discussion at its Lens blog. NPR.org decided to carry the photo--but put it behind a warning screen.
Greg Mitchell's latest book is "Why Obama Won." His previous book, "So Wrong for So Long," chronicled media cover-ups, photos and otherwise, in Iraq. He is editor of Editor & Publisher. He can be reached at: gmitchell@editorandpublisher.com
Related
Popular in the Community