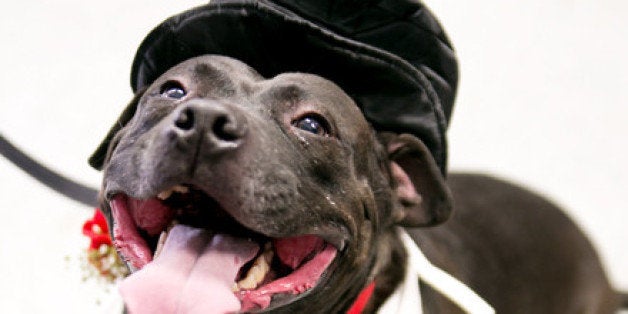 Why has Steve, a friendly, three-year-old mutt, spent nearly his whole life in a shelter? How about Cherry, the potbellied pig? Or Maxie the cat, whose kittens were adopted several years ago while she went overlooked?
It's hard to say why some animals are adopted lickety-split, while for others this process can take years. (And don't forget: in dog years, it's even longer.) It could be they're the wrong color or the wrong age, that they're too shy to make a good first impression -- or, in the case of Cherry the pig, perhaps the holdup is that she's got an elderly pig companion who comes with her, as a porcine package deal.
These 65 animals do have one big, obvious thing in common: They've all been waiting for a very long time for someone to take them home. And if that someone is you, you are going to find yourself with one very happy pet on your hands.
"Our long-term residents are often overlooked because they are quiet or shy or need extra time to come round," says Melissa Murphy of King Street Cats in Alexandria, Virginia. "In our experience, once they find their forever homes they truly blossom. It's wonderful for us to witness these transformations when someone gives them a chance."
You also might find yourself with a discounted adoption fee. For example, King Street Cats lowers the price for long-termers (they, sort of heartbreakingly, call this their "What About Me?" campaign); the Austin Animal Center has cleverly-named Hardluck Hounds and Desperate Housecats programs to help find homes for the animals who've been there the longest.
Check out these 65 special animals, with descriptions provided by their shelters -- click on each slide's plus sign, on the bottom right of the slide, to see those descriptions!
PHOTO GALLERY
These Long-Term Shelter Residents Need Homes!
Do you have an animal story to share? Get in touch at arin.greenwood@huffingtonpost.com

Calling all HuffPost superfans!
Sign up for membership to become a founding member and help shape HuffPost's next chapter