Persistent long-term unemployment has plagued the economic recovery for the past three years, but lately there are signs the epidemic is waning.
The average duration of joblessness dropped to 35.3 weeks in January, the shortest span since 2010. Of the 12.3 million Americans unemployed, in December the share of workers who were jobless six months or longer dipped below 40 percent for the first time since late 2009. And the portion of unemployed Americans out of work for 99 weeks or longer fell to 11.2 percent in January, the lowest level in two years.
On Monday, an analysis by Rob Valletta of the Federal Reserve Bank of San Francisco found that the ranks of the very long-term jobless aren't dwindling just because those people have been giving up and dropping out of the labor force -- they've been finding jobs.
"For the longest duration groups, those out of work for 20 months or more, job-finding prospects appear to have improved since 2010," Valletta wrote in an economic letter. "Importantly, that finding implies that the current elevated level of long-term unemployment is likely to disappear over time."
But there's a catch. The data say nothing about the quality of the jobs.
"They may not be terrific jobs," Valletta said in an interview. "It's not necessarily an indicator of great news for the unemployed."
Previous research has found the economic recovery that started halfway through 2009 has been generating mostly low-paying jobs, like in retail and food service. While Valletta's analysis suggests persistent long-term unemployment won't become a "new normal," low-wage work is a cold comfort.
Alicia Thomas of Chicago, Ill., worked as a director of research and development for a Fortune 100 company until her position was eliminated in a downsizing effort last year. Thomas, 58, became one of the 4.7 million long-term unemployed in January when she entered her sixth month of joblessness.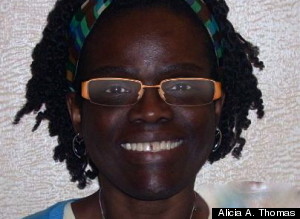 Alicia Thomas joined the ranks of the long-term jobless as she entered her sixth month of unemployment in January. (Photo courtesy Alicia Thomas)
As her unemployment spell has dragged on, Thomas has become more aware of new possibilities -- that she might need to go into business for herself, or dip into savings, or maybe even start flipping burgers.
"It was sort of a joke that I said to people, 'If push comes to shove, there's a McDonald's on every corner,'" Thomas said. Not a joke anymore.
"I understand now. I get it now," she said. "Maybe I will go do that, because if you're not willing to relocate, that may be what you have to do."
The Labor Department has reported that of workers displaced from long-held jobs, most of those who find new work earn less than they used to. Thomas is painfully aware of that possibility. She said unemployment insurance replaces less than a quarter of her former salary.
"It's grocery money," she said.
She never imagined she'd be confronting long-term joblessness. Unemployment itself can make finding new work difficult, even for someone like Thomas, who has had a successful white-collar career.
"You just don't think you'll be in that situation," she said. "Emotionally you feel like a failure despite any of the successes and awards that you had. You really feel like your organization is telling you you weren't worthy."
HuffPost readers: Economy screwing you over? Tell us about it -- email arthur@huffingtonpost.com. Please include your phone number if you're willing to be interviewed.
REAL LIFE. REAL NEWS. REAL VOICES.
Help us tell more of the stories that matter from voices that too often remain unheard.
BEFORE YOU GO
PHOTO GALLERY
Top 10 Cities With The Best Job Growth