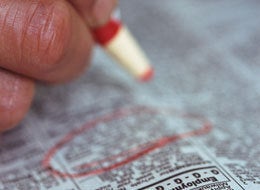 Even though the unemployment rate rose to 9.9 percent, the government's jobs report for the month of April is the most positive one since the start of the recession: The economy added 290,000 jobs as the labor force swelled by 805,000, causing the rate to rise.
Here's the bad news: More and more people are out of work for longer and longer. The number of jobless folks out of work for more than six months rose by 169,000 to 6.7 million, constituting 45.9 percent of all the unemployed.
"We've never quite experienced this in America -- a recession that's gone on so long that even when job creation is strong, people have been out of work so long that it's difficult for them to climb out," said Andrew Stettner, deputy director of the National Employment Law Project. "It stretches beyond the kinds of supports that we are used to providing."
Even though Congress has extended unemployment benefits to the point where in many states the jobless can get 99 weeks of benefits, it's still not enough -- hundreds of thousands of people are exhausting their benefits every month.
The picture is especially ugly for older folks who've lost their jobs. Though the unemployment rate for workers older than 55 is lower than for the rest of the labor force, older workers are more likely to suffer long-term unemployment.
According to an analysis by the AARP Public Policy Institute, 56.8 percent of jobless Americans older than 55 are out of work for longer than six months as of April, up from 50.6 percent in March. The average duration of unemployment for older workers rose from 38.4 weeks in March to 42.9 weeks, compared with 33 weeks for the total unemployed population.
Dean Baker, an economist with the Center for Economic and Policy Research, said there are two reasons older workers are unemployed for longer periods of time. "First, they are far more likely to have enough of a work history to be able to qualify for benefits," Baker wrote in an email. "Remember, less than half of the unemployed are getting benefits. The over 55 group are far more likely to be in that half."
The second reason, Baker said, is a mix of experienced workers passing over low-paying jobs for which they are overly qualified and employers refusing to hire experienced workers who won't stick around if better jobs become available when the economy improves.
Stettner said he worried that people will lose their focus on the unemployed now that the economy is adding jobs. He said Congress should be proactive in creating jobs and helping the long-term unemployed get back to work. He pointed to California Democrat Rep. George Miller's proposed Local Jobs for America Act in particular.
A Rutgers University survey released Tuesday found that 80 percent of people unemployed last August remained jobless in March, and most of the people who found jobs were working for less money.
"We don't have enough tools to keep people out of homelessness, out of hunger," Stettner said. "It's just really tragic what's happening."

Popular in the Community