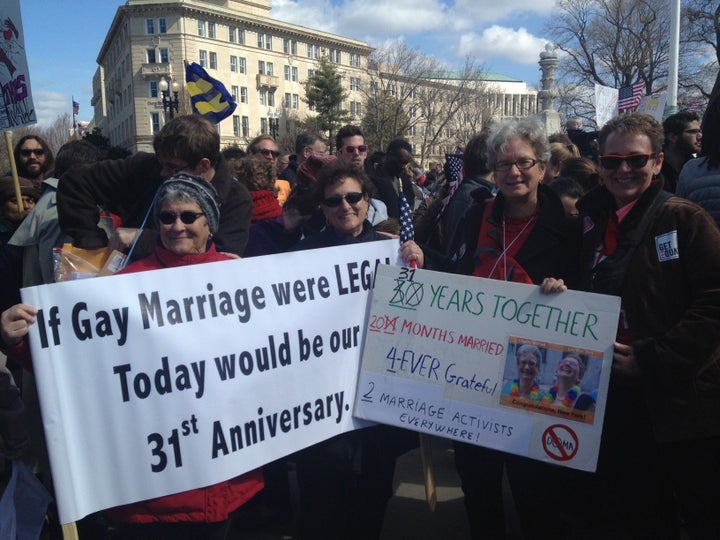 WASHINGTON -- Bonnie Quesenberry and Fay Jacobs celebrated their 31st anniversary in front of the Supreme Court on Wednesday. It would have been their 31st wedding anniversary had marriage been legal for same-sex couples back when they got together, in 1982, after meeting at a conference at John Hopkins University.
Quesenberry, a retired dental lab technician, wore small purple sunglasses, and Jacobs, a writer, wore black fleece. As the two women waited on the steps to hear how the arguments in the case against the federal Defense of Marriage Act inside the court were going, they bumped into another lesbian couple, also together for 31 years.
"We're the 31 club!" Jacobs exclaimed, holding out her home-made banner, which read, "If Gay Marriage were LEGAL Today would be our 31st Anniversary," and laughing.
"We've had congratulations said 1,000 times," Quesenberry said, as the four women all embraced. "This just couldn't be better."
Mary Jo Kennedy, a family practice doctor, and her wife, Jo-Ann Shain, a freelance editor, held up their own sign: "31 Years Together, 20 Months Married, 4-Ever Grateful, 2 Marriage activists everywhere."
Kennedy and Shain were among the first couples to wed in New York in 2011 after the state legislature there passed marriage equality legislation and six years after they filed a lawsuit seeking a marriage license.
Like Quesenberry and Jacobs, they also met in 1982, at a health conference in Los Angeles. "But we both worked at the same hospital in the Bronx," Shain said, laughing. "Our first date was in the cafeteria."
"That's so great," Jacobs said.
Shain glanced over her shoulder at the mass of rainbow flags and equality signs, and beyond them the Supreme Court. "Would you have ever thought, back then?" she asked.
All four women had been active in the gay rights movement for decades, but none of them ever imagined a day like this would come. Quesenberry attended her first gay rights march in 1979, when the subject of marriage never even came up.
"Back then it was just about keeping our jobs, not getting kicked out of our apartments," she recalled. "All the signs said, 'We are people.'"
Shain nodded. "I'll tell you how this is different: Now there are straight people, there are young people, there are kids -- we have allies," she said.
Both couples are in their 60s, and their conversation drifted to the difficulties of retiring without the federal protections and benefits straight married couples receive. Because DOMA directs the federal government to recognize only marriages between a man and a woman, even gay couples that are legally wed in states that recognize same-sex marriage must do without a host of legal and financial federal benefits that straight couples are entitled to.
"As you get closer to retirement, all the rules are against you," Quesenberry said angrily. She and Jacobs live in Rehoboth Beach, Del., a state that grants civil unions but not marriage to same-sex couples. "We are right now trying to decide how to live our life in retirement -- where we can live, what we can do -- and it's not fair we have to go through this," Quesenberry said.
"If something were to happen to Mary Jo," Shain began, then paused. "Your relative has to pick up your partner for burial -- we're not even allowed."
"It's vile," Kennedy said.
"It's obscene," Quesenberry nodded. "It's basic economic inequality -- nothing to do with religion or God."
But outside the country's highest court, with so many revelers there to mark the historic case, the mood could not stay gloomy. A few moments later, two more women, both wearing black overcoats, joined the group. They'd been together 30 years next month.
"Together, we make 92 years!" Quesenberry cheered.
Before You Go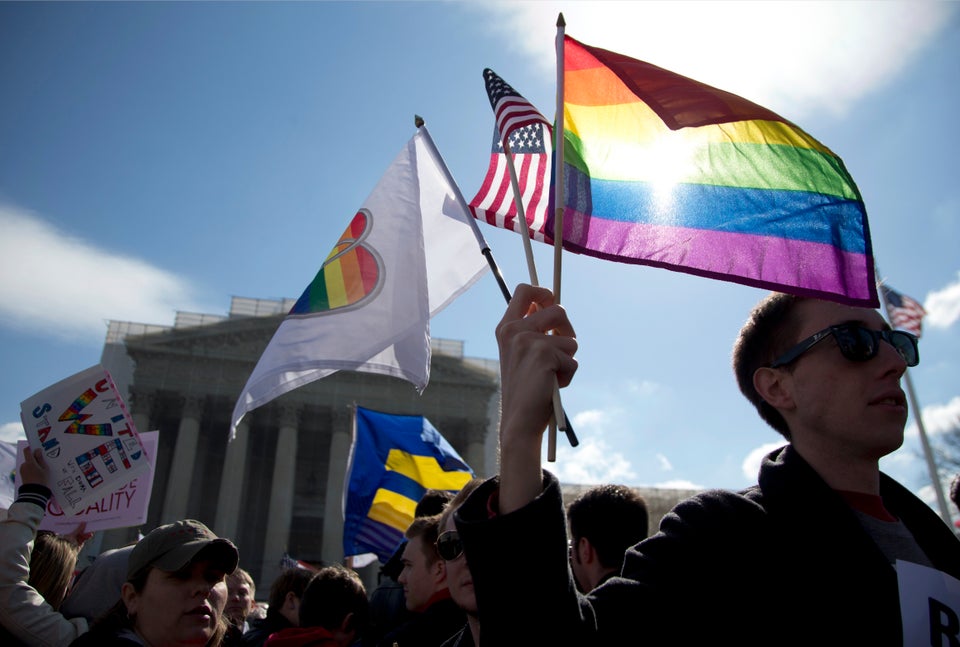 Supreme Court Proposition 8 Case
Popular in the Community