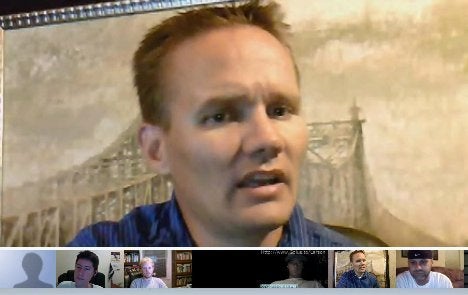 When he talks about the "Hangout" feature on Google+, Google's Head of Social Vic Gundotra likes to compare it to sitting on your front porch.
"It allows you - in a very nice way, it's not socially awkward - to say, hey I'm hanging out on my porch," Gundotra said in a recent interview. "I'm available, if you're available too, you can join."
But Google probably didn't expect anyone to sit on their front porch for this long...
Avid Google+ users have put the platform's servers to the test with a continuous group video chat that just doesn't seem to end. It's been going on for three full days (more than 72 hours) and counting.
The topic of discussion has continuously rotated, along with the participants. An estimated 1,000 are believed to have stopped by, perhaps as many as 2,000 to date.
The next day, Olsen wrote on his Google+ profile page, "Today we have had many Google Hangout engineers join in with us which we really appreciate - one of them confirmed this hangout is the longest to date - even surpassing their own internal tests! " (The Hangout hit 44 hours at that point.)
On July 23, it was still going strong. And there was no end in sight.
"We hope for it to go on perpetually," Olsen told The Huffington Post in the Hangout.
The experiment has had some hiccups. Every now and then, the room fails or there are some technical issues. But as long as someone jumps back within 15 minutes, the URL is preserved. The URL has indeed remained in tact since the beginning.
Founder of Dot TV Social Media Services Michael Nast has been one of the Hangouts' most loyal viewers. He claims to have joined within its first hour. He hasn't really gone anywhere since, minus a few hours for sleep.
"People are sleeping in the Hangout," Nast said. "You just don't want to miss anything."
Googlers took notice. Engineer after engineer began popping in on Thursday and Friday - from all around the world - noting that they'd heard about it from internal messages being circulated.
Olsen says it's the "great conversation" that keeps him excited and people popping in.
Nast added, "I've been using social media for years, but Google's totally flipped everything around [with Hangouts and their interaction]."
The ways people find the Hangout are endless.
For some, it's gphangouts.com, a site that indexes Hangouts going on around Google+.
For serial entrepreneur James Kennemore, he says he heard a Google developer mention it. He stopped by and stayed for hours.
Others found it on Twitter, via Huddles, or had a friend in the Hangout in their Stream.
Perhaps most interesting about the Hangout is it's all being livestreamed, as mentioned before. At one point, 67 people were watching at once, even though only 10 can be in a Google+ Hangout at any given time. At peak times, as soon as someone leaves, it takes seconds to fill the spot.
A.J. Klein, an emerging media and communications student at the University of Texas at Dallas, said in the Hangout that he's met incredible people that he would have never had the chance to interact with, thanks to Hangouts.
Klein says the trick is to "get lucky" in terms of who you'll meet.
Popular in the Community