This is part 2 of a 2-part series. Read part 1 here.
A revolution is taking place right now that is transforming retirement -- and possibly all of our views about what matters most in life.
This is the second of two articles that describe some of the key findings of a newly released study, "Giving in Retirement: America's Longevity Bonus," conducted by my firm, Age Wave, in partnership with Bank of America Merrill Lynch. In yesterday's post , I described how the $8 trillion "longevity bonus" of giving is about to transform our world. Equally fascinating is the flip side of the coin: how giving itself is already transforming the retirement experience for millions of people in significant and sometimes unexpected ways.
Today's retirees are three times more likely to say that "helping people in need" brings them greater joy than "spending money on themselves" (see Figure 1). That's great news for the world, our leaders, and all the churches, schools, sports programs, boys and girls clubs, YMCAs, libraries, leadership programs, and other nonprofits that could use a helping hand. The trick is to view our 60 million retirees as an untapped resource rather than as a burden.
Figure 1
Which of the Following Brings You Greater Happiness in Retirement?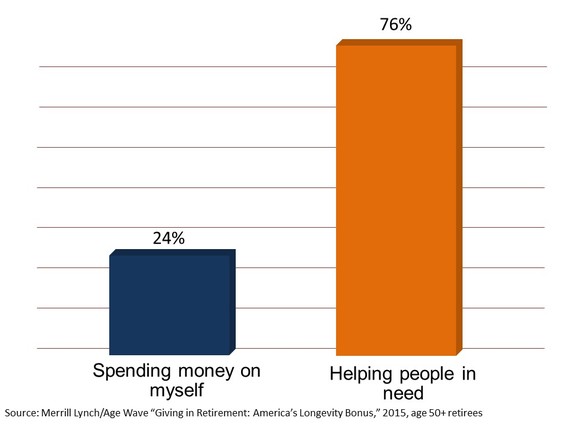 In addition, retirees who give--either through financial contributions or volunteering--are more likely than those who don't to say they feel a "strong sense of purpose," "have high self-esteem," and are "happy and healthy" (see Figure 2).
Giving in retirement serves another important function that might not readily spring to mind. In our 2014 "Work in Retirement: Myths and Motivations" study, we asked thousands of pre-retirees what they anticipated missing most about the workplace -- and we then asked thousands of retirees what they actually missed most. Pre-retirees said they thought they would miss a reliable income, and this seemed like a reasonable assumption. However, retirees told us that what they actually missed most were the social connections. Although they surely were enjoying their unpressured leisure time, they really missed the stimulation and good feelings that came from daily interactions with others, especially younger people.
In our focus groups, retirees repeatedly told us that volunteering provides an opportunity to connect with other people with similar interests, values, and passions. In fact, 85 percent of retiree volunteers reported that they have developed important new friendships through their giving and volunteering activities. As one focus group participant explained, "It was such a gift to give of my time, but one of the best side effects of giving is that it helped me meet people who I can relate to and enjoy. It opened up an entire world of new friendships that I cherish."
Even the definition of success begins to shift in retirement in some new and potentially far-reaching ways. During the working years, success is often defined in terms of the size of a person's paycheck or house or title at work. But today's retirees are almost six times more likely to define success by generosity, rather than by wealth (see Figure 3).
Figure 3
Which Better Defines Success in Retirement?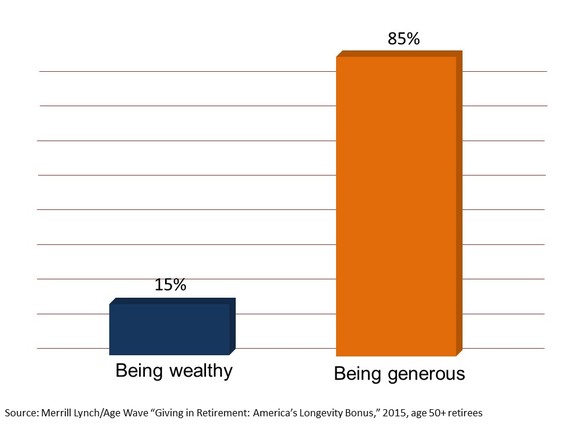 Success, it seems, also plays a central role in why retirees want to give: They are grateful for what they have had in their lives. We found they are 18 times more likely to say they are motivated to give by feelings of "gratitude" rather than "guilt" (see Figure 4). At our focus groups, we repeatedly heard comments such as "I have been so blessed in my life. I now feel like it is my privilege and responsibility to give back to those less fortunate."
In the 1990s, former President Jimmy Carter asked me to help him think through the outline and content for a book he was writing to be called The Virtues of Aging. In one of our candid discussions, he spoke of the blessing of giving, about how the harder he and Mrs. Carter worked, the more blessed they felt by the results.
Giving of himself, the president told me, made him stronger. "Every time we thought we were making a sacrifice for others, it turned out to be one of our greatest blessings," he reflected. "We have gotten more out of it than we have put into it. You just try it, even if it's nothing more than going to a public hospital and rocking a baby for two hours a week. It's an expansion of life, an encounter with new people who are potentially friends. And so, it's a learning process, an exciting process that gives new and expanding life experiences."
Create a Retirement Giving Game Plan
As our survey revealed, two-thirds of retirees believe this stage of life is the best time to give back. However, with 1.2 million nonprofits, today's giving landscape is complex and sometimes difficult to navigate. It makes sense to develop a sound giving game plan so you can contribute -- time or money or both -- with the greatest impact and personal fulfillment. Here's a three-step game plan anyone can use to get started.
1)Explore your giving goals.
Retirement can be an opportunity to explore what is most important to you in terms of giving your time and money. What are your top motivations? What do you find most fulfilling when giving? What are you most hoping to achieve? What values are you hoping to express or bring to life? Everyone has unique goals, and exploring and identifying these giving goals can be a very important first step in developing a giving plan. As Lorna Sabbia, head of Retirement and Personal Wealth Solutions for Bank of America Merrill Lynch, says, "When individuals and families take the time to develop a giving strategy based on what's meaningful to them and the impact they want to have, they feel far more fulfilled."
2)Optimize your impact.
Among previous generations of retirees, mailing a check to a worthy cause was standard operating procedure. Not anymore. The new generation of retirees wants to be more focused in their giving choices, make a strong impact, and apply their talent and skills to improve the world. There is a growing number of ways to both research and identify giving options, and to give in ways that optimize your impact. For instance, a variety of technology innovations can help you not only research various charities but also carry out your transactions, whether you are donating money or services. The following are some great websites that can help you determine how to most impactfully give back: charitynavigator.org, volunteermatch.org, universalgiving.org, encore.org and kiva.org.

3)Continually review and refine your giving game plan.
Generosity can be an ongoing journey in retirement. By periodically measuring your giving activities against your giving priorities, maintaining a giving plan consistent with your long-term financial security, identifying which kinds of giving you find most fulfilling, and assessing which of your activities have achieved the impact you want, you can continue to build on and find new ways to give back that meet your personal goals, values, and aspirations in the years ahead.
I'd like to know what you think about giving in retirement. What would you like to do or what have you already done? Please share your success stories as well as any mistakes you feel you've made that others can avoid. And I wish you the best of luck!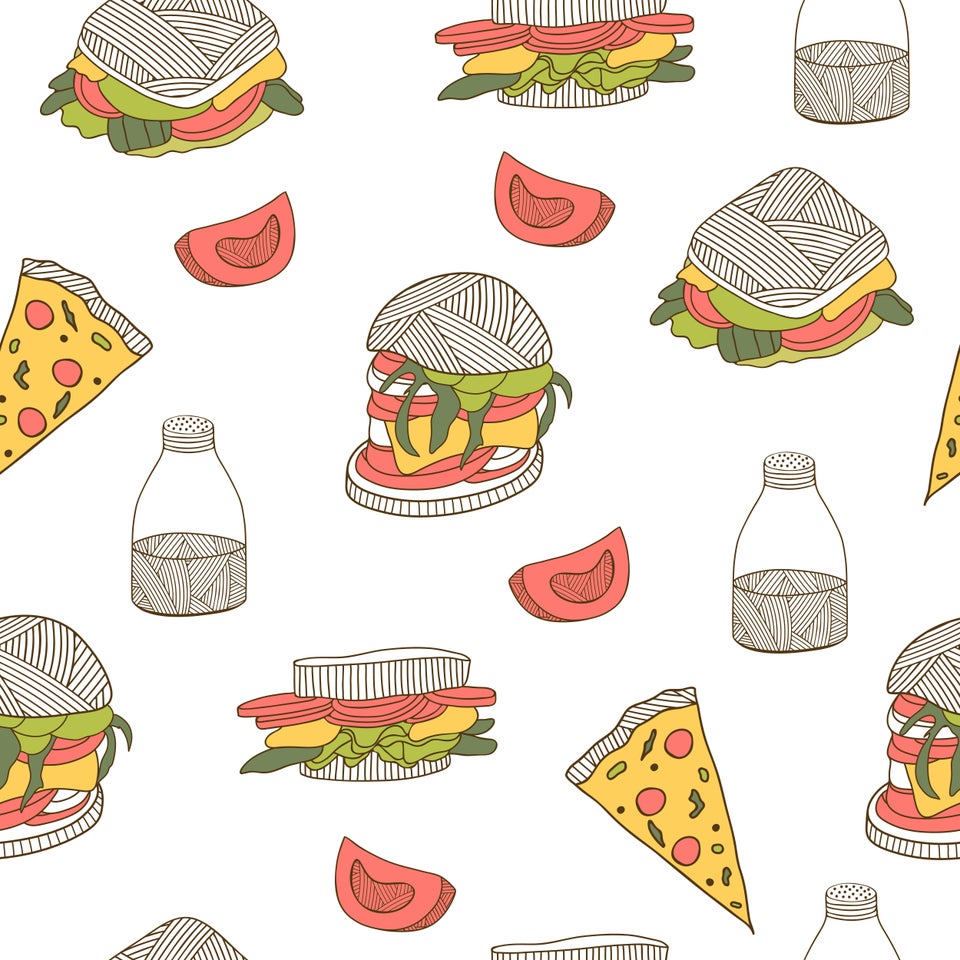 11 Easy Ways To Shorten Your Life
Related
Popular in the Community