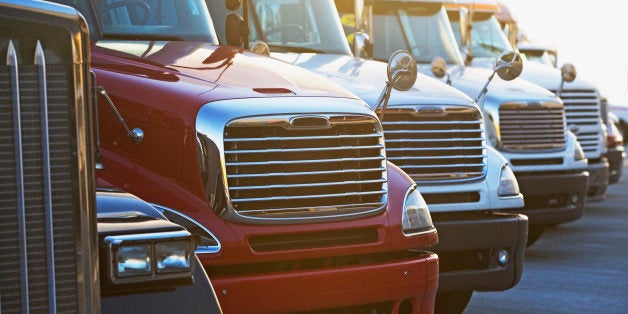 And yet accidents involving commercial trucks continue to occur. The statistics are grim. According to the National Highway Transportation Safety Administration, in 2012 (the last year for which statistics are available), 3,921 people were killed and 104,000 were injured in motor vehicle collisions involving large trucks. Previous estimates by the National Transportation Safety Board link 13 percent of large truck accidents to fatigue; up to 31 percent are thought to have fatigue as a factor leading to the collision. Clearly, truck driver fatigue is a major issue that has led to serious consequences, both for the drivers themselves as well as all of us who are sharing the road with them.
However, public discourse seems to be fixated on driver fatigue as an isolated issue, as evidenced by coverage of Morgan's accident as well as regulatory debates on commercial trucking. Rather than just focusing on the sheer number of hours of sleep, why not think about the quality of sleep? Driver fatigue should be part of a larger concern with driver health, as lack of energy and burnout could be symptoms of a larger issue with health and wellness and poor health promotion. According to a recent study of over 1,600 drivers published in the American Journal of Industrial Medicine, long-distance commercial truck drivers are more than twice as likely to have diabetes (14.4 percent vs. 6.8 percent nationally) and are more than twice as likely to smoke (50.7 percent vs. 18.9 percent). More troubling, 68.9 percent of drivers are classified as being obese and 17.4 percent as being morbidly obese, vs. 30.5 percent and 7.3 percent of the nation as a whole. Truck drivers are at increased risk of musculoskeletal problems, like back pain, as well as psychiatric illness. And, in terms of access to health care, more needs to be done -- 18.3 percent have delayed or did not receive care and 80.2 percent did not receive a flu shot.
Not only is this a troubling indictment of our health care system's (lack of) ability to take care of truck drivers, but it also leads to higher costs -- more than $1,700 per year compared to around $1,000 for the rest of us, mostly from increased hospitalizations and need for specialist care. As a result, out-of-pocket expenses and premiums for both drivers and their employers are up to 70 percent higher than for the rest of us, in spite of lower access to health information and wellness programs. These excess costs are not only a strain on drivers, but they lead to higher costs for all of us who use goods transported by truck.
What can be done to help improve driver health? Multiple trucking companies, large and small, have embarked on health and wellness campaigns. Schneider National offers health risk assessments and treatments for its drivers, such as for sleep apnea, while JB Hunt offers a wellness program that encompasses individualized medical examinations and health coaching. Con-way Freight uses a health risk assessment and wellness coaches to help its drivers get on the road to health. Finally, travel centers that long-distance commercial truck drivers frequent (such as TravelCenters of America, Petro, Pilot and Flying J) have started offering fitness rooms and health information kiosks at their facilities, and there have been discussions of co-locating retail clinics, such as those offered by CVS/Caremark and Walgreens, at travel centers.
However, there is a disconnect between these interventions and the working conditions of drivers. Given that drivers are away from their home (or their home office) for multiple days at a time (more than 85 percent of drivers spend more than 17 days away from home every month), shouldn't health and wellness programs reflect such a reality? Shouldn't mobile workers have a mobile solution to help them improve their health?
What would such a mobile solution look like? Like other programs, it should use the latest research from preventive medicine with respect to health promotion and specific chronic diseases to target, but the mobile element can make such interventions much richer. Given how ubiquitous smart phones are in the United States, and the multiple capabilities smart phones have, a mobile health (mHealth) solution can incorporate the innumerable features of our mobile devices. Health and wellness apps can leverage useful questionnaires and engaging user interfaces to help truck drivers learn about their sleep habits and methods by which then can improve the quality of their sleep. The GPS tracking module can be used to guide drivers to nearby fitness centers, mobile health clinics, or even grocery or health food stores. At clinics, health information could be automatically communicated with clinic providers. The built-in accelerometer can be utilized to measure the physical activity of drivers (or quality and quantity of sleep) and offer rewards for pursuing healthy patterns of activity. Such programs can even be gamified to allow drivers to compete against each other, virtually, through completing health assessments or eating more healthily.
The accident involving Tracy Morgan is a tragedy. Yes, it possibly involved driver fatigue, but the situation is likely more complex and involves a broader problem with driver health. Perhaps, by highlighting the destructive effects of poor health on our nation's truck drivers, progress can be made toward creating mobile, Web-enabled health apps and other offerings that can truly help our nation's drivers lead healthier lives.
Related