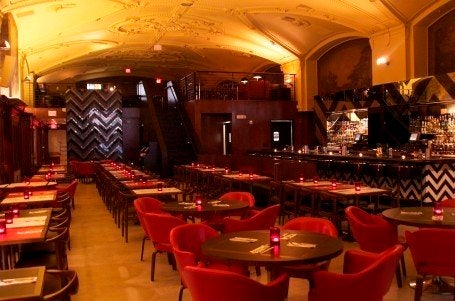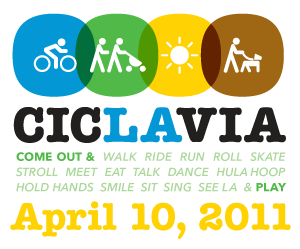 No, I'm not being unfaithful to my wife. I'm just down because I won't be able to ride in LA's second CicLAvia this Sunday. I tore my Achilles tendon a month and a half ago and my surgeon's not crazy about me taking it to the streets just yet. So I'll be lying this one out, keeping my leg elevated and living vicariously through the emails, calls and photos sent to me by friends lucky enough to partake. The first CicLAvia, on 10/10/10, was a dream come true for me and the 100,000 other participants who were there. It was the momentary realization by LA of a better city where, for a few hours at least, some of our streets belonged to the bicyclists, joggers and pedestrians who seized the chance to take in LA sans the choking air and gridlock that often plague the CicLAvia route.
In "Public Space = Public Health", I called CicLAvia a Los Angeles-based effort that's bringing an inspired urban public space concept that originated in Bogotá to LA. It is, and it comes not a moment too soon given the growing epidemic of childhood obesity and diabetes in Los Angeles County. CicLAvia is certainly about giving Angelenos a break from the stress of smog and car traffic. But it is also a new way of thinking about how we engage with our city and with one another, and how we exercise in LA.
As CicLAvia says of itself, "The health benefits are immense, bringing families out to enjoy their streets in a new way and giving them the chance to walk and bike together." Which means CicLAvia is an event entirely in line with the objectives of LA County's Project RENEW and the work of the California Center for Public Health Advocacy (CCPHA). Both RENEW and CCPHA, a group with which I am involved, are confronting the County's growing diabetes and childhood obesity epidemic head on.
A project of the County Public Health Department, RENEW backs local policy change supportive of healthy eating (through soda and other junk food bans in public buildings and at public events), fitness, complete streets (a holistic vision of our streets and public spaces), public transit and transit-oriented development. Both RENEW and CCPHA therefore are natural partners of CicLAvia.
After this Sunday, CicLAvia will be back in July. I hope by then my Achilles will be strong enough that I'll be able to participate. And though I won't be riding my bike or taking Metro to Sunday's event, I'm encouraging everyone else I know to be there. Along with America Fast Forward, the LA-envisioned plan for rebuilding the nation's public transit infrastructure that grew out of Metro's 30/10 Initiative, nothing shows off LA as the ever-improving city that it is better than CicLAvia. It's not to be missed!
Popular in the Community