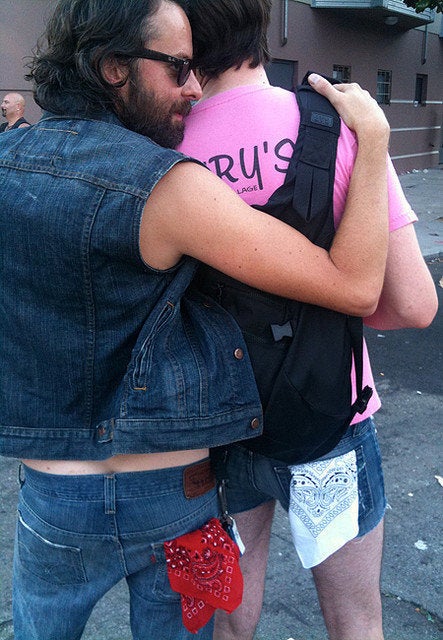 David Halperin has an interesting commentary in The New York Times about the endurance of gay culture despite people having heralded its demise for the past several decades. I suspect the disconnect on this lies in people confusing gay culture with gay politics.
As a gay political activist, I am an assimilationist -- that is, I want equality under the law, and that's that. Culturally, however, people are free to do whatever they want. Some LGBT liberationists who have reacted coolly toward marriage equality seem to think that freedom to marry means being forced to marry. No, civil marriage equality simply increases our options.
I can sympathize with inveterate counterculturists who feel that something has been lost. Back when gay life existed in a parallel world divorced from our jobs and birth families, a certain freedom reigned, allowing us to let loose and create and experiment.
Years ago, gay science-fiction writer Samuel "Chip" Delaney wrote an elegiac piece about the sleazy Times Square neighborhood that coexisted with New York's theater district before Rudy Giuliani chased out the porn shops and made room for Disney. He argued that we need that kind of space. For a look backward at the post-Stonewall glory days, it is hard to beat Andrew Holleran's beautifully written 1978 novel Dancer from the Dance, set in 1970s New York and Fire Island.
But my sympathy for our lost underworld freedom only extends so far, given the grim, other-side-of-the-tracks reality underlying it. Going to the club in the old days often meant paying some young thug not to slash your tires or smash your car windows in the blighted warehouse district you were visiting. D.C.'s old gay-club zone off South Capitol Street, where that sort of thing used to happen, is now the site of the Nationals ballpark. In 2007 I and others fought with limited success for the right of clubs displaced by the ballpark to relocate.
Speaking of the Nats, on June 19 a friend and I attended Nite Out at the Nationals, the annual gay night sponsored by Team DC and the gay sports bar Nellie's (along with others). The Gay Men's Chorus of Washington, D.C., sang the National Anthem, and Rep. Jared Polis (D-Colo.) threw the first pitch. As I unshelled some peanuts and ogled Tampa Bay Rays center fielder B.J. Upton, I mentioned the back-room activities that used to occur at about the spot where third base is now located, and wondered if runners sliding into third would enjoy learning this bit of historical color.
It would be remiss of me, with a revival of Larry Kramer's The Normal Heart now playing in D.C., not to mention that a large portion of those '70s-era Fire Island revelers died after AIDS struck in 1981. Mr. Kramer decries the failure of HIV prevention campaigns to this day. (I will leave it to others to argue that with him.) In any case, the advance of marriage equality gives young gay people another option for their lives besides partying as if there were no tomorrow.
A similar nostalgia for the bad old days can be found among some black separatists regarding the vanished days of segregation and the Chitlin' Circuit in which black culture thrived in its parallel world. I heard D.C.'s notorious Rev. Willie Wilson talk along these lines in 1997 at a memorial gathering at Howard University for Betty Shabazz (the widow of Malcolm X), in which he talked about the harm that the Supreme Court's Brown v. Board of Education decision in 1954 did to education in the black community. That sort of talk causes some jaws to drop (Thurgood Marshall would roll in his grave, etc.), but you can find plenty of it if you look for it.
To be sure, landmark court decisions and historic legislative milestones like the Civil Rights Act of 1964 and the Voting Rights Act of 1965 have not ended all injustices. Public-school desegregation met with stiff resistance, which led to the proliferation of private Christian academies whose racial discrimination enjoyed the protection of the First Amendment.
Thus, to the extent that Brown v. Board did not end educational discrimination, it is largely because integration has effectively been thwarted. Former Mississippi Governor Kirk Fordice, for example, won the cooperation of the state legislature in underfunding public schools. When public schools fail, that is used to justify public funding for private school vouchers. This is similar to the Republican Congress doing its best to sabotage President Obama, then blaming him for alleged failures that they worked so hard to ensure. Even if the GOP had not been taken over by fanatics, it would be important to remember that while 53 percent of voters in 2008 chose Mr. Obama, 47 percent did not.
So we should be under no illusion that political and policy victories will remove anti-gay hatred from everyone's hearts, any more than they will erase gay people's desire to create our own celebrations. We will always find or create new spaces in which to express ourselves. But on the political side of things, we assimilationists were right, and we have mostly won.
No, equality isn't everything. So there is no need to thank us. But you're welcome anyway.
An earlier version of this piece appeared on GLAA Forum.
REAL LIFE. REAL NEWS. REAL VOICES.
Help us tell more of the stories that matter from voices that too often remain unheard.