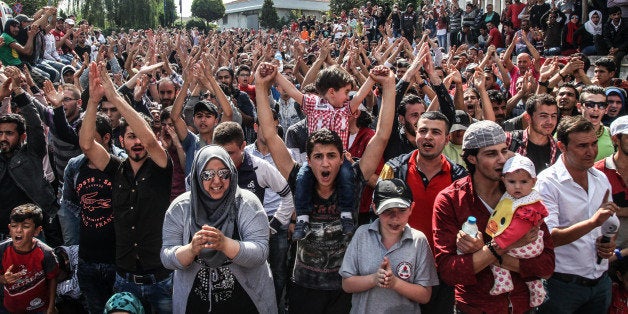 What is the word for how we feel when we study the footage, the facts, of Europe's stunning migrant crisis? The body of the child washed to shore. The mother, eight months pregnant with twins, who has walked miles over railroad tracks. The young man who tosses the duffel bag of his winnowed-down possessions and runs but is too late to make it safely inside a country that does not want him.
Do we calculate our compassion -- our own humanity -- against the measure of individual faces and particular stories or against the staggering reality of the math? The millions fleeing. The miles of razor-wire. The legions of soldiers being called to the borders of passport-free Schengen zones to interrupt the threadbare passage. The European countries no bigger than many a mid-sized U.S. state absorbing the daily thousands. The shards and bloodshed left behind in Aleppo and Douma, where homes, markets, children, young people just now falling in love are being bombed by their own government.
Who and how does our empathy help? Our despair? Our dollars to UNICEF, Save the Children, Doctors Without Borders, the International Rescue Committee? And what happens when we allow ourselves to imagine beyond the mass exodus -- when we construct, in our imaginations, the migrant settlements and migrant struggles that will endure far beyond these desperate days? What will home ever be, for the radically uprooted? With what resources, and inside what communities, will they now fortify their lives? What will be done -- what can be done -- with the memories of a life that cannot exist again?
"You swear to belong. You fear you will never fully belong. But who could have guessed how fierce it is, this longing to belong." These are the words of the Indian-born writer Meena Alexander, in her story, "Grandmother's Garden."
"It is probably her son she misses, or the father. Or our whole country, which you never think of until it's gone, which you never love until you're no longer there." That's Junot Diaz, born in the Dominican Republic, writing in "Otravida, Otravez."
"Do you know what it's like, to be gone from your country for so many decades that you start to think you dreamed the whole place up?" Asks Carolina De Robertis in "No Subject."
(All three stories appear in the glorious Achy Obejas and Megan Bayles edited Great Books Foundation collection, Immigrant Voices: 21st Century Stories.)

When I set out to write my 1983 Berlin Wall novel, Going Over (Chronicle Books, 2014), I thought my research would primarily take me to the divided lives of those on either side of the wall. To the failed attempts at freedom. To the successful passages. To the lives of graffiti artists and stymied stargazers.
I found that. I wrote that. But there was something more, something bigger at the heart of this Berlin story -- the lives of the Turkish immigrants, those "guest workers," who had been called to West Berlin to help mitigate a rising labor problem in the wake of the war. Vaccinated, packed onto planes and trains, and redirected to worlds they couldn't foresee, these Turkish citizens left often-rural homes to become poorly paid semi-skilled laborers on German assembly lines. They were crammed into ghettoized apartments, left to their own societal devices, sometimes despised. Those who sought protection from German police -- women, mostly, seeking to escape abusive marriages or challenging conditions or threats of "honor" killings--were often foiled in their search for help. The Turkish immigrants were resident foreigners. They were a culture within a country, both separate and essential.
This Turkish story, it seemed to me, was as resonant, as relevant, as supremely timely as the story of walls and divisions and political strikes against family life. It contained lessons that even today disrupt ideas about German identity and about diversity -- anywhere, in any country. It had to be written about, to stand beside the better-known Wall story.
Those who are fleeing ravaged homes in Syria, Afghanistan, and elsewhere know only that which they are leaving. They cannot imagine what is next -- who will help them, who will open doors, who will allow them to maintain their dignity. As governments, agencies, and families all around the world watch the exodus in horror and with broken hearts, it becomes an urgent matter to also imagine what happens next.
How the uprooted will be answered in their longing to belong.
How the idea of home will be adapted to sustain them.
Related
Popular in the Community